May 08, 2019
After four years of service, Emily Buice wins the 'Service to Southern Award'
CARBONDALE, Ill. — For graduating senior Emily Buice, college is more than a time to grow personally, it also presents the perfect opportunity to give back.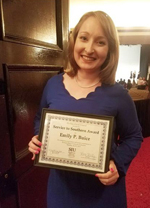 After serving on multiple committees, volunteering with nonprofits and working with Greek organizations, Buice's focus is on things that will last far beyond her time on campus. Her big heart and generous attitude are also what set her up to receive Southern Illinois University Carbondale's 2019 "Service to Southern Award."
Making service a priority
With double majors in history and communication studies and a minor in political science, Buice's four years on campus have kept her on her toes. Yet, her continual priority remained set on strengthening the SIU campus and helping those around her.
"SIU has given me so much during my time here," Buice said. "I have always felt that they have given me so much and I want to give back to this community and university with the skills that I have."
That giving back includes countless hours working with a variety of on campus organizations, along with several internships and trips abroad. Last summer she interned at the U.S. Mission to the European Union in Brussels, Belgium, working in the press filing center when President Trump visited with NATO.
She served as both president and vice president for the Undergraduate Student Government, volunteered with Saluki Service Dogs, served as vice president of campus relations for the Alpha Gamma Delta sorority, served as executive vice president of the SIU College Panhellenic Association and worked as a Saluki Ambassador all four years.
A native of Tallassee, Alabama, Buice came to SIU as a Chancellor's scholar. While she quickly jumped into campus activities, she also contributed to the community by interning with the Carbondale Chamber of Commerce.
"Getting involved is the way to enhance your academic experience," Buice said. "It gets you attached to SIU and gets you into a community where you can really thrive and become the best person you can be."
Fostering campus engagement
A big part of Buice's goal while working with these organizations was to foster student engagement and represent her peers on campus. She also worked hard to promote the mission of SIU to prospective students by giving tours and sharing information.
"I love getting involved in the SIU policies and procedures and getting to represent students," Buice said.
For Tena Bennett, SIU student center director, Buice is the perfect representation for how students can get connected on campus and make the most of their time here.
"Emily is the epitome of what it means to be an SIU student," Bennett said. "She is involved and committed, and she truly understands the service aspect of college life on campus."
After graduation, Buice plans to continue her work as the alumni development specialist for Alpha Gamma Delta in Indianapolis, Indiana. She will coordinate with over 180,000 alumni across the US and Canada, along with 250 alumni chapters.
"I really took this position because I want to get back to my sorority," Buice said. "That was really my incubator for where I got started, and I want to give back and see other people have that same experience"
Buice received the "Service to Southern Award" and scholarship during the 87th annual Greek Awards Ceremony on April 18. She will graduate with honors at the 2019 SIU Commencement ceremony on May 11.