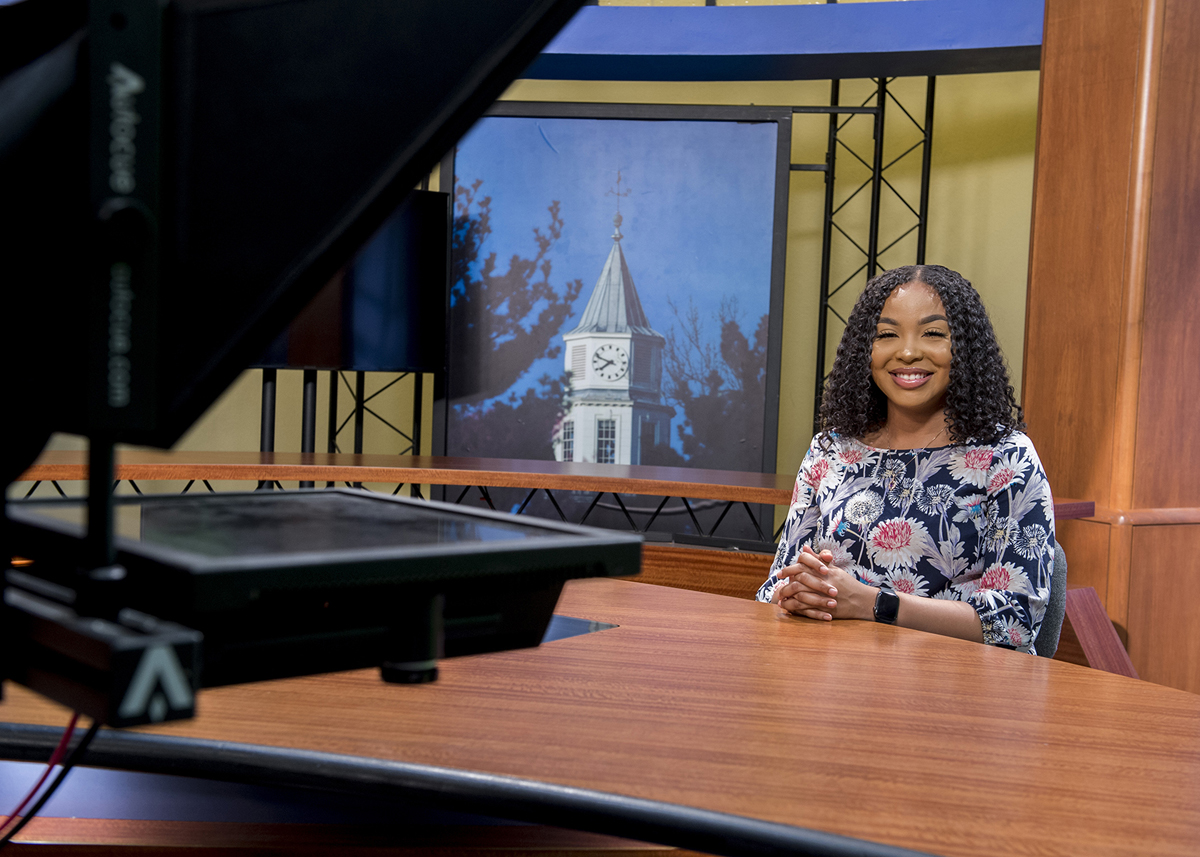 Working to be a cut above – Sophomore Diamond Palmer is working toward her goal of graduating a year early in May 2020 as she pursues her degree in Radio, Television, and Digital Media with a specialization in electronic journalism. (Photo by Russell Bailey)
May 03, 2019
Palmer's effort, hard work are paying early dividends
CARBONDALE, Ill. -- Getting a jump on her career has always been in Diamond Palmer's plans.
Palmer, a sophomore in Radio, Television and Digital Media with a specialization in electronic journalism, is using her skills as a springboard toward her career. A University Honors Program student with a 4.0 GPA, Palmer has plans to graduate a year early in May 2020.
The 18-credit hour semesters are intense but Palmer isn't deterred and prefers to graduate early to get a jump start on graduate school and her career. Palmer is pursuing a minor in communication studies and is a McNair Scholars selection for 2019-2020.
Attending SIU was an 'easy choice'
Palmer, the daughter of Tracee Palmer of Urbana, Illinois, chose SIU over hometown University of Illinois at Urbana-Champaign specifically because of opportunities here. Students at other universities might not get to anchor newscasts until they are juniors or seniors, she said.
"I knew that on Day 1 I could have my hands on a camera," Palmer said. "I could have people teach me how to do Photo Shop and Final Cut Pro and know those skills were going to be valuable. Potentially wanting to work for a news station I knew I needed those skills Day 1."
Students become a 'close-knit family'
As a freshman, Palmer did a lot of camera work and ran the audio board in addition to learning various editing programs while working for River Region Evening Edition. She then was able to anchor this year and works at the station three days a week. In addition to her work as news anchor, Palmer has started working as a weather anchor, which is something she enjoys because it allows her to ad-lib and show her personality.
"This is a living, breathing newscast for every one of us," Palmer said. "Once you are inside your major this is a close-knit family. There are so many people doing the same things as you."
Joey Helleny, a senior lecturer in Radio, Television and Digital Media, said Palmer is always an active participant in class discussions. In the River Region newsroom, Palmer "very quickly became an integral part of the team."
"A television newsroom can be a stressful place on deadline, but Diamond's cheery disposition and bright smile always help ease the tension," Helleny said. "Diamond clearly has a bright future as a broadcast journalist. She's willing to put in the hard work to be a responsible and successful storyteller."
Chemistry and science wasn't a good fit and then a 'spark' went off
As a child, Palmer wanted to become a pediatrician but she learned early in high that she didn't like chemistry. Before her freshman year at Urbana High School, Palmer attended a six-week media camp at Illinois and chose to study journalism. From that point on, throughout high school there was no "plan B" for a college major, she said.
"Some spark just went off and I just went, 'Wow, this is really fun. I've never felt like this. It doesn't feel like I'm working,''' she said.
Kellogg Hall resident adviser
Palmer is one of three resident advisers (RA) in Kellogg Hall's Living Learning Community, or LLC, the dedicated residential housing for students within the college. The unique housing arrangement helps students within MCMA not only with their studies but also become a "dialed down closer-nit" community.
Because faculty and staff provide media-related programs such as study-abroad opportunities and guest speaker, students have the opportunity to be involved with group activities without leaving their dorms, Palmer said.
She also served as NABJ secretary last fall, including designing flyers, T-shirts and planning fundraisers.
Only option is success
Palmer said she inherited her drive from her family, which includes her three brothers, Dylan, Shaylan and Skylar. They emphasized the importance of education as she was growing up, said Palmer, noting her parents both have associate degrees. She acknowledges having a difficult time her senior year in high school and not earning the grades she was used to from her late grandmother's illness.
"I kind of knew that this was my only opportunity to do something. There is no other option to succeed," Palmer said.
Working as an associate producer at WSIL-TV
Palmer started work as a part-time associate producer at WSIL-TV, the ABC affiliate in Southern Illinois in January, utilizing many of the same skills learned while working for River Region Evening News.
Mike Snuffer, WSIL-TV news director and an assistant instructor in the Radio, Television, and Digital Media program, had Palmer in a newswriting class last fall. She did well in class and Snuffer recognized Palmer "had a deeper interest in TV news and exhibited the ability to stay informed on current events."
"I believe she is a student committed to journalism. That's one of reasons I wanted to give her a chance to expand," Snuffer said.
He noted the television station and the radio, television, and digital media program has enjoyed an ongoing relationship through the years, hiring and promoting countless Salukis.
"SIU is a valuable resource to this station when it comes recruiting and hiring young journalists," he said.
Also does volunteer work
For the past three summers Palmer has worked as a volunteer with children in the Urbana Neighborhood Connections Center Summer Enrichment Camp, which runs from May to August. This past summer she worked with a section of the camp that provides programs for children with disabilities. Having a younger brother with autism, Palmer said she learned patience and it's important to her for those children to also achieve their goals.
Has set future goals after graduation
Palmer's volunteer teaching also figures into her long-term plans.
She has aspirations to attend Syracuse University in graduate school as a double-degree students in journalism and media business. Palmer also has her sights set on working in the television broadcast industry for CNN as a correspondent, reporter and anchor before one day owning her own advertising firm or being involved in news station management. And, noticing that teaching is something she likes, Palmer said she would like to pursue a doctorate to teach college-level journalism classes.