April 25, 2019
Dental hygiene students earn CDHC online certification
CARBONDALE, Ill. — Completing an online certification program developed by the American Dental Association will give Southern Illinois University Carbondale dental hygiene student Samantha Shankle an important resource as she moves forward in her career.
The Community Dental Health Coordinator (CDHC) certification will assist Shankle and 28 of her classmates in working with underserved populations after graduating from the program during May 11 commencement exercises at the SIU Arena.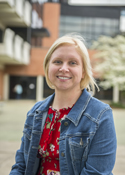 "I really want to be in community dental," said Shankle, who is from Marion. "Ideally, I would like to work in public health. I would like to serve the underserved and help people who don't generally have dental insurance or access to dental care." 
Second certification class at SIU 
Jennifer Sherry and Faith Miller, associate professors in the dental hygiene program, started the online component in fall 2017, and a class of 20 graduates completed the program May 2018. Sherry emphasized that much of the CDHC material already is in the dental hygiene program's community dental health course. Building on the existing curriculum content allows students to further develop their skill sets, she said.
Working through the university's Desire2Learn online management system students complete assignments within six modules:
Dental advocacy and outreach.
Communication and cultural competency.
Interviewing skills.
Legal and ethical issues.
Financing and payment of dental care.
CDHC Internship, which is completed through the SIU Dental Sealant Grant program.
Access to dental care is an issue 
Sherry notes that access to dental care for many is an issue not just in Southern Illinois, but nationwide. These graduates will position themselves to be able to provide dental services for clients who might not otherwise have the ability to receive them. 
As a part of the certification, students learn program planning, grant writing and resource mapping, all of which are vital when talking about public health, Shankle said. Resource mapping is a mechanism for dental professionals to assist patients in finding a way to make dental appointments in public dental health clinics when access is limited. 
"The resource map to me is the most important part," she said. "It forces you to know the area you are working in and know the people," she said. "If someone is struggling with something like addiction, abuse, unemployment, or lack of transportation, the resource map can help us point them in the right direction."
Cross-training helps students connect with unique client base
Sherry notes that it is important for students to be cross-trained and to learn to work together. Public health is different than in a clinical practice because the clientele is different and patients can present a variety of different needs. The courses also help students build their communication skills.
Working with Natalie Richardson, the program's dental sealant grant coordinator, students gain valuable training in learning how to talk with parents of children and helping to assess a child's dental needs.
"They are a very good group," she said. "I look forward to seeing great things from them. They will be a valuable part of a dental team." 
Four-year dental hygiene degree
A third CDHC cohort with 34 students will finish in the spring 2020 semester. A future goal is to administer the CDHC curriculum through Conference and Scheduling Services at SIU as a continuing education course for registered dental hygienists.
Accredited by the Commission on Dental Accreditation, SIU's program remains the only one in Illinois that offers a four-year dental hygiene bachelor's degree in the state. The program also offers an online degree for present dental hygiene professionals.
Faculty care about students
Shankle, a non-traditional student who has a bachelor's degree in history from Webster University, notes the important role that faculty play in student success.
"They really encourage us to push ourselves and set our bar higher and higher," she said. "Once you achieve that higher standard just keep going up from there," she said. "I don't think I would have succeeded as well as I have here anywhere else." 
Focusing on a patient's overall care is also an emphasis, she said. 
"The program in general encourages us to really care about the people we are treating and see them as a whole person and not just a mouthful of teeth to clean," she said. 
The 29 graduating seniors who completed the CDHC certification, with their hometowns are: 
ILLINOIS:
Addieville: Hanna Bergkoetter.
Channanon: Brittany Pelton.
Chicago: Jessica Dominguez.
Crestwood: Gillian Gapski.
Crystal Lake: Kayla Schnell.
Des Plaines: Samcy Samuel.
Glendale Heights: Arielle Zambrano.
Homer Glen: Anna Roczkowski.
Homewood: Shaderia Young.
Makanda: Madison Forby.
Marion: Samantha Shankle.
Norris City: Megan Beckman.
North Lake: Kara Urbaniak.
Oak Lawn: Cassidy Ward.
Orland Park: Hannah Murray.
Orland Park: Areliz Servin.
Oswego: Annamarie Radecki.
Palos Hills: Melina Sapokaite.
Palos Park: Rebecca Tompkins.
Pinckneyville: Deanne Brand.
Sandwich: Jacqueline Johnson.
Sesser: Kaitlyn Melton.
Spring Grove: Amanda Graf.
Tamaroa: Bailey Nippe.
Tonica: Hayley Zulkowsky.
MISSOURI
Cape Girardeau: Alice Cai.
Kelso: Kayce Landewee.
Louis: Arnela Causevic.
TENNESSEE
Manchester: Brianna Jones.