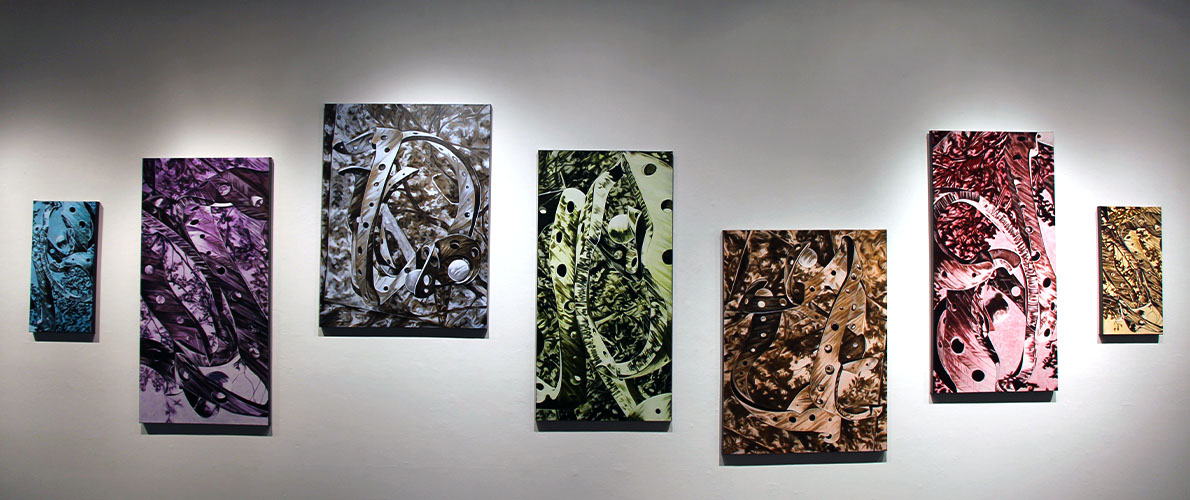 Rickert-Ziebold winner Chris Luper, painting.
April 03, 2019
Luper, Purze and Tippin win the prestigious Rickert-Ziebold Trust Award
CARBONDALE, Ill. — Three art students from Southern Illinois University Carbondale recently won the competitive Rickert-Ziebold Trust Award.
Out of the nine finalists, Chris Luper of Bartlett, Illinois, specializing in painting, Samantha Purze of Michigan Shores, Indiana, specializing in ceramics, and Gary Tippin of Union, Missouri, specializing in industrial design, were the final winners of the prestigious award.
Recognizing outstanding seniors
Presented to graduating seniors who have completed exceptional work, the award is possible through the generosity of the family of the late Joseph Rickert. Because of their vision, love of the arts and confidence in the future, the art and design department gives an annual distribution of approximately $15,000 in awards to the outstanding Rickert-Ziebold scholars.
"Being one of the RZ winners means a great deal and I am humbled to have won the competition," Tippin said. "When preparing for the RZ competition it challenged me to clarify what kind of artists and designer I wanted to become in the future. I look forward to continuing my journey after graduation as I explore the boundaries of extended reality technology."
---
Media Advisory
Reporters, photographers and news crews are welcome to cover the 2019 RZ Winners Exhibition Reception and Presentation of Awards on April 5 at the Southern Illinois University Surplus Gallery. The reception is set for 5:30-7:30 p.m., with the award presentation at 6:30 p.m. For more information, contact Sun Kim at sunkim@siu.edu or Surplus Gallery at 618/453-7548.
---
Exhibitions at the Surplus Gallery
A formal banquet and awards ceremony at 5:30-7:30 p.m. on April 5 will honor the three winners. All nine finalists will have their creative work on display at the Surplus Gallery April 1-6. The exhibits are free and open to the public. The gallery is located at SIU's Studio Arts Building at 432 S. Washington St. in Carbondale.
Gallery hours are:
11 a.m. – 4 p.m. April 1.
10 a.m. – 4 p.m. April 2-5.
10 a.m. – 12 p.m. April 6.
For more information, contact Sun Kim at sunkim@siu.edu or the Surplus Gallery at 618/453-7548 or sgallery@siu.edu.