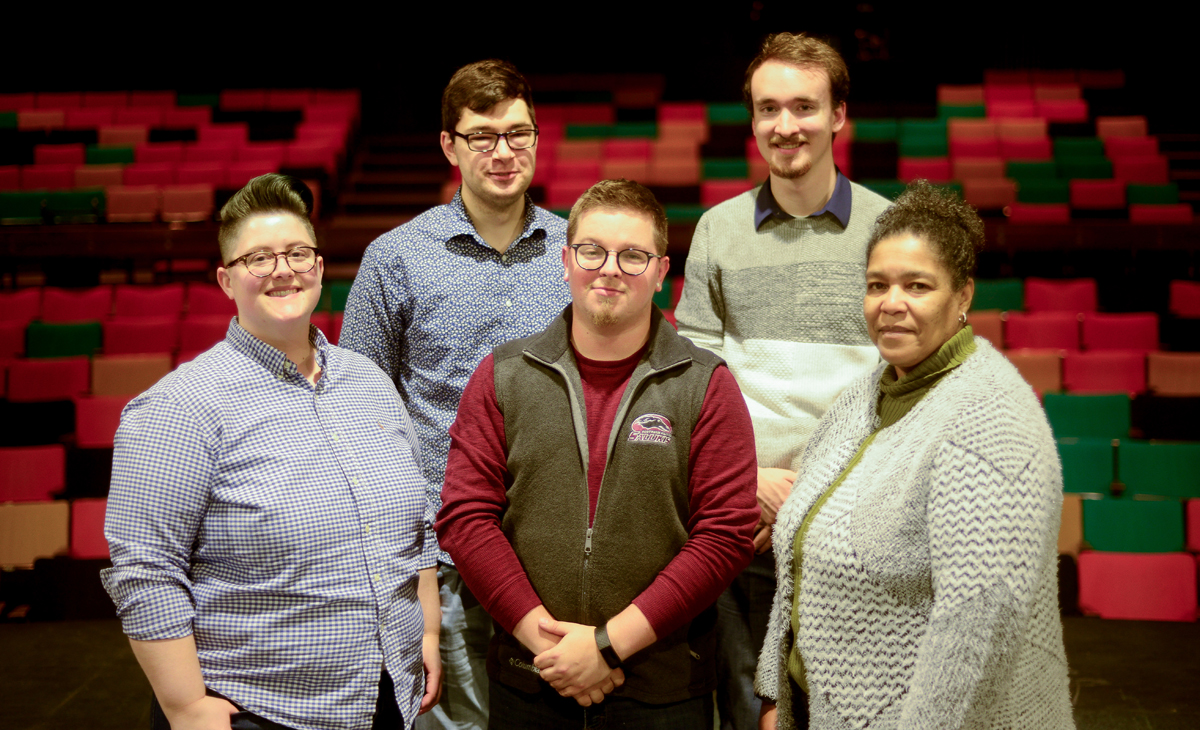 Front left-McCall Logan, Front Middle-Austin Harrison, Front right-Teresa McKinley, Back Left-Dustin Hageland, Back Right-Mark Young
March 27, 2019
Big Muddy New Play Festival: a celebration of student written plays
CARBONDALE, Ill. — The Big Muddy New Play Festival is back April 4-7 for another year of fun and entertainment at the Christian H. Moe Laboratory Theater. With five full-length stage readings from graduating students, the weekend offers a unique taste of contemporary theater.
A yearly tradition from Southern Illinois University Carbondale's theater department, the free festival is a great way for the community to share in the hard work of both master's and undergraduate students.
Festival features new playwrights
For Jacob Juntunen, head of the MFA playwriting program and festival creator, the festival blossomed over time and is a valuable way to catch new productions from up and coming playwrights.
"I wanted a venue to showcase full length works by SIU playwrights," Juntunen said. "The first year included shorts as well as a 'greatest hits' from our monthly evening of short plays, 'Big Muddy Shorts.' Since then, the festival has been devoted to full length plays by SIU playwrights."
All performances are at the Christian H. Moe Laboratory Theater:
April 5, 7:30 PM- Into the Jungle by Dustin Hageland
April 6, 1:30 PM- Chaos Theory by McCall Logan
April 6, 4:30 PM- By the Neck by A.B. Harrison
April 6, 7:30 PM- Down to the Bone by Teresa McKinley
April 7, 11:00 AM- Squishy World by Mark Young
For participating students, the development process is expansive. From August until April, students work to conceive and develop their play projects. Each student goes through several rounds of drafts before their play is ready for the staged reading.
"It's no accident that we perform the Big Muddy New Play Festival in the Christian Moe Laboratory Theatre," Juntunen said. "Writing scripts is creating the experiment and the hypothesis about what will work. Pulling these scripts on their feet, in a lab setting, in front of an audience provides the playwrights with experiential learning. An audience is an essential part of making theater, so no play writing program is complete without this lab component."
Special guest talks
The New Play Festival is a collaborative event and receives funding from the New Play Lab RSO, the General Student Fee and the Department of Theater. These funding opportunities allow the festival to have a commentator lead talkbacks on each play.
The talkbacks are a longstanding part of the festival, and always include a nationally recognized guest artist to serve as a respondent to the plays, Juntunen explained.
Previous guests include Emily Penick, a director at Playwrights Horizons on Broadway, Martine Kei Green-Rogers, the President of the Literary Managers and Dramaturgs of the Americas, and many more. While open to the public, the talkbacks provide playwrights with outside feedback on their work and an incredible networking opportunity.
This year special guest is Daniel Smith, a professor at Michigan State. From 2010-2012 he served as the Artistic Director of Caffeine Theatre, and he also chaired the Theatre History Focus Group at the Association for Theatre in Higher Education. Currently, Smith is an officer in the Dramaturgy Focus Group and has done ample work as a Dramaturg.