March 04, 2019
Health care organization honors two SIU Health Care Management program students
CARBONDALE, Ill. — Two students in Southern Illinois University Carbondale's Health Care Management Program are being honored by the Mid-America Healthcare Executives Forum for the academic excellence, volunteerism, leadership and involvement in health care activities.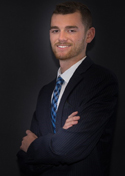 Mitchell Dierkes, a senior in Health Care Management (HCM) and Savanah Hopkins, an online graduate student originally from Carterville, who is pursing dual master's degrees in Health Administration (MHA) and Health Informatics (MHI), are the 2019 recipients representing the School of Allied Health. 
Dierkes, who is from Marion, and Hopkins, who works for UC Health University of Colorado Hospital in Denver, Colorado, will receive their awards later this semester. Dierkes and Hopkins were chosen by the health care management program faculty. 
Longstanding award honoring SIU students 
This is the ninth year that Mid-America Healthcare Executives Forum has presented an undergraduate award and the second year for a graduate student award, said Sandra Collins, professor and program director. The organization's involvement in educating and developing future healthcare leaders positively impacts students' lives and careers, she said. 
"Watching our HCM and MHA students flourish from MAHCEF's ongoing support through these awards and recognition is only surpassed by the mentorship and leadership development they provide students in both our programs," Collins said. "This ranges from inviting our students and faculty to their educational conferences to facilitating our faculty in attending the American College of Health Care Executives annual conference."
Hopkins earned both SIU degrees online 
"I've worked very closely with several members of the HCM faculty and staff and certainly attribute much of my academic and career success to them," Hopkins said. 
Hopkins is the human resource manager at UC Health and is responsible for recruitment, selection, hiring, on-boarding policies and procedures, and employee relations. The organization has a large network of hospitals and clinics with more than 17,000 employees. 
Hopkins will graduate with her MHA/MHI degree in summer 2020 and said she is honored program faculty would consider her for the award. Having "such a great experience" with the undergraduate online program, Hopkins said she knew she wanted to pursue the same route for her master's degree. 
Hopkins credits her parents' ongoing support and her employers in achieving her goals. An advocate for online learning, Hopkins said both online programs she enrolled in at SIU Carbondale were a "very valuable learning experience." 
Online programs were 'best option' 
"Online learning requires a lot of self-discipline, time management and commitment and it's certainly not for everyone," she said. "However, it's always been the best option for me, and if it were not for the ability to pursue my master's online, I would not be a graduate student right now." 
Earning her bachelor's degree in health care management in 2017 while working at Southern Illinois Healthcare, Hopkins didn't have the availability to be a traditional on-campus student. After earning her bachelor's degree, Hopkins accepted a position at the UC School of Medicine's Anschutz medical campus and was responsible for physician recruitment and coordinating physician credentialing. 
Hopkins recounts how her goals changed from when she began the HCM program. Recruitment and talent acquisition never really crossed her mind but "fell into my lap during a shortage of staff," she said. As she gains more experience as an HR professional, Hopkins said she would like to move on to something on a smaller scale. 
"Denver is a rapidly growing city with an increasing amount of start-up organizations that continue to make an impact on the healthcare industry," she said. "Anyone that knows me well knows that I am a people person and I thrive in a tight knit, outgoing community. I see myself making a move to a small startup, with a focus on people operations, employment relations, talent acquisition, and strategic initiatives." 
Dierkes will earn his bachelor's degree in August 
The complexity of the nation's health care system and Dierkes' curiosity and wanting to learn more brought him into the program. The son of Courtney and Kurt Dierkes of Marion, he has a 4.0 GPA. After graduating, he will pursue a dual master's degree in health administration and health informatics this fall at SIU Carbondale. 
"This program will allow me to further understand the system, serve the community, give back to others and hopefully improve and make a positive impact on our health care system," he said. 
Honored and grateful for the award 
Dierkes said the honor gives him a chance to reflect on the last two years and will forever connect him with the program, which he emphasized involves "a lot of hard work, determination and integrity." He also credits the support, guidance and "unwavering quest by program faculty to see students like himself strive for greatness." 
He was a member of the C-Suite Saluki Student Research team and he recently submitted a manuscript on physician burnout for possible publication. Dierkes said a study found that one in three physicians experience burnout at any given time. In a 2015 survey of 400 physicians, 67 percent indicated they know of a physician who was likely to stop practicing medicine within the next five years because of burnout, he said.
"Burnout puts a huge risk on patient safety, making this topic important as well in health care because the patient comes first," he said. "Potential ways to decrease a physicians' burnout include allowing a physician to have a more flexible schedule, decreasing their workloads, and helping them to establish a better work-home balance."