January 11, 2019
Echevarria earns scholarship to SIU Carbondale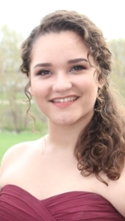 CARBONDALE, Ill. – Emily Echevarria of Winthrop Harbor, Illinois is the recipient of a Dean's Scholarship at Southern Illinois University Carbondale for the fall 2019 semester. Scholarships are based on academic merit and potential for superior academic achievement in college. 
Echevarria will graduate in June 2019 from Zion Benton Township High School. She is the daughter of Barbara and Milan Echevarria, also of Winthrop Harbor. 
Echevarria plans to major in music performance at SIU Carbondale. 
SIU Carbondale is in the top five percent of public U.S. institutions for research. The university offers more than 200 majors, minors and specializations representing every key academic disciplinary area. In addition, a large number of scholarship opportunities are available. 
To learn more, visit scholarships.siu.edu or contact SIU's Academic Scholarship Office at 618/453-4628.