January 11, 2019
African judge to discuss judicial independence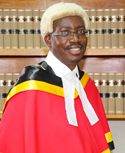 CARBONDALE, Ill. — Judicial appointments and threats to an independent judiciary in the African nations of Botswana, South Africa and Swaziland will be discussed at the SIU School of Law later this month.
Honorable Professor Justice Oagile Bethuel Key Dingake will present the 2019 Beatty Jurist-in-Residence lecture at 5 p.m. Jan. 29 in the Hiram H. Lesar Building Courtroom at SIU Carbondale.
"Appointment of Judges and the Threat to Judicial Independence: Case Studies from Botswana, Swaziland, South Africa and Kenya" is free and open to the public.
During his week at the law school, Dingake (Dee-nya-keh) will visit classes and meet with faculty.
---
Media Availability
Oagile Bethuel Key Dingake (Oo-aa-gh-ee-leh Beth-yoo-el Key Dee-nya-keh) will be available for interviews Jan. 28 at the SIU School of Law. Reporters, photographers and camera crews are welcome to attend the Beatty Jurist-in-Residence lecture at 5 p.m. on Jan. 29 in the SIU School of Law Courtroom. To arrange for interviews, contact Michele Mekel, director of external relations, at mmekel@siu.edu or 618/453-8768.
---
Christopher W. Behan, a professor at the law school, met Dingake in 2014 while teaching a trial advocacy course in Gaborone, Botswana, with Justice Advocacy Africa. The two maintained contact through the Legal Globalization and Comparative Law: Botswana and South Africa course that Behan and Professor Mark Schultz teach. Behan and Schultz met with Dingake during their most recent visit to Botswana in 2018 to work out preliminary arrangements for the lecture.
Judicial independence under attack
Behan said judicial independence is under attack throughout sub-Saharan Africa in ways not often experienced in the United States, noting there is tension between the executive branch in Botswana and the judiciary. One case involved whether individual judges can criticize the chief judge of the nation's high court.
Dingake said a "major test case of national importance involving the independence of the judiciary in Botswana" held that the nation's president could not reject a nominee approved for appointment by the nation's judicial service commission.
Lecture will highlight the impact of judicial appointments
Dingake said he hopes to highlight how the manner in which judges are appointed may impact the judiciary, either positively or negatively. There is a "real danger" where executives have influence that judges may comply with that executive's wishes, he said.
One parallel with debates on judicial independence in the United States is that often "the executive … tends to prefer or push for judges who they think would either do their bidding or share a broader political or social outlook, which trend may negatively impact on public confidence in the independence of the judiciary," Dingake said.
Behan said he hopes the audience gains a greater understanding of issues that judges face in Africa and appreciate the "high degree of structural and cultural independence our judges enjoy at both the state and federal levels here in the United States."
He also encourages people to work to "preserve judicial independence" in the United States and "do what they can to help achieve judicial independence throughout the world."
Dingake has served as a judge for more than a decade
Dingake has extensive experience as a judge. He has sat on the High Court in Botswana, the Industrial Court in Botswana, the Residual Special Court for Sierra Leone and the Supreme and National Courts of Papua, New Guinea. He is actively involved in judicial leadership efforts relating to HIV and health.
Prior to serving on the bench, Dingake was a lecturer at the University of Botswana teaching in areas including constitutional law and human rights law. He was also a senior partner with the Moupo, Motswagole and Dingake law firm, specializing in administrative, constitutional and labor law.
Dingake has a bachelor of laws degree (L.L.B) from the University of Botswana; a master of laws degree (L.L.M) from the University of London and a doctorate from the University of Cape Town.
Ninth Beatty Jurist-in-Residence lecture
The endowed program honors the late William L. Beatty, a federal judge for the U.S. District Court of Illinois and is an award granted to the law school by U.S. District Court Judge for the Southern District of Illinois David R. Herndon, a 1977 SIU Law School graduate. The award honors Herndon's mentor, Beatty, who died in 2001. 
Herndon retired from the federal bench earlier this month after 20 years.