December 11, 2018
Chicago consumer law attorney to keynote 'Women in Leadership' dinner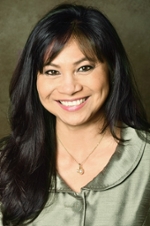 CARBONDALE, Ill. — Aurora Abella-Austriaco, a Chicago consumer law attorney and past president of the Chicago Bar Association, is the keynote speaker at the SIU School of Law "Women  in Leadership" networking dinner at Southern Illinois University Carbondale in January. 
The Jan. 11 dinner is the final event for a two-day "Women in Leadership Workshop" that prepares students to be leaders in the legal profession and in their communities after graduation. Approximately 32 female and male law students who are participating in the workshop will learn about being strong leaders in a diverse workforce.
---
Media Advisory
Reporters, photographers and camera crews are welcome to attend the workshops and the dinner featuring Aurora Abella-Austriaco. For more information or to arrange interviews contact Michele Mekel, director of external relations, at mmekel@siu.edu or 618/453-8768.
---
The workshop is for SIU School of Law students, but the dinner also recognizes female leaders in the legal profession and is open to the public. The dinner cost is $25 per plate or $150 per table with a Jan. 4 online registration deadline. The dinner begins at 6 p.m. in the SIU Student Center, Ballroom B. 
Visit the "Women in Leadership Program" page for dinner registration information and additional workshop details. 
Leadership Award recipients will be honored
Last year, the law school started a tradition of honoring women and supporters who represent the legal profession's best. This year's honorees, with their respective award, are:
Women in Leadership Lifetime Achievement Award: Dr. Marsha Ryan. Ryan, of Murphysboro, practiced general surgery and breast surgery for 36 years before her retirement in 2017. She earned her law degree from the SIU School of Law in 1987 and taught there as an adjunct professor until 2017. In January 2017 she was appointed to the SIU Board of Trustees.
Trailblazer Award: Kimberly Kuhlengel-Jones. The award recognizes a person who has "made outstanding contributions to the legal community, shown a commitment to women's issues and is emerging as a leader early in her career." Kuhlengel-Jones earned her bachelor's degree from SIU in 1992 and her law degree from the law school in 1995. She has been practicing adoption law since 1998 in Nashville, Illinois.
Organizational Award: Keuler, Kelly, Hutchins, Blankenship & Sigler, LLP, Paducah, Kentucky. The award recognizes a firm or organization that "demonstrated a commitment to creating pathways to success for women attorneys." The 10-attorney firm includes four SIU School of Law graduates: Stacey Blankenship, a partner in the firm, who graduated in 1995; Lesley Owen and Judy Payne, associates in the firm who graduated in 2013, and Kristen Worak, a partner in the firm who graduated in 2010. 
Keynote speaker has varied career
Abella-Austriaco is a founding partner and shareholder in Valentine Austriaco & Bueschel, and concentrates her practice in several areas of commercial and real estate litigation, with clients that range from multinational corporations to small and startup companies and individuals. Abella-Austriaco was born in the Philippines and came to the United States when she was 18 years old. 
Abella-Austriaco is a 2014 appointee to the 16-member Illinois Courts Commission and chair of the Cook County State's Attorney Asian Advisory Council. She has been a board member of Attorneys Title Guaranty Fund, Inc., since 2006. She is on the Maine Township School District 207 school board and was named for several years by Leading Lawyers as one of the top 10 women consumer law attorneys in Chicago. Her experience also includes 12 years on the Cook County Human Rights Commission and nine years on the Park Ridge Planning and Zoning Commission. 
Abella-Austriaco earned her bachelor's degree from De Paul University and her law degree from the De Paul University School of Law. 
Workshop will focus on importance of diversity in leadership
In its ninth year, the workshop, Jan. 10-11, will "feature programs for participating students that highlight the benefits diverse leadership bring to the public and private sector," said Angela Upchurch, professor at the law school. 
"Recent events demonstrated the recognition of a desire for more diversity in leadership roles. This program helps develop SIU Law students, both women and men, to be strong leaders in a diverse workforce," she said. 
The workshop runs from 8 a.m. to 4:30 p.m. in the Hiram H. Lesar Law Building. 
"The workshop will include discussions on different types of diversity, including ethnic and racial diversity, but will focus primarily on issues of gender in the workplace" said Cindy Buys, interim dean and workshop co-creator. Lawyers, judges and law professors teach different segments of the workshop, and students earn one hour of academic credit. 
"We help them think about what makes a good leader; provide them with skills they will need to become effective leaders; and guide them in developing an individual leadership plan," she said. 
Women in the legal profession
The last two years represent the highest number of women at the law school and Buys attributes that in part to a national trend of more women attending law school. In addition, women students benefit from "several great female faculty who are role models for our students," she said.
38 percent of all attorneys are women, according to the U.S. Census.
27 percent of federal judges are women, according to The New York Times.
31 percent of law school deans are women.
20 percent of law firm equity partners are women.
The Illinois Supreme Court and the U.S. Supreme Court each have three female justices.