November 16, 2018
Suhaimee is RSS Student Employee of the Month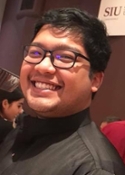 CARBONDALE, Ill. — Daniel Suhaimee is the newest recipient of the Student Employee of the Month award from Recreational Sports and Services at Southern Illinois University Carbondale.
Suhaimee, of Carbondale and formerly of Malaysia, is facility manager for RSS, a position he's held for over a year.
RSS presents the employee of the month award in recognition of outstanding effort and service from a student employee.
Colleagues praise his work
"Dan is such a wonderful employee," Morgan Carvalho, facilities coordinator, said. "He is always willing to help others with coverage and switching, and he does so much without ever being asked. He goes above and beyond his job description. He is always helping others or making rounds throughout the facility. Dan is a great example of what an exceptional employee should be."
Plans career in business
Suhaimee will graduate with his bachelor's degree in business management in December. While seeking employment within his field, his goal is to someday follow his father into airport management.
He said his work at the student recreation center has taught him many valuable skills, particularly teamwork.