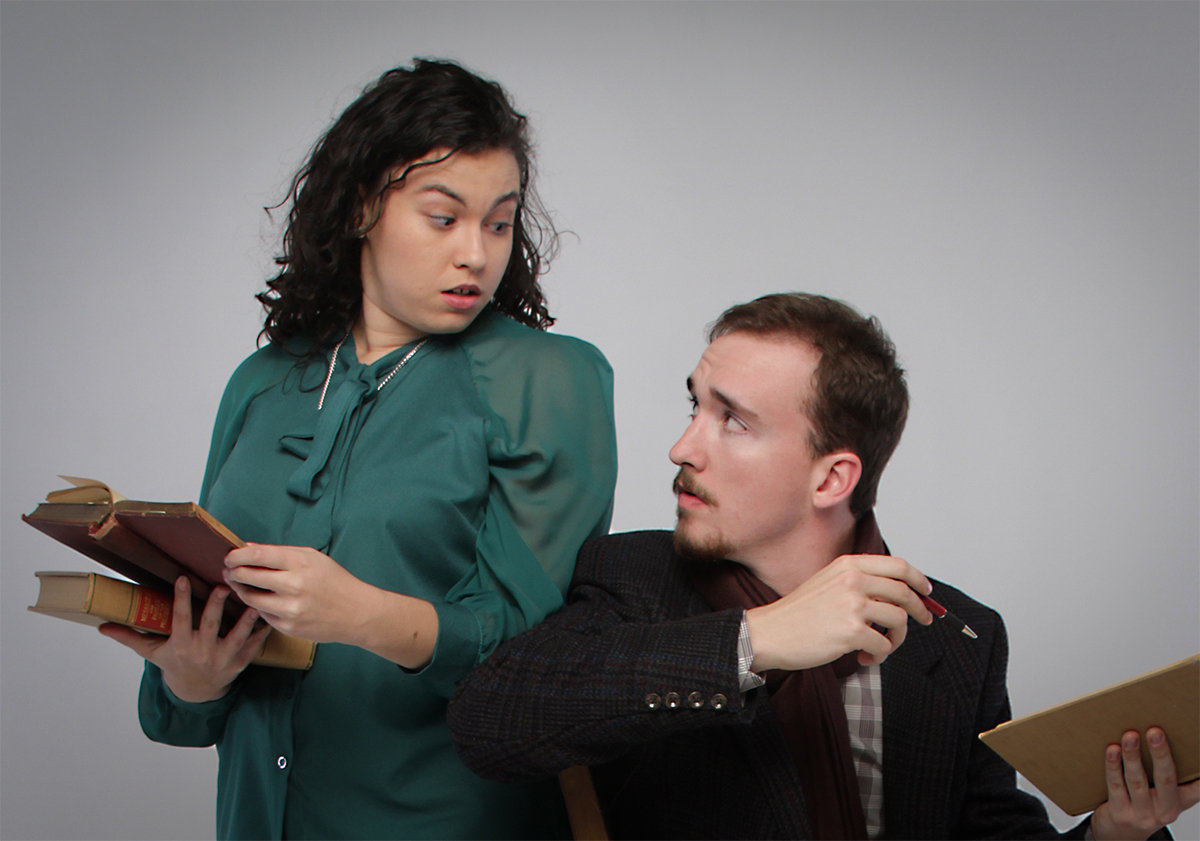 November 15, 2018
'In the Shadow of His Language' examines academic life, sacrifice and success
CARBONDALE, Ill. — What are you willing to give up for success? Get ready for a theatrical roller coaster ride as a first generation college student wrestles through life's big questions and discovers what is really worth the sacrifice.
Southern Illinois University Carbondale's theater program is back Nov. 29-Dec. 2 with the world premiere of "In the Shadow of His Language." Based on real experiences and life struggles, the play gives a unique and fun glimpse into academic life.
World premiere production of play
Written by SIU Theater's resident playwright, Jacob Juntunen, and directed by J. Thomas Kidd, the performance is set as the world premiere production of the play. The play has already received readings and awards by The Alliance Theater, Playwrights Horizons and Chicago Dramatists.
"This play is a love story," Juntunen said. "I wrote it as a love letter to my wife, Meghann Pytka, whose story superficially resembles that of the central character, Didi. It is about people in love with scholarship." 
For the characters in his play, Juntunen explains, words — the precision they possess and the things you can do with them — are their true loves.  The play also reflects both Juntunen and Pytka's experiences as first generation college students. 
"Both Meghann and I had to blindly navigate the unspoken rules of academia and so have many of our students," Juntunen said.
This play embodies feeling one's way along the dark halls of academia, searching for a light switch. Juntunen hopes the play speaks in a relatable way to first generation college students, while also giving a glimpse into the unspoken rules of academics, both the good and bad.
"For these reasons, I'm glad this play is having its world premiere at SIU," Juntunen said.
Pre-show lecture proceeds matinee show
A pre-show lecture by the playwright addressing the key themes of the show will proceed the Sunday matinee show.
The lecture is free and open to the public, and is not limited to those who have purchased tickets to Sunday's 2 p.m. performance. 
Performances start Nov. 29 
Location: McLeod Theater 
Performances for "In the Shadow of His Language" will occur at:
7:30 p.m. on Nov. 29. 30 and Dec. 1.
2 p.m. on Dec. 2. 
Tickets available now 
Tickets are available as a season package, or individual for each show.
Series tickets are $64 for adults and $24 for students.
Individual tickets are $18 for adults and $6 for students. 
Both season and individual tickets can be obtained several ways: 
By phone at 877-SALUKIS (877-725-8547).
Online at siu.edu.
In person at the SIU Arena of McLeod Theater Box offices, Monday-Friday, noon-4:30 p.m.
By mail to: SIU Ticket Office, Lingle Hall – Mail Code 6620, 1490 Douglas Dr. Carbondale, IL, 62901.