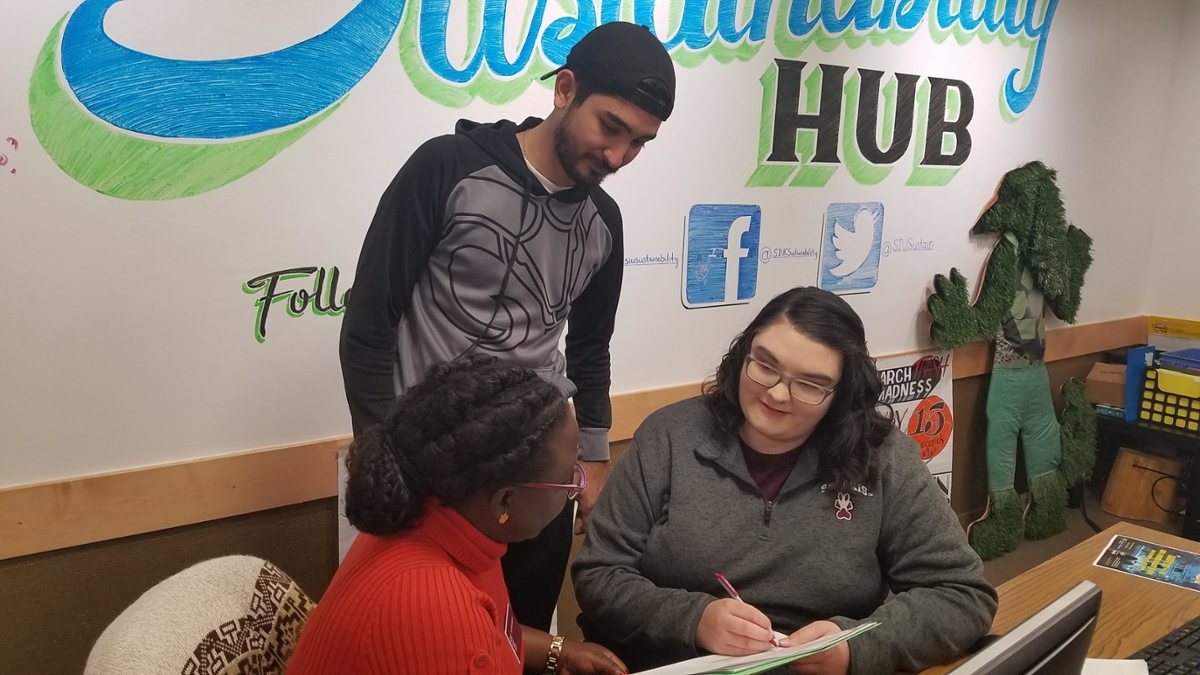 Tori Neal, a first-year doctoral student in sociology, and Erik Torres, an exchange student from Mexico studying computer science, work with Angela Anima-Korang, a research assistant in the Sustainability Office, in preparation for conducting their first Energy Treasure Hunts as part of the new Green Office SLEUTHs program on campus. Green Office SLEUTHSs is a joint project of SIU's Sustainability Office and the Advanced Coal and Energy Research Center. Torres and Neal will participate in a semester-long externship, which is aimed at undergraduate or graduate students in any major. (Submitted photo)
October 23, 2018
SIU rolls out Green Office SLEUTHS program aimed at savings, reduced environmental impacts
CARBONDALE, Ill. – It takes a lot of energy and resources to run a campus, and like everyone else Southern Illinois University Carbondale is always looking for ways to trim costs while helping the environment.
A new program soon will see a couple students investigating ways offices on campus can save on energy, efficiency and recycling.
Joint program seeks energy savings, reduced impacts
Green Office SLEUTHSs is a joint project of SIU's Sustainability Office and the Advanced Coal and Energy Research Center. The program's "sleuths" will participate in a semester-long externship for undergraduate or graduate students in any major, earning $500 and a certificate at the completion of the assignment.
SLEUTHs will work with campus offices on "Energy Treasure Hunts" and help implement programs aimed at energy conservation and good recycling techniques. SLEUTH stands for "student-led energy-use treasure hunts."
Program names first two SLEUTHs
Program leaders recently selected Tori Neal, a first-year doctoral student in the sociology graduate program, and Erik Torres, an exchange student from Mexico studying computer science, as its first two student participants.
Neal, from Fayetteville, Tenn., said she decided to get involved to help others be environmentally conscious.
"I know that going green can seem daunting, but we make going green easy," she said. "There are small, manageable tasks that people can incorporate into their everyday lives that will help save the environment. We help people develop a plan to integrate those simple changes."
Torres, of Monterrey, Nuevo Leon, Mexico, said he got involved as part of personal, ongoing effort to make more people aware of environmental issues.
"We are not doing enough for our planet, but we can change that by just doing small things that not only help the planet, but also help our society and ourselves as individuals," he said. "The SLEUTHs program is perfect because it actually has the influence to achieve these things. As soon as I saw the program, I knew I had to be part of it."
Coming to a campus office near you?
The program is looking for campus units to volunteer to participate in the energy treasure hunts, said Geory Kurtzhals, sustainability coordinator. Many major companies and other institutions have saved substantially on their energy costs and reduced their environmental impact by undergoing such a process.
"Every office on campus has an opportunity to reduce waste and save money. The program educates and empowers individuals working in offices around campus to do just that," Kurtzhals said.
Energy treasure hunts raise awareness of energy and environmental issues while identifying opportunities for savings. So far, two offices on campus have signed up for the treasure hunt process, officials said.
Topics covered include energy use, recycling and waste reduction, printing and paper procedures, among others. SLEUTHs will go through a checklist and determine which activities are applicable to each office, as well as ongoing savings activities and goals. After completing a consultation, the SLEUTHs will develop a personalized plan of action for the unit.
Kurtzhals said the program will allow students to develop new competencies while identifying opportunities for the campus to reduce energy usage and save money.
"Skills related to energy and sustainability are increasing in demand in the job market," she said. "With this program, our students develop highly needed skills in a real-life setting. As a university, it supports our educational mission and also provides an opportunity to reduce both costs and our carbon footprint.