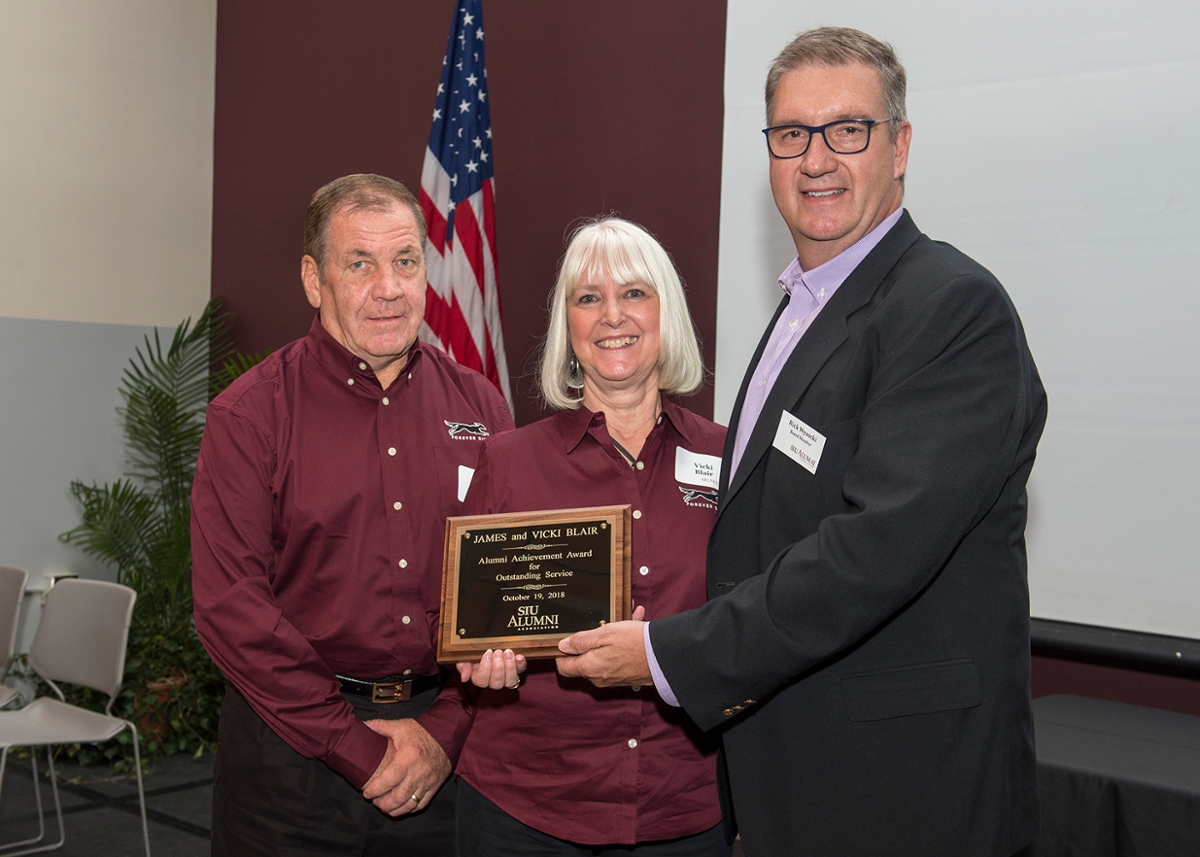 Receiving SIU Alumni Achievement Award – Jim and Vicki Blair of Energy received the 2018 SIU Alumni Association Achievement Award for Service from Rick Wysocki, right, president of the alumni association's National Board of Directors on Oct. 19. The Blairs are loyal Saluki fans and their Saluki dogs are a staple at various university events.  Jim Blair is seen with two of the couples' Salukis at Saluki Stadium.(Photo by Russell Bailey)
October 23, 2018
Blairs receive SIU Alumni Achievement Award for service
CARBONDALE, Ill. — The SIU Alumni Association has given one of its highest honors to Jim and Vicki Blair of Energy for their dedication to enhancing campus life with the inclusion of their Saluki dogs at university events.
The SIU Alumni Association Achievement Award for Service is presented only to those individuals who have demonstrated the highest commitments to helping the Association support Southern Illinois University.
The Blairs have been loyal Saluki fans, and their dogs have graced many alumni events, as well as sporting events, open houses and other student activities for a number of years, giving students and alumni the chance to interact with the living embodiment of the legendary SIU mascot. For this and more, they are this year's recipients of the achievement award.
The Blairs received the award at the annual Alumni Association and SIU Foundation luncheon on Oct. 19.
"Jim, Vicki, and their Salukis are fixtures of the SIU community," said Rick Wysocki, president of the SIU Alumni Association Board of Directors. "They're loyal fans through and through, but I don't think they realize just how much joy they bring to the students, alumni and friends. We can't thank them enough for their time and generosity, but this award is a small token of our appreciation for their service to SIU."
The Blairs have raised Salukis for many years now. They now care for 11 dogs.
"We are pleasantly surprised and very appreciative to be chosen for such an honor," said Vicki Blair. "We love SIU and love that everyone there has made us feel like part of the family. Jim and I are honored and humbled by this recognition."