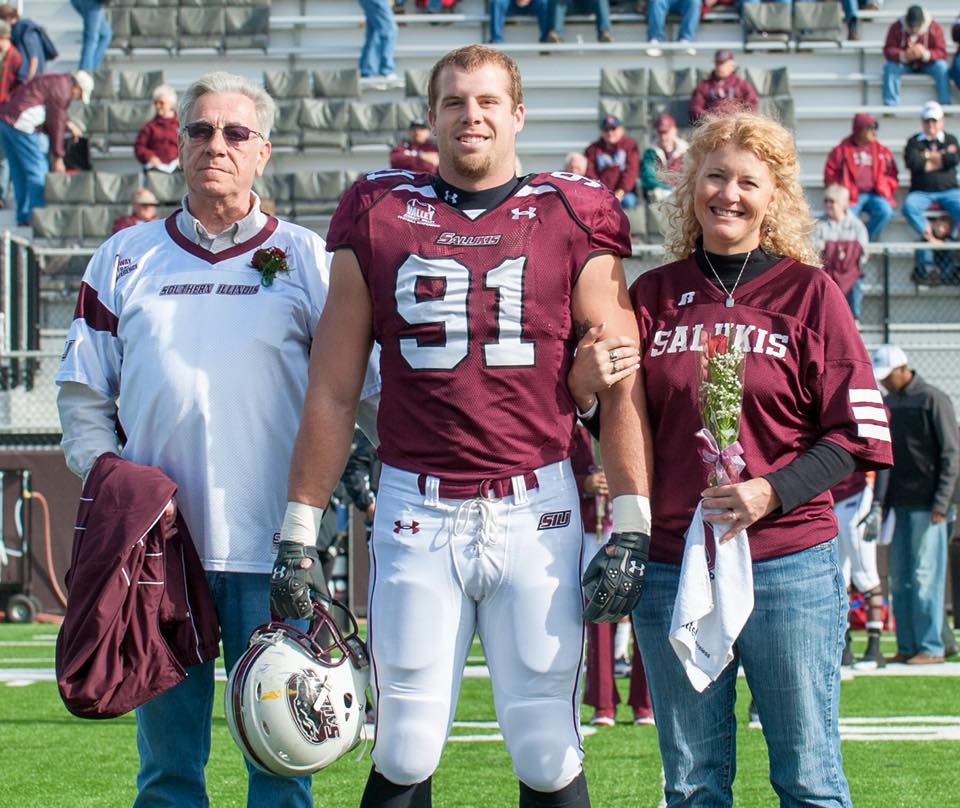 October 16, 2018
Jason Seaman returning to hero's welcome as SIU's Homecoming 2018 grand marshal
CARBONDALE, Ill. —The last time Jason Seaman crossed the field at Southern Illinois University Carbondale's Saluki Stadium, the defensive lineman was a football and academic standout. When he returns Saturday for the first time in years, he'll be carrying extra baggage: two bullets caught while protecting his students during a May school shooting incident in Noblesville, Indiana.
The American hero is SIU's 2018 Homecoming grand marshal.
Saluki football and the region are special to Seaman
Seaman is anxious to return to his alma mater, a place he credits with helping him in many ways.
"There are so many memories that come flooding back when I think of my time in Carbondale and with Saluki football," Seaman said. "So many memories bring a smile to my face. Saluki football is near and dear to my heart because it gave me an opportunity to meet some lifelong friends and grow as a person."
Memories of the community are also many and happy, he said. He still recalls fondly the tasty breakfasts he shared at Harbaugh's and Mary Lou's with his college roommate, Saluki offensive fullback John Goode. Seaman and his longtime girlfriend and fellow 2012 SIU graduate Colette Wisehart got engaged at a local winery and their wedding party included Goode, as well as fellow gridiron Salukis Dave Pickard and George Danilkowicz.
"The camaraderie of the community made SIU a special place to be," Seaman said. "I always remember being in new crowds or circles and meeting genuinely nice people."
Homecoming is memorable for Seaman
For Seaman, this marks both his first time at the stadium since he graduated in 2012 as well as the first time he's ever participated in the homecoming parade. As a player, Seaman was always busy preparing for the big game on homecoming day, so he's anxious to be part of the big parade, which kicks off at 10 a.m. Saturday and winds through Carbondale before dispersing on campus.
Seaman's favorite homecoming, so far at least, took place his freshman year.
"We beat Youngstown State in a close, hard-fought game and it really showed me how special homecoming could be," he said.
Other memorable football games include three hard-fought wins over conference rival Northern Iowa, including one victory in Iowa. A tackle at the five-yard line kept the Salukis from chalking up a win his freshman year, so being able to avenge that loss with three straight victories in the following years was quite sweet.
Seaman loves teaching and football
Seaman's fourth-grade teacher was also the Mahomet-Seymour High School defensive line coach and as Seaman played high school football he listened to the stories his coach and other teachers told. They cared so much about the kids it seemed as if teaching didn't even feel like work to them. Seaman knew he wanted to be a teacher, too.
Seaman is passionate about football, then and now, and is still involved in the game as the coach of Noblesville's eighth grade team. But, his dream was to become a teacher and he pursued that passion just as hard. In fact, he received Missouri Valley Conference All-Academic team honors at SIU while earning his teaching degree.
Football paved the way to a great education
A full-ride scholarship brought Seaman to SIU and he couldn't be happier with the instruction he received while earning his bachelor's degree in elementary education.
"The education I got at SIU was top-notch," he said.
He offered high praises for the courses, instructors, and his student-teaching experience at Murphysboro Middle School. One of the things that most impressed Seaman about his learning experience in SIU's College of Education and Human Services was that the classes weren't just about what to teach, but they also focused on how to teach.
"They do a great job preparing you to handle real-life situations," Seaman said. He said he learned how to "hold students accountable while building relationships."
Education put to the test
As Seaman's fourth year as a seventh-grade science teacher was wrapping up this May, his skills in handling real-life situations were put to the test in a way no one ever wanted them to be. A student entered Seaman's classroom with two handguns and began firing at his classmates and teacher.
Seaman sprang into action, tackling the shooter and saving the children. In the process, he took shots to the abdomen, forearm and hip. The bullets remain in his hip and arm as doctors say removing them would cause more extensive damage.
Thanks to his quick action, no lives were lost and that's something Seaman is most grateful for. Also shot was young Ella Whistler, who was seriously injured, but no one else was hurt.
Still football strong, Seaman spent just 26 or 27 hours in the hospital and within four weeks was cleared to resume normal activities, though he did listen to his body and took things slow at first.  He said Whistler's recovery is also going well, as she has great family and community support, youth on her side, and big aspirations she's working hard toward.
Seaman downplays his heroism, saying "When it all happened, I just reacted. The main goal was to get all the kids out as quickly and safely as possible."
The outpouring of support, love and generosity for Seaman and his injured student since then has been quite heartwarming and led to a heightened awareness and concern among people for one another, he said.
The kids are most important
Seaman was determined that his students and classroom resume a sense of normalcy and from the first day of school on this fall, he worked to "make my new group of students feel welcomed and excited to be in my class. We built a nice foundation early on."
He said he still find fulfillment in his work.
"I enjoy interacting with the students on a daily basis," he said. "The challenge of pushing them academically, helping them achieve what they thought they couldn't, and helping them through middle school makes my job great."
He offers a tip to fellow Salukis that can be applied to a broader audience.
"The advice I would give is to never shy away from a new experience or opportunity, as it will help you grow as a person and provide life experience, regardless of whether the experience turned out to be a positive or negative one," Seaman said.
Numerous honors have come his way
The nation has recognized Seaman and his bravery in numerous ways since that tragic May day. From riding as grand marshal in parades to being recognized in countless other ways, the country has expressed appreciation to Seaman, and he's likewise grateful for the honors and the chance to share them with people he cares about.
He and Collette have two young children, Jamison, who turned three this summer, and daughter Emery, born April 15. Little Jamison was all smiles riding in a firetruck with his dad.
"I have had many once-in-a-lifetime opportunities, which I have made sure I spent with my family and friends," Seaman said. "I was able to throw out the first pitch at a St. Louis Cardinals game and a Chicago Cubs game this season and it was incredible to be on the field and be able to look out into the stands and see them full. That alone is phenomenal, but then to be able to spend those precious moments with my family and closest friends made the experiences even more memorable."
SIU honors cap a heartwarming time
Being grand marshal of SIU's homecoming is exciting for Seaman, and his parents, Bob and Kristi Seaman, will be with him just as they were for his Saluki senior game day in 2010.
Though his Saluki teammates and fellow alumni are spread far and wide around the globe, he's hoping some will be on hand to celebrate homecoming 2018 with #91 on Oct. 20.
Everyone can join Seaman at homecoming 2018
The Salukis will take on the Indiana State University Sycamores at 2 p.m. Saturday. Between the parade and game time, there will be plenty of tailgating fun on Saluki Row.
Homecoming activities are also planned throughout the week, including the inaugural Saluki Gras Block Party on Thursday night, and many are open to alumni and the community.