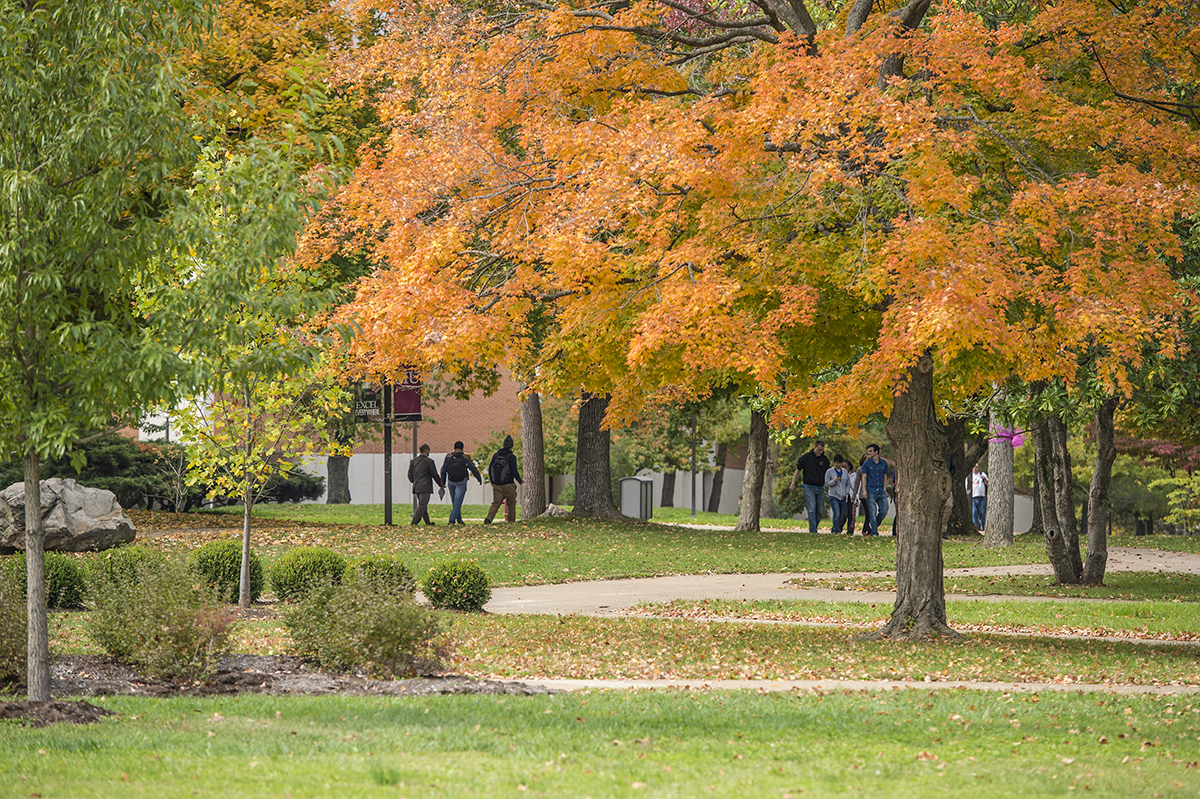 October 15, 2018
Devil's Kitchen Literary Festival is back with genres for all audiences
CARBONDALE, Ill. — The Devil's Kitchen Literary Festival is back at Southern Illinois University Carbondale, with a full schedule of readings and panels scheduled for Oct. 24-26.
The festival features winners of the 2018 Devil's Kitchen Reading Awards, which are selected based on books published the previous year. The event is hosted by the editorial staff of "Grassroots," the annual undergraduate literary and arts journal for SIU students.
With over 400 applicants to sort through, the students worked with advisors to narrow the list down to select winners. All Reading Award winners participate in the festival and receive a cash award.
First student-led literary festival
"Grassroots" is almost completely managed by undergraduate students who work as editors, authors and designers. Following that pattern, students will completely direct the 2018 festival. Allison Joseph, professor in the English degree program and faculty advisor of "Grassroots," sees the student management concept as a unique element of the festival.
"We are the first literary festival where the majority of the participants are selected by the undergraduate students," Joseph said.
While the students have the opportunity to coordinate the event, Joseph sees the festival as a celebration of the literary world for the whole community.
"Over the years we have had people bring their entire high school classes," Joseph said. "It's meant to be a celebration of writing, poetry, fiction, nonfiction; all of those things that make a writer's life possible."
Schedule of events
The three day festival is free and open to the public, and no prior registration is necessary. All events will be held at John C. Guyon Auditorium in Morris Library.
Oct. 24
7:30 – 9:30 p.m. Kayla Rae Whitaker (fiction).
Oct. 25
11 a.m. Q&A panel with Bonnie J. Morris, Kayla Rae Whitaker, James Allen Hall, Nicole Cooley and Claudia Cortese (moderated by one of the "Grassroots" editors).
2-3:15 p.m. Sara Henning and Monica Berlin (Crab Orchard Series in Poetry Award Winners reading).
3:15-4 p.m. Book signing with all festival authors.
4:30 p.m. James Allen Hall (nonfiction) and Nicole Cooley (poetry).
Oct. 26
11 a.m. Reading from new issue of "Grassroots" (undergraduate editors).
12 p.m. Claudia Cortese (poetry) and Bonnie J. Morris (fiction).
Festival winners
With over 400 applicants, the "Grassroots" undergraduate staff and faculty advisors selected seven authors as award winners. Each author will have an opportunity to present and discuss at the festival.
Nicole Cooley from New Orleans, Louisiana, received the award in the established poetry category. She will soon release two forthcoming poetry collections. She has published four other collections of poems, as well as a novel, a chapbook and a collaborative artists' book (with book artist Maureen Cummins).
Claudia Cortese, poet, essayist and fiction writer, won the award in the debut poetry category. Her work has appeared in Blackbird, Black Warrior Review, Crazyhorse, Gulf Coast, and The Offing, among others, and she writes reviews for Muzzle Magazine. Cortese grew up in Ohio, and currently lives in New Jersey where she teaches at Montclair State University.
Bonnie J. Morris, winner in the fiction category, is a women's studies professor and historian. She is currently a lecturer at the University of California at Berkeley, and the author of sixteen books. One of her books, "Women's History for Beginners," received recognition from former First Lady Michelle Obama after being broadcasted on C-SPAN. As a long-time teacher, Morris has served as a guest lecturer for the Library of Congress and the State Department, while also working in multiple other arenas. Her newest book was listed as one of the top picks for women's history month by Oprah's Book Club and O magazine.
Kayla Rae Whitaker, with work appearing in the Los Angeles Times, Lenny, Buzzfeed, Literary Hub, and others, is winner in the literary nonfiction category.  Her 2017 novel, "The Animators" was named a best debut novel of 2017 by Entertainment Weekly and a best book of 2017 by NPR, Kirkus Reviews and BookPage. Originally from Kentucky, she is a graduate of the University of Kentucky and received her MFA at New York University.
James Allen Hall received the literary nonfiction award with his collection of personal lyric essays, "I Liked You Better Before I Knew You So Well." The book was published by Cleveland State University Press after winning their Essay Collection Award. He has been the recipient of multiple fellowships, and currently directs the Rose O'Neill Literary House at Washington College.
Sara Henning is one of the Crab Orchard Series in Poetry Book award winners. Her poems have appeared in multiple publications, and she also won the Crazyhorse Lynda Hull Memorial Poetry Prize in 2015. Currently, she works as an assistant professor at Stephen F. Austin State University.
Monica Berlin, another poetry book winner, is a professor of English at Knox College in Illinois. Her poems have appeared in many journals, and she also coauthored a book that won the 2013 New Measure Poetry Prize.
For more information, contact Allison Joseph at 618/453-6813.