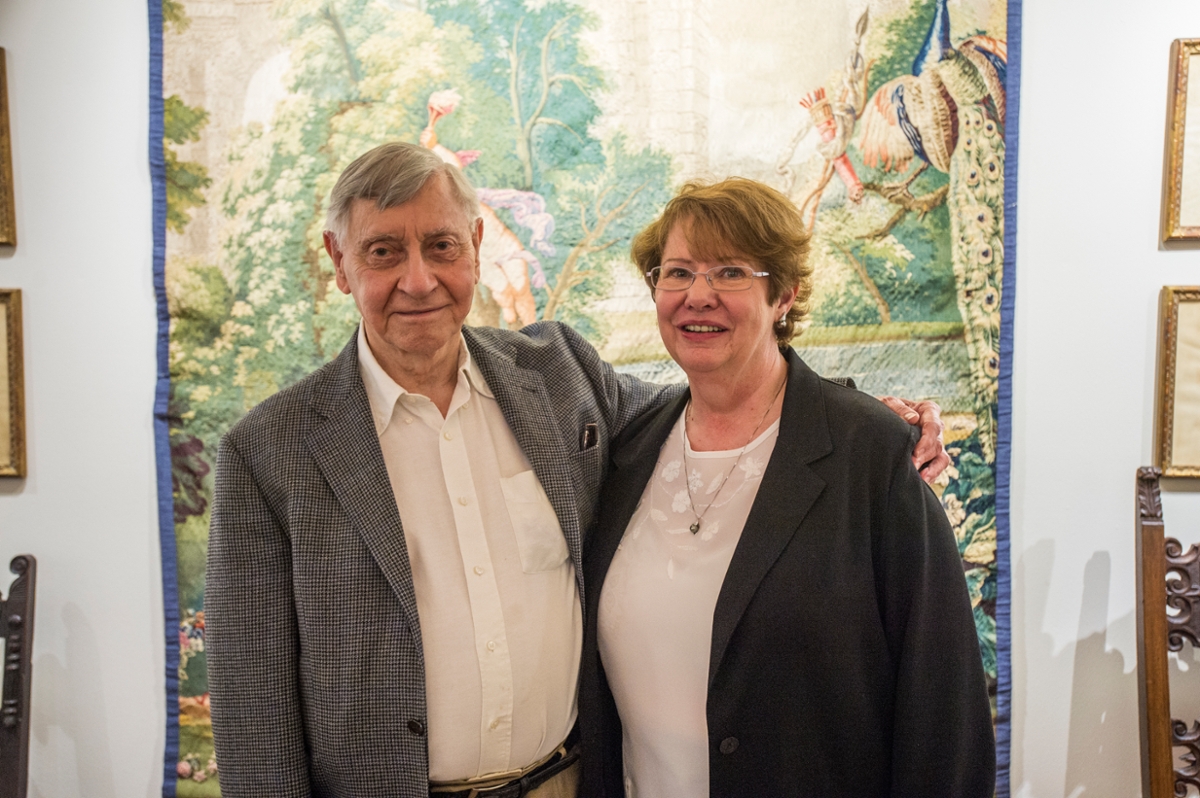 Carl Lutes and Dona Bachman, former SIU University Museum director, at donation reception (photo by Steve Buhman).
October 01, 2018
Flemish tapestries, Hercules sculpture and Italian furniture featured in Renaissance era gallery at the University Museum
CARBONDALE, Ill. — A new gallery is coming to the Southern Illinois University Carbondale Museum, featuring unique, special collection pieces from the Renaissance era.
The opening celebration of the Carl L. Lutes Gallery will be Oct.12 from 4:30 to 6:30 p.m., and showcase Lutes' personal collection of Renaissance and later furniture, tapestries and works of art.
A look into the Renaissance era
Included in the gallery for current display are Flemish and French tapestries, Hercules and the Nemean Lion sculpture, Italian walnut dante and sgabello chairs, and paintings depicting St. Michael the Archangel subduing Lucifer, among others.
"Historically the Renaissance was a period of creative innovation and cultural magnificence," said John Pollitz, dean of Library Affairs. "We are fortunate to have such a unique opportunity to highlight art, furniture and tapestries from this period, thanks to Mr. Lutes."
Long history at SIU
In 2015, Lutes was honored with an SIU Distinguished Alumni Award. According to the previously published report:
"Lutes spent most of his life in the arts, pursuing careers in both English and music. He was a member of the SIU English Department for five years, a teacher in Christopher, Illinois, his hometown, and a teacher in New York City. He was also principal flutist with the St. Louis Symphony Orchestra and the Longines Symphonette, a national radio orchestra. Lutes was also concertized throughout the United States, Canada and Mexico as personal flutist with Roberta Peters, Metropolitan opera star.
"Lutes enrolled at SIU, then Southern Illinois Normal University, before graduating from high school. During World War II and after a year at SIU, he left for the Navy, playing in the Navy band in Washington, D.C., before assignment to the battleship, USS Washington. After the war, he returned to SIU to finish his bachelor's degree. He then attended Columbia University for a master's degree in music and further graduate study at the Paris Conservatory and the Sorbonne, where he received degrees in Flute and French Language and Culture.  He is a two-degree SIU graduate with a bachelor's degree in 1948 and a master's degree in 1959."
Helping students learn
Lutes love for art first started at SIU as a young student enrolled in a foundational art appreciation class. After developing as an artist and spending years collecting each unique piece, it only made sense for the collection to come full circle back to SIU. For Lutes, his purpose is quite simple.
"My purpose mainly for leaving it here is for students to learn," Lutes said.
Students who are taking similar art classes can examine the work and learn from it for their own study, Lutes explained.
The gallery is located in the south hall of the University Museum in Faner Hall, Door #12 on the SIU campus. The Oct. 12 opening event is free and open to the public. The University Museum is open Tuesday-Friday 10 a.m. – 4 p.m. and Saturday 1 - 4 p.m.
For more information contact museum@siu.edu or call 618/453-5388.