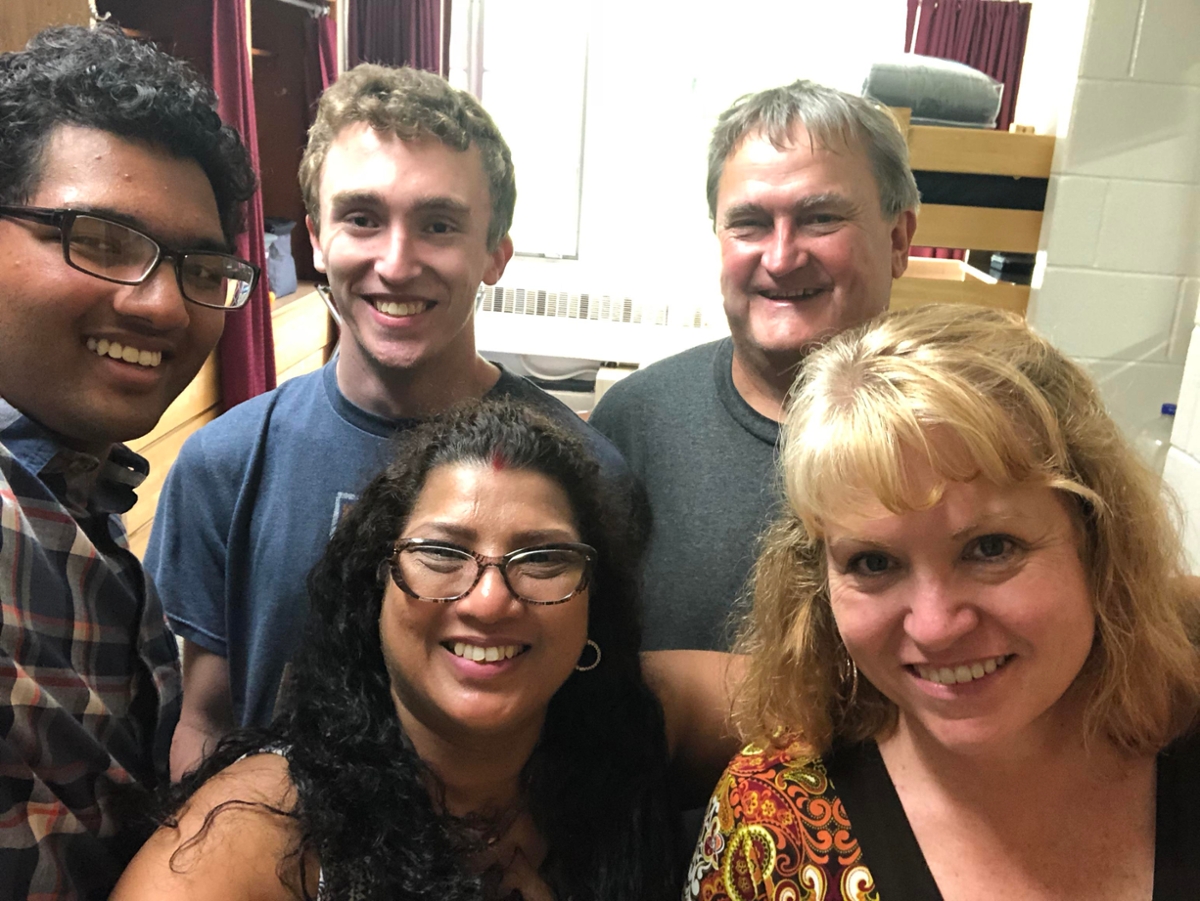 2018 Family Weekend Honorees –  Anuj Pawar, left, and his mother Geetanjali Maru, lower left, of Mundelein, along with counterclockwise, Beth, Carl and Derek Hartmann. Pawar's family is the Family of the Weekend for 2018 Family Weekend at SIU. Pawar's father, Abir Maru, is unable to attend so Pawar's roommate, Derek, and his parents, all from Murphysboro, will be sharing the honors with Pawar's family. (Photo provided)
September 26, 2018
Family of the Weekend for SIU is Anuj Pawar's family
CARBONDALE, Ill. — Anuj Pawar has only been a Saluki for a few weeks, but he and his family are already loving Southern Illinois University Carbondale. And they say that was the case even before their Mundelein, Illinois, family was chosen as the 2018 Family of the Weekend for Saluki Family Weekend '18 festivities Sept. 28-30.
Family to receive special recognition, prizes
The family was selected for the honor from nearly 200 entries submitted online and at new student orientations. They'll receive complementary football game tickets and special recognition there, meals for the weekend and a gift basket of assorted Saluki items.
Pawar, a freshman zoology/pre-veterinary medicine major, is the son of Geetanjali Maru, a singer/homemaker and Abir Maru, a financial consultant. Pawar said he already feels like SIU is his home away from home.
"What I am liking most about SIU is the environment – it's very open and scenic," he said.
He's the first person in his family to attend SIU and the first to choose zoology/pre-veterinary as a major and career. He said he was impressed with the zoology/pre-vet program and how social everyone is on campus when he visited campus.
Family impressed by SIU campus and community
During visits to SIU, Pawar's family found "the campus ambiance is very welcoming and lively, which appealed to Anuj and me," Geetanjali Maru said. "Past visits to the campus also got me in touch with key people who were likely to play a role in Anuj's daily life, inspiring him to do better as a college student and shape his future."
She said that ultimately, "the engaging kids and faculty members" get the credit for swaying Pawar to choose SIU as the place he will earn his degree.
Involved with Marching Salukis, Phi Mu Alpha Sinfonia
He's also found at SIU a way to continue to pursue his love of music. A trombone player in the band since fourth grade, he's now enjoying being a member of the Marching Salukis.
Pawar said college band involves a bit of physical effort, but it has also been a lot of fun. He was also recently inducted as a member of SIU's Epsilon Kappa Chapter of Phi Mu Alpha Sinfonia, the oldest and largest national professional music fraternity for men.
"The members of the band have been very friendly and helped me," he said.
Building a new Saluki family
In addition to his mother, Pawar's guests for the 2018 Saluki Family of the Weekend will include his roommate, freshman plant biology major Derek Hartmann, and Hartmann's parents, Beth and Carl Hartmann of Murphysboro. The Hartmanns are both alumni of SIU.
"Celebrate our incredible Saluki family!" is the theme of the 2018 Saluki Family Weekend, a three-day festival packed with special activities. The schedule is filled with nonstop fun for all ages. Highlights include the Saluki Comic Con, a craft sale, special family crafts and activities, the 83rd annual Greek Sing, movies, free family tailgating and the big football game pitting the Salukis against South Dakota.
---
2018 Family of the Weekend – Anuj Pawar, left, a freshman from Mundelein, Illinois, with his parents, Geetanjali, center, and Abir Maru, are being honored during 2018 Family Weekend at SIU Carbondale. Pawar is a member of the Marching Salukis. (Photos provided)