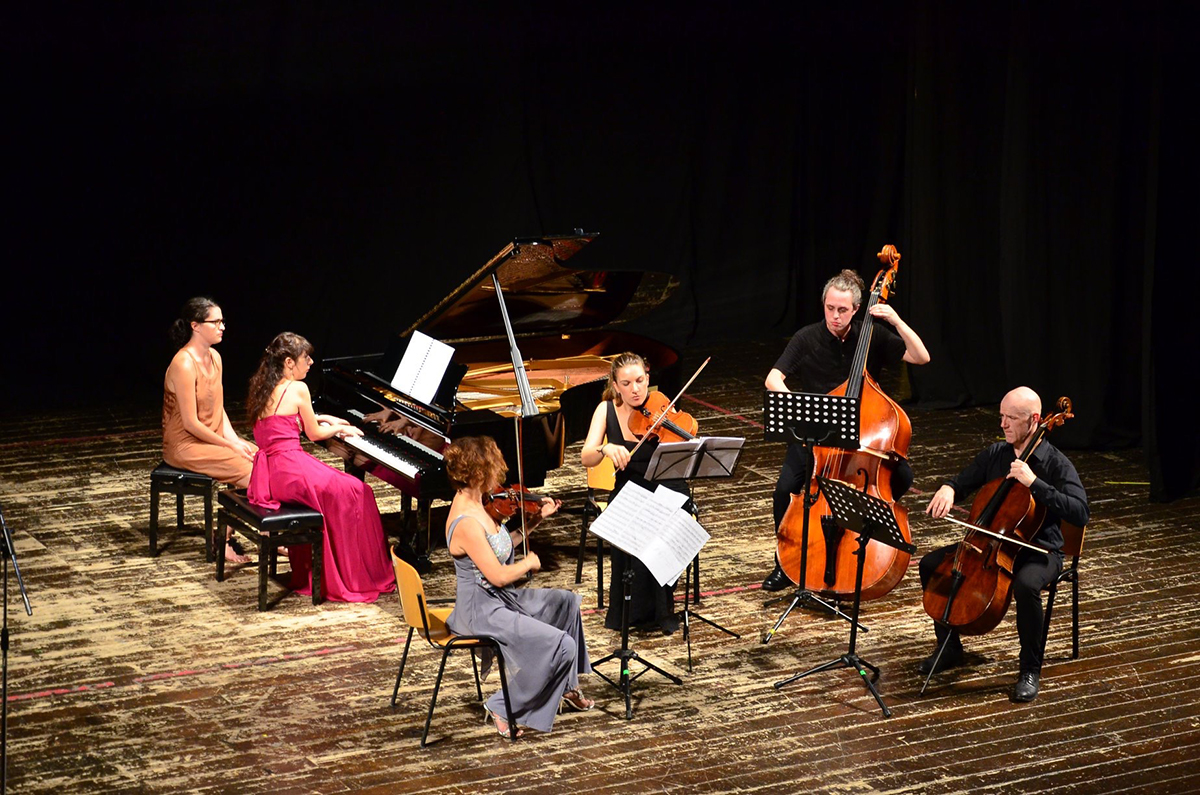 September 25, 2018
International music performance gives unique experience to students, potential students and faculty
CARBONDALE, Ill. — The power of music is in the way it brings people and cultures together. That's why students and faculty from the Southern Illinois University music department travelled to Europe to perform on an international stage and connect with musicians from around the world.
For the last two years, a team from SIU have taken a group of college and pre-college students to Italy to perform in the Festival Suoni d'Abruzzo. This year the festival was held in Ortono, Italy, and featured musicians from Russia, Hungary, Italy and the United States.
Four faculty members from SIU, along with two students and seven pre-college students, participated in the 2018 event.
Partnership allows students to perform and coach
The festival is built with a unique design to give students from across the globe an opportunity to attend masterclasses held by internationally renowned teachers, and then join their mentors in public performances. This format allows students to gain exceptional professional growth, while also building a powerful network for the future.
Coming from Hickory, North Carolina, it was the allure of performing in Italy that first caught William Bewley's attention. But as a second year graduate student at SIU, the trip quickly turned into an experience that developed him for the future.
"By being around different cultures and making music with people from other countries, I felt I grew as a musician and as an individual," Bewley said, "You can learn a lot by listening and observing the different things this world can provide."
While Bewley gained experience as a musician, his favorite part was working as a coach for younger students. This experience helped prepare him to work in music education and conducting in the future.
"I enjoyed coaching the young pre-college students and being able to watch them grow through the week," Bewley said. "They performed at the end of the festival and the performance made me proud."
The Festival Suoni d'Abruzzo is supported by the Abruzzo region, and has benefitted from unique partnerships with SIU and Southeast Missouri State University that have enabled students and faculty to participate in the annual event.
Shows range of professors' work
As the SIU students acted as coaches and mentors for the pre-college students, SIU faculty conducted masterclasses, performed in concerts and provided lessons in a variety of instruments. This provided international exposure for the university, while also acting as a recruitment method for potential students.
Eric Lenz, associate professor of cello at SIU, felt the experience was a valuable way to introduce students to music on a new stage.
"It was exposing them to some of the ways SIU faculty perform internationally," Lenz said. "Not only were the students exposed to SIU faculty performing internationally, they experienced it alongside us."
Two other music professors, Michael Barta and Edward Benyas, participated in the seven day event, sharing their unique expertise in the festival. The connection between SIU and the festival comes through a recent music performance graduate, Rossana Cauti, who is from the Abruzzo region.
International performances are an integral part of the music program at SIU, and Lenz believes that future opportunities will continue to strengthen the program.