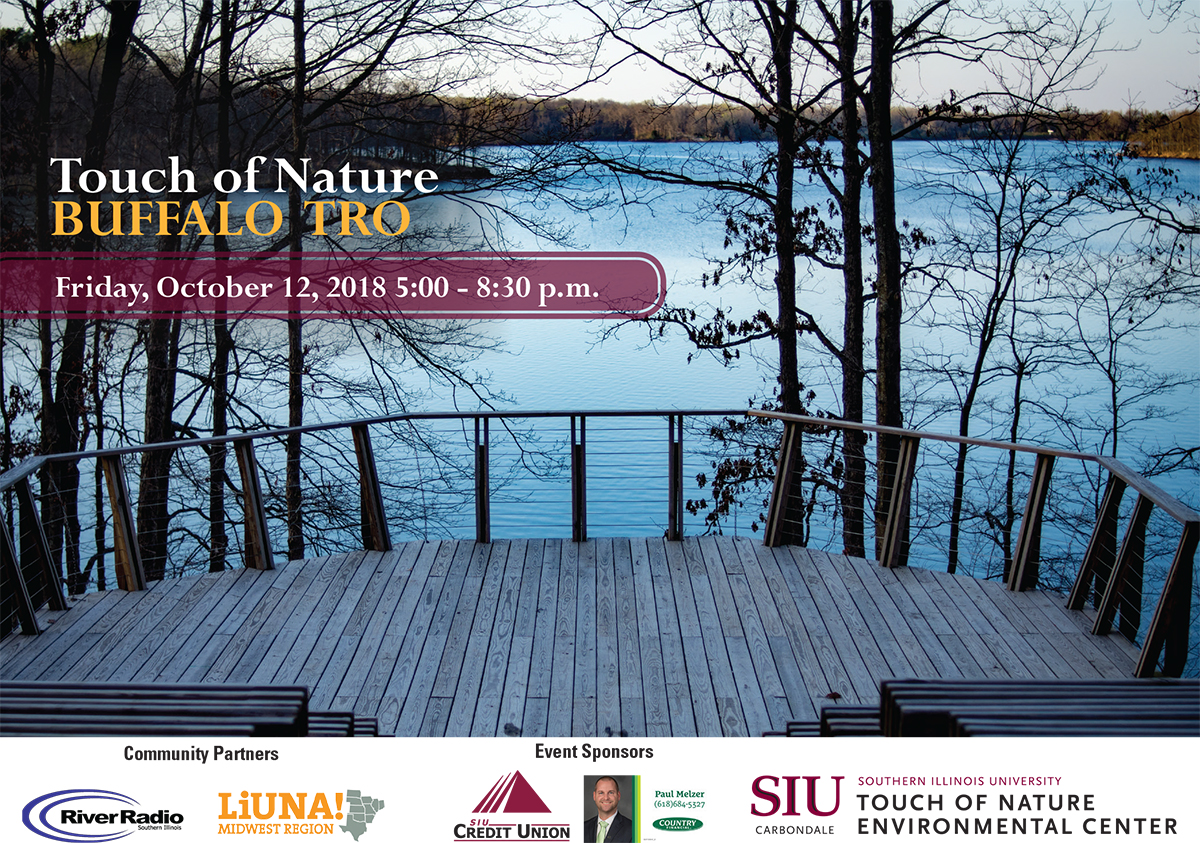 September 24, 2018
Experience a Native American tradition at SIU's 2018 Buffalo Tro
CARBONDALE, Ill. — Here's your chance to experience a cookout the way Native Americans once did.
Southern Illinois University Carbondale's Touch of Nature Environmental Center is hosting its annual Buffalo Tro on Oct. 12, and this year's fundraiser honors the man who founded the center's popular Underway Adventures program.
Steak cooked on coals and other fare offered
The Buffalo Tro features marinated beef steaks, cooked on very hot stacked hardwood, then "klinked" to remove the coals. It's served with baked potato, dinner salad, hot rolls and dessert.
The cooking method is a variation of the Plains Indian ceremonial meal where bison meat was cooked directly on hot buffalo chips to sear in the juices and flavor.
Vegetarian and special diet options will be offered as well.
Dedications, reception and auction also featured
The day's festivities kick off at 10:30 a.m. with the dedication and renaming of the student intern house, commonly known as the "the Red House," to the Cavaletto House. A special ceremony at 3 p.m. will include the formal renaming of the Camp 1 dining hall as Schafermeyer Hall.
The Buffalo Tro evening includes a reception at 5 p.m., featuring light appetizers and local beers and wines. Bidding on a wide variety of silent auction items is from 5 to 7 p.m. with the meal served at 6:30 p.m. The live auction will follow.
Cavaletto House dedication begins the day
The house renaming is in recognition of State Representative John Cavaletto (R-Salem) for his support of Touch of Nature, Camp Little Giant and the Special Olympics.
Cavaletto attended summer camp at Little Grassy and earned his undergraduate and graduate degrees at SIU. He worked with William Freeberg, the Kennedy Foundation and Eunice Kennedy Shriver to establish camps for children and young adults with physical and intellectual disabilities. The camps, directed by Cavaletto, led to creation of the Special Olympics.
He and his wife Connie worked at Camp Little Giant and helped train students throughout the state to work with children and adults with Down syndrome and other physical or mental disabilities during the 1950s and 1960s. During his legislative career, which is concluding this year, he's also been a supporter.
The public is invited. Lunch will follow in the Friends Room.
Hank Schafermeyer made his mark in adventure education
The dining hall is being dedicated in honor of SIU alumnus and adventure education pioneer Henry "Hank" Schafermeyer. Schafermeyer's contributions to the university and the world were extensive, according to Tony Calabrese, his college roommate and longtime friend.
The two men were part of SIU's 1963-64 national championship gymnastic team, a team that went undefeated from 1961 to 1968 with 68 wins. During the 1960s and 1980s, the squad won four national championships and took second three times.
As a forestry graduate student, Schafermeyer worked at Touch of Nature, then known as the Outdoor Lab, and in 1969 he and Calabrese, with help from others, founded the popular Underway Adventures program, still enjoyed by many people each year.
Based loosely on the Outward Bound program for young men, Underway Adventures includes rock climbing, high ropes courses, team building and other outdoor activities and is open to coed groups and females as well.
Calabrese, who teaches at SIU, said it's ironic that one of Schafermeyer's first jobs at Touch of Nature was to plant the pines, now grown huge, outside the dining hall that will bear his name. He also mopped floors after conferences and conventions at the center.
Award-winning career followed
Schafermeyer went on to an award-winning career as an educator in the St. Louis area, helping connect countless youths and adults to the great outdoors, taking them on survival trips and helping them acquire an outdoor education.
He won accolades as a national outdoor teacher of the year and also for his community service. He created several programs that exposed thousands of people to the great outdoors and changed the educational landscape.
He served as executive director of the Student Leadership/Environmental Adventure Program, fostering interaction among students in the St. Louis school desegregation program. The St. Louis Experiential Exchange was formed in 2013 to carry on his vision. The group presents an annual award in his name.
"He did all of these things but he never took credit for any of it," Calabrese said. "It's nice that he's finally going to get recognition, even if he's not here to see it."
Schafermeyer passed away Dec. 22, 2017, after a decade-long battle with kidney cancer. Family members will be attending the dedication.
RSVP now
All activities on Oct. 12 are open to the public. There is no cost to attend either of the dedication events but guests are asked to RSVP at https://ton.siu.edu/events/buffalo-tro/ or by calling 618/453-1121.
The cost of the Tro is $70 per person or $520 per table. Seating is limited. Make reservations at http://siuf.org/events/buffalotro2018.
The Buffalo Tro is the major annual fundraiser for Touch of Nature Environmental Center and proceeds go toward enhancing the services and facilities.
Sponsors and auction donations also welcome
River Radio of Southern Illinois and Laborers Local 773 are this year's tro community sponsors. Event sponsors include the SIU Credit Union and Paul Melzer's Country Financial in Murphysboro. Southern Illinois Healthcare is the 2018 platinum sponsor while Ullico Insurance and Investments is a stage sponsor and the Bike Surgeon of Carbondale is a silver sponsor.
Additional sponsorship opportunities at levels from $500 to $5,000 are also available online.
Donations of items for the live and silent auctions are also still welcomed from individuals and businesses. Select auction items can be viewed on the website and more will be added until the day of the event.
To contribute or learn more, contact Paula Feigenbaum at 618/453-1121 or paulaf@siu.edu.
Touch of Nature serves thousands of people each year
Touch of Nature Environmental Center opened in 1951 on a 150-acre parcel along Little Grassy Lake and has grown to encompass numerous facilities and amenities on 3,100 acres bordered by Giant City State Park, the Shawnee National Forest and Crab Orchard National Wildlife Refuge.
It is home to Camp Little Giant, the nation's first university-affiliated residential camp for people with disabilities and was instrumental in the founding of the Special Olympics.
Touch of Nature is also home to many other programs, activities and services, including adventure and environmental education, therapeutic recreation and conference services, as well as Veteran Adventures.
People of all ages come to Touch of Nature for retreats, camps, conferences and assorted outdoor activities including hiking, rock climbing, zip lining and the high ropes course.