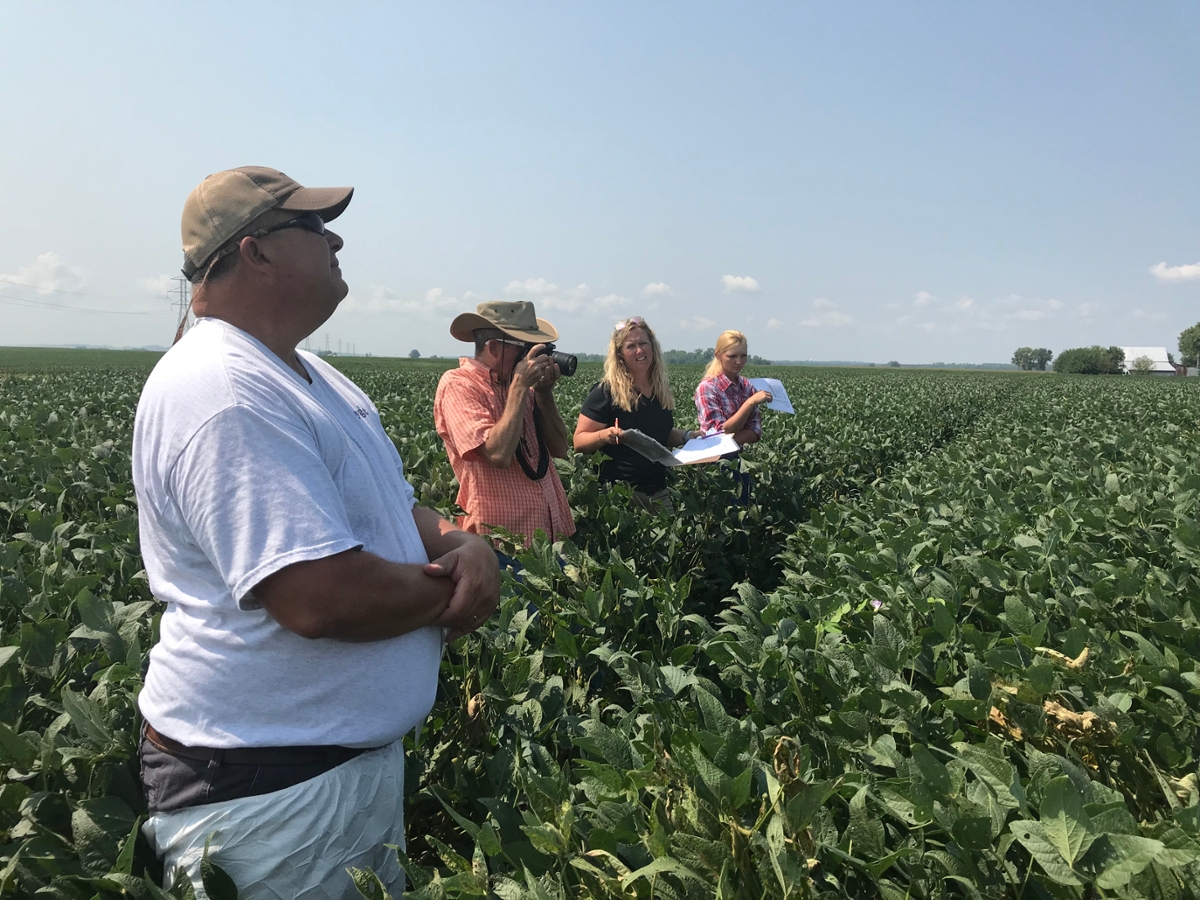 Grace Pytlinski (far right) working with research and development scientists with Syngenta Crop Protection at the SIU research site in Valmeyer, Illinois (photo provided).
August 24, 2018
Two students join SIU with an Illinois Soybean Association Scholarship
CARBONDALE, Ill. — With over 10.5 million acres of soybeans covering Illinois, research on this little plant is a continual and important process. That's why the Illinois Soybean Association has teamed up with Southern Illinois University Carbondale to provide scholarships to the next generation of researchers.
Out of the five scholarships awarded to students in Illinois, two were awarded to incoming SIU students. Haley Gregson, of Waterloo, Illinois and Grace Pytlinski, of Waltonville, Illinois are both entering as juniors, and are ready to jump into their new area of study and research.
Starting early with hands-on research
For Gregson, agriculture has always been a way of life. From growing up on a farm to joining 4-H and FFA clubs in high school, her path was set early on for a career in agriculture. She started her college journey at Kaskaskia College, utilizing the articulation agreement between SIU and Kaskaskia to build a program that fit her needs.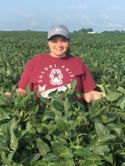 Gearing up for a career in the agriculture industry, Gregson started early with hands-on research and internships. As a freshman, she worked as a weed science intern at the SIU Belleville Research Center in 2017, and then spent this past summer interning with Growmark Gateway FS.
Receiving the ISA scholarship not only allows Gregson to gather new experiences while in college, but it also sets her up for a career in future research.
"This scholarship meant the world to me when I received it," Gregson said. "I felt like I really accomplished something, and I could give back to the agriculture industry and the Illinois Soybean Association as a whole through research and developing these skills."
While at Kaskaskia College, Gregson received an associate degree in plant and soil science, agriculture business and animal science. During her time at SIU, Gregson plans on getting a double major in agribusiness economics and plant, soil and agricultural systems.
Long history with soybeans
Grace Pytlinski knows soybeans about as well as any college student could. Growing up on a farm that is dominated by the small plants, she had a bit of a jumpstart when it comes to research. To support her natural preponderancy for all things agriculture, Pytlinski started while still in high school taking classes at Rend Lake College. Now, she has her associate degree in agricultural production and management.
Looking towards her future, Pytlinski knew she wanted to get a deeper understanding behind the farming practices she saw. Starting the summer of her freshman year, she interned with Syngenta for two years. While there, she learned a variety of research practices, while also participating in specific MGI soybean studies.
"These are soybeans they are working to bring to the market for farmers," Pytlinski said. "It was kind of neat to watch how that works, and how you collect the data to determine if a soybean is going to work or not for a region or area."
Going forward, Pytlinski hopes to further her experience and continue to support the agriculture industry. For her, the ISA scholarship was another confirmation for her future goals.
"To be recognized by such a profound organization in the farming industry was a really humbling experience," Pytlinski said.
While getting her degree in crop, soil and environmental management at SIU, Pytlinski hopes to utilize the many opportunities available to her, such as joining the Agronomy Society and potentially working with faculty advisors on a variety of projects.
Collaborative effort
Seeing the need for future crop scientists, the ISA worked for many years to support young researchers. SIU has received several students over the years in connection with this funding. Jason Bond, SIU professor in plant, soil and agricultural systems, said the program does much to prepare students for their careers.
"There are some students who already know what they want to do, and it [the scholarship] really lights a fire for those students who already want to do research," Bond said.
Using this opportunity to engage in hands-on experience allows students to be competitive in the Crop Protection industry, Bond explained. The size and growth of the industry allows for exceptional placement opportunities for SIU students.
For these students, the collaboration went further than just the ISA checkoff program and SIU. Both Gregson and Pytlinski worked with the articulation agreements between their community colleges and SIU, and built a degree program that was catered to their specific situation.
"The articulation agreement helps students to make a smooth transition between Rend Lake College and SIU," Kathy Craig, RLC agriculture instructor said. "The students know exactly how their classes will transfer."
Bond explained that students are able to transfer to SIU and finish their agriculture degree in two years, or even a year and a half for many students. This prepares them for a smooth entry into their future careers.