August 13, 2018
SIU's Solar Fest and Dawg Fest to feature free outdoor concerts this fall
CARBONDALE, Ill. — The Summer Sunset Concerts series is a popular regional attraction throughout the warm summer months, and while it has ended for 2018, you can experience the same kind of outdoor musical enjoyment at two Southern Illinois University Carbondale Festivals this fall.
Solar Fest in August and Dawg Fest in September will each feature big open-air concerts on the lawn of Shryock Auditorium. Each is free and open to students, faculty, staff and the general public.
Twin bill for Solar Fest
Enjoy a musical afternoon at the new Solar Fest, set for 3-6 p.m. on Aug. 25. It will feature performances by two acts that strive to be hard to define within a specific genre: Lazcaux and Milk N Cooks.
Lazcaux, a Chicago artist, performs unique remixes and eclectic styles. Under the moniker Milk N Cooks, suburban Chicago twin brothers Paul (Cooks) and James (Milk) McElwain dub themselves "Post-Bro" DJs/musicians. Their show is designed to have broad appeal to diverse audiences.
Solar Fest is sponsored by SIU's Student Programming Council.
Murphy 500 headlines Dawg Fest
Murphy 500, a popular progressive country band with a sizeable fan base, will perform during Dawg Fest, 7-9 p.m. on Sept. 14. The band, which originated in Murphysboro, won the 2013 Texaco Country Showdown, has shared the stage with many major acts, including Kid Rock and LoCash Cowboys. They've also recorded in Nashville and draw large crowds wherever they go.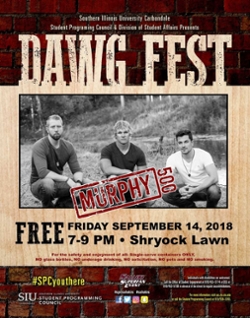 Kicks off the 2018 Saluki football season
Dawg Fest serves as a kickoff for SIU's 2018 football season and a spirit-building event promoting the season home opener game against Southeast Missouri State Redhawks at 6 p.m. the next day. Fans will have the opportunity to meet a variety of people from SIU Athletics.
Everyone's welcome but there are a few rules
Both events are open to everyone and those attending are encouraged to bring lawn chairs or blankets to sit on. To assure the event is safe and enjoyable for all, there are a few regulations for the family-friendly events:
Only single-serve containers are allowed, and glass bottles are prohibited.
Underage drinking laws will be enforced.
Pets, smoking and solicitation are prohibited.
Dawg Fest is a production of SIU's Student Programming Council and Division of Student Affairs.
For additional details
To learn more about Solar Fest or Dawg Fest, visit www.spc.siu.edu or call 618/536-3393.