August 10, 2018
Simon Institute research shows state funding disparities benefit downstate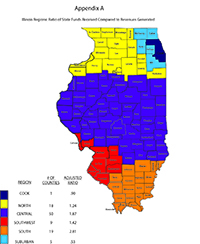 CARBONDALE, Ill. — Longstanding political dialogue in Illinois is that downstate Illinois does not receive its fair share when it comes to a return on state funding and resources. 
While there is not an equal funding distribution across the state, research by the Southern Illinois University Carbondale's Paul Simon Public Policy Institute shows that despite heavy rhetoric, the downstate region receives more than it pays into the state coffers.  The best deals are received in central Illinois and Southern Illinois. 
The decades of political divisiveness that in many instances enhances regional prejudices, can have a negative impact on important public policy issues, according to John Jackson, a visiting professor at the institute. The research takes an extensive look at the measures over the last three decades that have resulted in landing Illinois in its present financial crisis along with political stances by statewide candidates during that period. 
"The regional conflict makes it hard to get public policy done in this state," Jackson said. "We have deeply divisive bloodlettings over whether we are going to have a budget when every other state has a budget … and we couldn't pass a budget for two years. This is a manifestation that everybody is out for their own and has no regard for the larger picture." 
Research looks at distribution of tax funds and polls 
Released earlier this week, the Simon Review Paper #53 "The Politics of Public Budgeting in Illinois" examines both the revenue and expenditures in Illinois' state budgeting.  Jackson and John Foster, emeritus faculty member in the Department of Political Science, spent several years studying research from 2013 tax and budget records from the Illinois General Assembly's Legislative Research Unit. The report also relies upon recent Simon Poll data on registered statewide voters, 
While higher education and community college state funding was dramatically reduced during the two-year budget stalemate, it has returned to 92 percent of the fiscal 2015 level, Jackson notes. And a 2017 K-12 school aid formula that increases funding to poorest property wealth districts is just now taking effect. 
Research yields some surprises 
The research breaks the state's 102 counties into six specific regions, including Cook County, a five-county suburban section that surrounds Cook County, and the 96 remaining downstate regions which are subdivided into north, central, southwest and southern regions. 
The research shows the south region receives $2.81 in state funds for every $1 generated. The Central Illinois region of 50 counties receives $1.87 back for every $1.00 sent to Springfield. All of the downstate regions receive more from the state budget than they pay in taxes. By comparison, Cook County receives 90 cents for every $1, and the suburban counties only 53 cents for every $1 generated. 
Jackson noted that Chicago residents have a "fairly high level" of feeling that like their southern counterparts they also are not getting a "fair share." Meanwhile, suburban Chicago-area residents feel better about their return on the dollar than other regions even they have the worst ratio, Jackson said. 
Although downstate residents feel slighted when it comes to state funding, Jackson notes that nine of the state's 12 universities, most of the community colleges and correctional facilities are outside of Chicago and the suburban area. There are also more highways, streets and roads to maintain and also where, with the exception of some parts of Chicago, poverty indicators are highest. 
Polling shows support for budget cuts; little consensus where 
Jackson noted that people interviewed by Institute's statewide polling are opposed to  "waste in government" but not to any of the benefits that they receive. Polling also shows a high level of mistrust in the government in both the nation and state.
"People who are often the angriest (about government spending and waste) are often the ones benefitting from the services or tax dollars spent in their area," Jackson said.
'All in this together'
Hoping that the research helps debunk regional funding "myths," Jackson also said political candidates and elected officials must stop misleading voters in campaigns.
"The candidates mislead us routinely. They buy ads and tell us we are not getting our fair share or that we should have this resentment toward the other parts of the state," Jackson said.
He notes that continuing calls to split downstate Illinois from Chicago do not benefit anyone. 
"We don't have a sense of being all in this together and that the state of Illinois is worth being a part of, and understanding that we get many benefits from staying," he said.