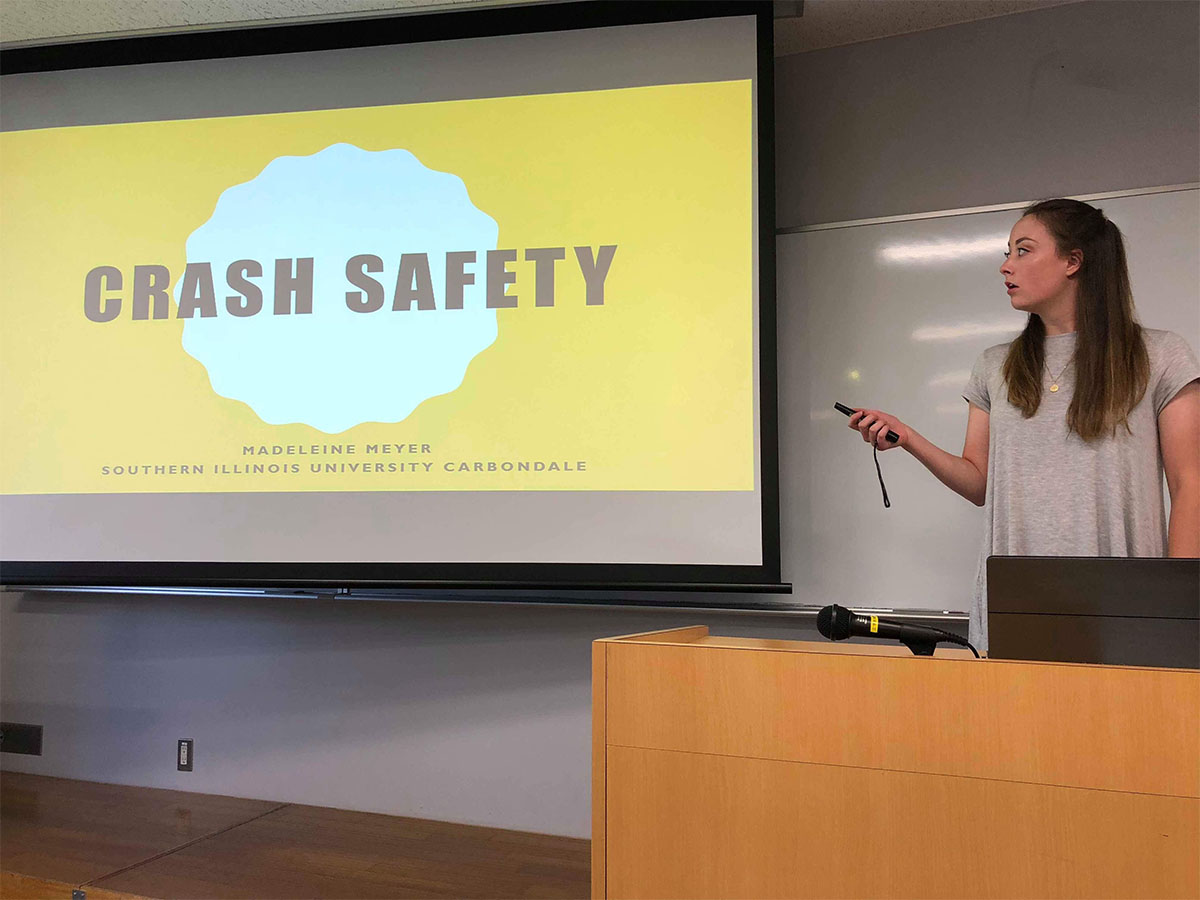 Making her point – Madeleine Meyer, a senior in SIU Carbondale's Automotive Technology program from St. Louis, Missouri, is giving her final presentation over crash safety as part of her six-week summer intensive program at Nagoya University in Japan. SIU is the only U.S. university automotive technology program partnered with Nagoya University. (Photo provided)
July 24, 2018
SIU automotive student learns about international auto industry
CARBONDALE, Ill. — Taking advantage of an academic exchange agreement involving Southern Illinois University Carbondale's nationally recognized automotive program, Madeleine Meyer spent the last six weeks in Japan, gaining insight into the international auto industry. 
Meyer, a senior in automotive technology, participated in the Nagoya University Summer Intensive Program, which features lecturers from that and other universities, automotive manufacturers and trending topics within the industry. SIU's program has been involved since 2009 and one or two students participate each summer. 
"The ability to learn more about the automotive industry in a culture so different than America's sounded awesome," said Meyer, who will graduate in May 2019. A 2015 graduate of Parkway North High School, Meyer is the daughter of Donna and Matt Meyer of St. Louis. She is a 2015 Parkway North High School graduate. 
Learning about industry in a different culture 
In addition to taking a Japanese language course and automotive classes, Meyer and other students from around the world toured facilities including Yokohama Rubber, Mitsubishi, Toyota Motors, Yamaha and the National Traffic Safety and Environmental Laboratory. 
On weekends, she traveled with others to popular tracks and garages to see rare cars and watch motorcycle racing and drifting. The program also planned three cultural excursions to Nara, Kyoto and Tokyo, where students visited museums and other landmarks. This summer there were 36 students representing 11 countries, Meyer said. 
"The people in the program have been awesome, and I have made friends here that I know I will keep in touch with," she said. 
Nagoya is "like the Detroit of Japan" 
SIU is the only U.S. university automotive technology program partnered with Nagoya University, Michael Behrmann, department chair, said. 
Major manufacturers such as Toyota, Mitsubishi and Nissan have operations in and around Nagoya, Behrmann said. Experts from some of these corporations present the industry's latest technological developments during this intensive summer program. 
SIU automotive graduates are around the world helping lead some of the world's largest corporations, with some receiving international assignments, including Nagoya, he said. 
"Madeleine is gaining an incredible wealth of knowledge that will help position her for the future global automotive industry," Behrmann said. 
Automotive interests came at an early age 
Meyer grew up going to NHRA races every year with her dad and loved the excitement of racing. As a high school senior, Meyer took a precision machining course at South Technical High School and she credits a counselor, Sally Difani, with helping her in college planning.
Difani recommended SIU Carbondale's program and Meyer met with Behrmann. After completing an associate degree at State Technical College of Missouri, Meyer contacted Difani again for help in applying to SIU. 
'Not just a group of students – it's a community' 
The "obvious passion" that SIU faculty and staff have and their interest in seeing students succeed, along with the many opportunities for students who are in the program, were big factors in Meyer's decision to attend SIU. The automotive department staff "go above and beyond making sure that students have everything they need in order to be successful once they enter the work force," she said. 
Meyer said she worked as a part-time unpaid intern for the City of Carbondale's garage last semester. She mentioned that student organizations, including the Women in Automotive Technology club, ATO and Automotive Ambassadors would not be available without dedicated faculty and staff. 
"These opportunities allow me and other automotive technology students to gain experience and skills we will use in the field," she said. "The encouragement from the staff and friends that I have made in the program has helped me to try things I wouldn't have before and learn valuable skills." 
Working to change what has been a male-dominated industry 
Female enrollment in SIU's automotive program is typically between 12 and 24 students, Behrmann said. SIU and many of the program's corporate partners are working to change what has been a male-dominated field. 
SIU has the only two women instructors teaching automotive technical courses at the university level in the country, and is the only university with a Women in Automotive Transportation Technology registered student organization, Behrmann said.