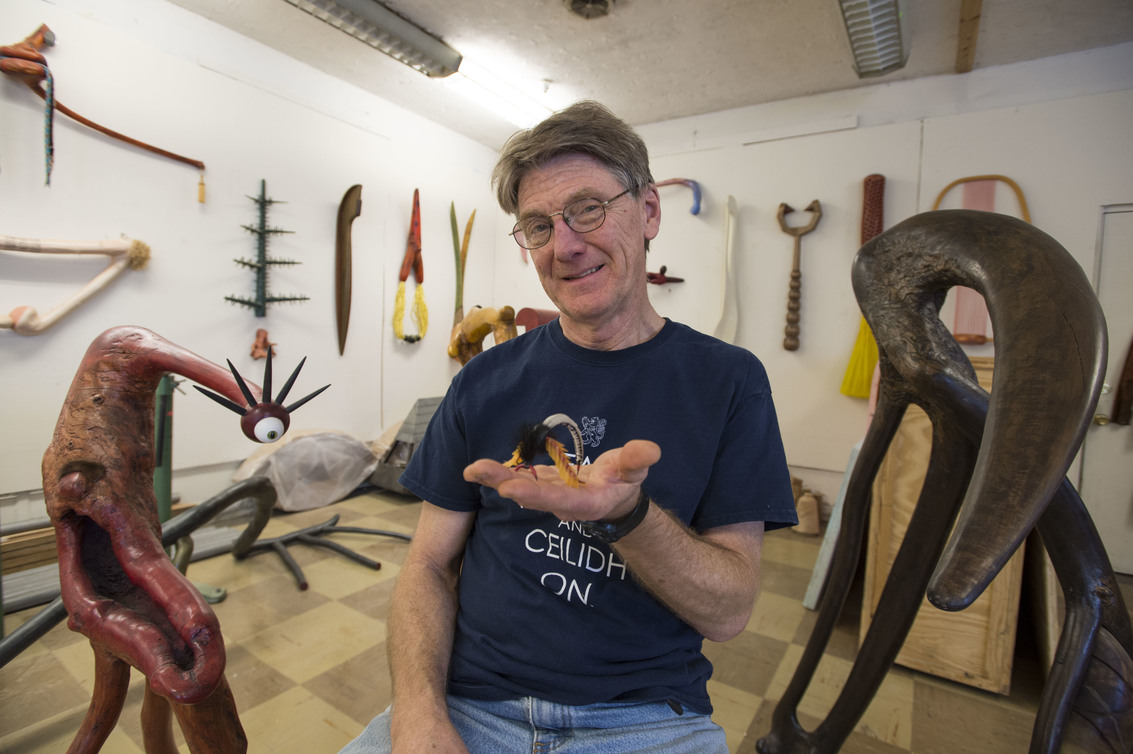 July 12, 2018
Professor uses discarded trees from Southern Illinois to sculpt art on display at Contemporary Art Center
CARBONDALE, Ill. — Old tree limbs are usually seen as a nuisance and hassle. But for sculptor and professor Jerry Monteith, they provide the beginnings of a masterpiece.
When Monteith, professor of art and design and head of the Southern Illinois University Carbondale sculpture program, first started working with wood, he only chose the pieces that were smooth and clean to work with. Now, over 20 years after starting his career, he sees the value in the imperfect, thrown out pieces. And his work is getting noticed by others across the nation.
Finding the beauty in imperfections
The cabinet-grade wood only allows so many knots per foot, and you don't want any imperfections in it, Monteith explained.
But now, he specifically looks for the branches with blemishes, defects and flaws, and allows the distinctiveness of each piece to tell its own story. As he fashions the wood based on how it naturally develops, it has earned him a spot of recognition in multiple art galleries and magazines.
Newest collection to be displayed in Peoria
Monteith's mixed media installations and wood works have been displayed in a variety of places, from traditional galleries to full outdoor monuments. His most recent collection will be exhibited July 13-August 24 at the Contemporary Art Center in Peoria, Illinois.
The exhibit, Critical Mass, will feature Monteith's "Core Series," a collection of wood sculptures crafted from branches from Southern Illinois. The artist's reception will be 6:30 to 8:30 p.m. July 14.
The pieces in this collection represent a unique story of the natural world, and are crafted from a place of depth and creativity.
"It's always a sense of surprise to me what ends up happening," Monteith said. "I don't decide, 'okay, I'm going to make this,' and then go get the material to make it. The material I use really has a great deal to do with what ends up being there."
Work on display across the nation
His work has been featured in multiple galleries such as University of Missouri St. Louis Gallery 210, OK Harris Gallery in New York, Ft. Collins Museum of Art in Colorado and Nu Art Series Metropolitan Gallery in St. Louis. In addition, he has crafted a large-scale commissioned monumental earthwork for the Cedarhurst Center for the Arts in Mt. Vernon, Illinois. This display, which is 92 feet wide by 92 feet deep and 16 feet high, is made of concrete, earth and aluminum. "Lightspill" was dedicated in 2006, and took over a year and a half to create.
He has also been featured in Sculpture Magazine and the New Art Examiner.
Immortalizing local wood
Living on 4 acres of land in Southern Illinois, Monteith often uses his own trees to craft his work. Additionally, he has collected pieces from around the area that were left over from renovations or other projects. His work uses a variety of tree species such as maple, pear, peach, poplar, locust, elm and more.
He uses this motivation to impart a similar love into his students.
"I want them to develop a self-confidence by using the materials that a lot of people would be initially freaked out by," Monteith said.
Monteith continues to build on his "Core Series," and hopes to show his work in other galleries in the future. His goal is to soon focus on another large-scale sculpture display.