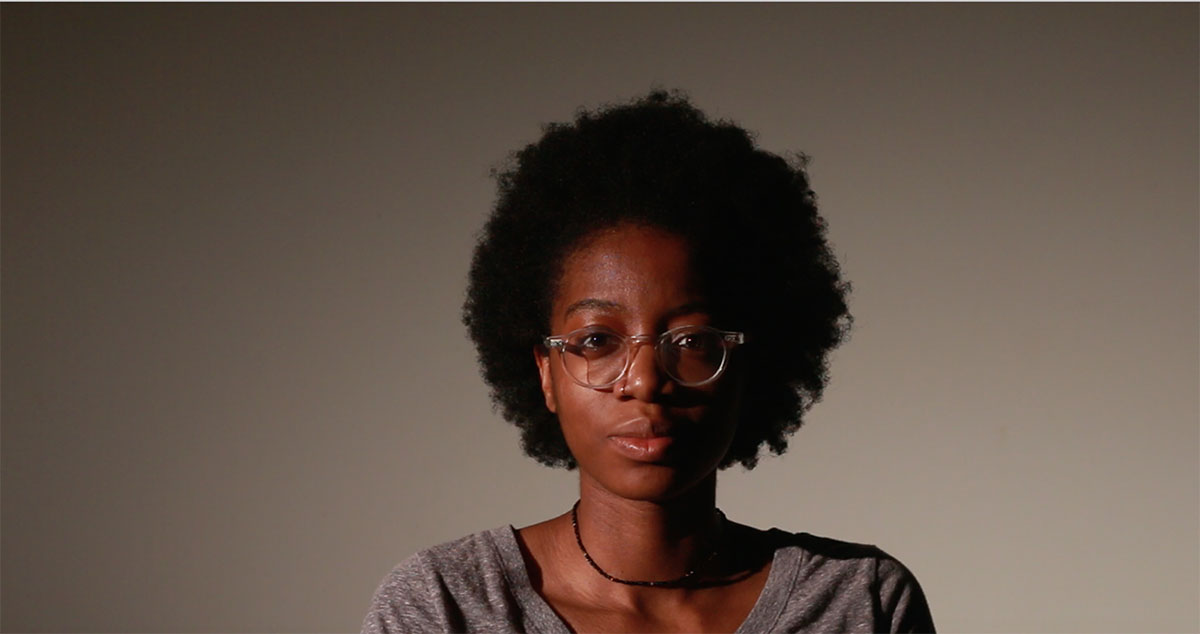 July 11, 2018
SIU cinema student's film is 2018 PBS Online Film Festival finalist
CARBONDALE, Ill. — What began as a foundational film production class assignment for Southern Illinois University Carbondale cinema student and filmmaker Kelechi Agwuncha is earning national recognition. 
Agwuncha's film, "Super Predator: Preludes of the Black Fish" is one of 25 independent short films featured in the 2018 PBS Online Film Festival. The selection is the first entry for SIU and WSIU Public Broadcasting in the festival's seven-year history. 
Film is a "poetic essay" 
The 7-minute film is a "really poetic essay on African-American identity," said Jennida Chase, an assistant professor in the Department of Cinema and Photography who was among those to critique Agwuncha's film for Associate Professor Hong Zhou's class. 
The film explores the realities that people-of-color face while navigating prejudice in society. Taz Wilson, a recent graduate from the Department of Theater, portrays the film's protagonist "Blackfish," while five other cinema and photography students are also involved with the film. 
Honored by the selection  
Agwuncha, a cinema major from Westchester, said she has "immense love and gratefulness" at the nomination. The project took two days to shoot. Conceptualization involved piecing together cultural observations that took less than a week to place into a narrative. 
"I'm honored to be considered and to have worked on the film with wonderful creatives and friends," she said. "I also am appreciative of all my mentors who have supported the film from its beginning to end." 
Idea originated from a photograph 
An image by photographer Ren Hang sparked Agwuncha's interest in overconsumption and "how it could be an extended metaphor for the hate and murder of people of color." 
Film was also a finalist at international film festival 
The film was also a recent finalist selection in the Toronto International Film Festival's TIFFXInstagram Short Film Festival. Chase has never seen a foundational production class final project hit two major film festivals. 
"From my point of view as a filmmaker, it's impressive," she said. "It also speaks to the strength of the program and the caliber of students that we get." 
Hopes film provokes further examination 
Agwuncha said she hopes people who view the film want to learn more about the nature and history of the word "super predator." The word has "strong ties and influences to the Violent Crime Control and Law Enforcement Act of 1994, which proved detrimental to law enforcement's and the news's treatment of people of color," she said. 
Agwuncha plans to attend graduate school to pursue a Master of Fine Arts degree in cinema, and said would love to "immerse" herself in world cinema. 
WSIU is one of 19 producing partners in 2018 competition 
Working with faculty and staff, WSIU selected several locally produced short films from a variety of genres for submission to PBS, Beth Spezia, WSIU educational outreach coordinator, said. 
She believes WSIU was chosen as a partner because of ongoing collaboration with the college to encourage emerging producers. SIU's academic strength in creative industries and media arts, as well as opportunities to link with the Big Muddy Film Festival, resonated with the online film festival staff. Agwuncha was president of the 2018 Big Muddy Film Festival. 
"We're thrilled to be a producing partner for the 2018 PBS Online Film Festival and to have this unique opportunity to showcase and highlight student talent on the SIU Carbondale campus," Greg Petrowich, WSIU Public Broadcasting executive director, added. 
"Going beyond traditional broadcast, WSIU Public Television is proud to also play a role in the educational process by introducing students to opportunities such as this, which serve to expand the classroom experience and provide a platform to showcase their talent and abilities," he said. 
Local screening is Monday 
A free local screening for the public is Monday from 5 to 7 p.m. at Carbondale Community Arts, 304 W. Walnut St., Carbondale. Additional festival entries will also be available for viewing.
The event is an opportunity to encourage the audience to choose their favorite film during the July 17-27 festival voting period. 
Carbondale Community Arts will have a free kiosk accessible for the public to view festival films throughout the festival. Voting does not begin until Monday, but will also be accessible online at www.pbs.org/filmfestival.
The votes will determine the "Most Popular" award, while the competition will also feature a "Juried Prize" chosen by a panel of eight jury members from a variety of cinema and production backgrounds. The jurors are: 
Simon Kilmurry - International Documentary Association, executive director.
Mike Sargent – Black Film Critics Circle, founder.
Judith Vecchione – WGBH Educational Foundation, executive producer.
Chloe Walters-Wallace  - Firelight Media & Films, documentary lab manager.
Adnaan Wassey – digital media executive (formerly of POV).
Pam Aguilar – PBS National Programming.
Michelle Mizner – FRONTLINE, producer and editor.
Eric Gulliver - American Experience, producer. 
Unique industry-academic partnership 
H.D. Motyl, interim department chair, and Chase each said the ability to expand WSIU's relationship to include cinema and photography is vital and exciting. 
"This is a fine example of an industry partnership with academics," Spezia said. "In this case, it's PBS — a non-profit industry partner, but it is every bit as significant in the media and creative arts. This is equivalent to other scientific research endeavors and industry partnerships at SIU."