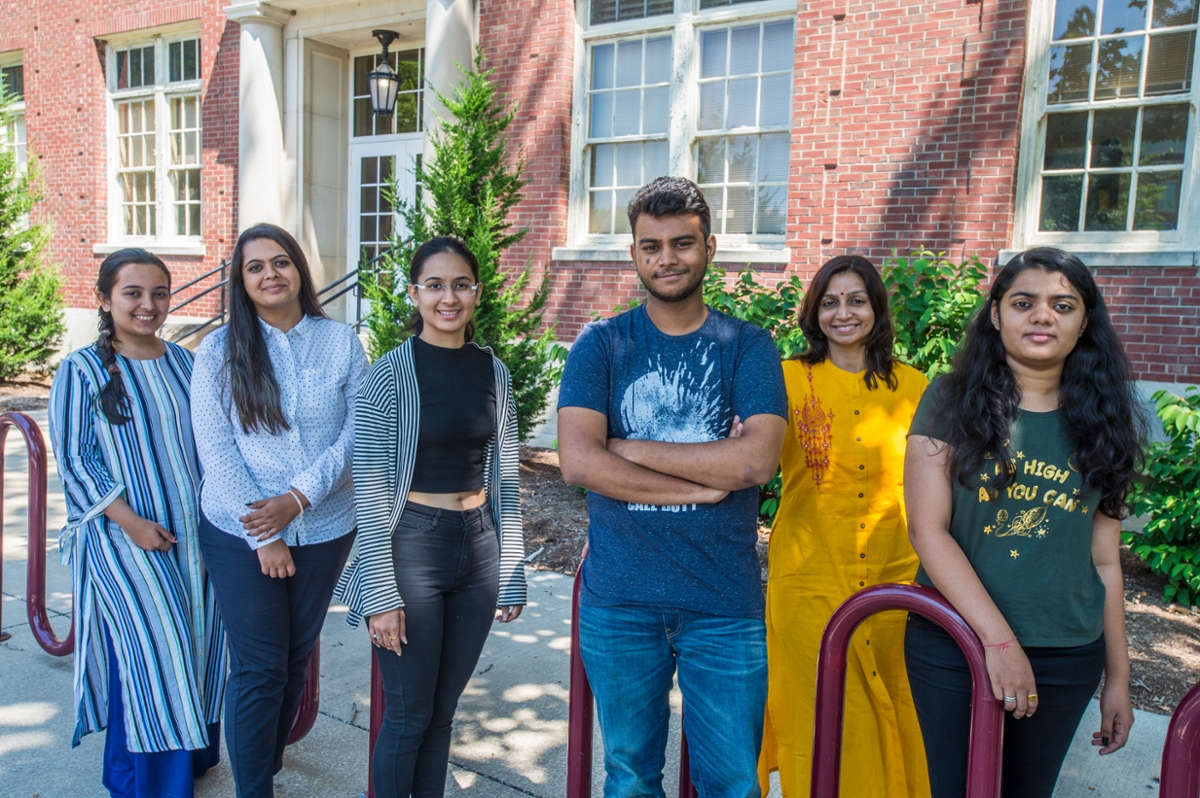 Students from Pandit Deendayal Petroleum University gather for class at SIU as part of their summer economics and cultural experience. (Photo by Steve Buhman)
July 09, 2018
SIU teams up with a university in India to provide students with a unique economic and cultural experience
CARBONDALE, Ill. — International experience has proven to give students increased self-clarity and creativity for personal and professional success. That is one reason Southern Illinois University Carbondale has partnered with a university in India to train the next generation of economic leaders.
For the second year in a row, students from Pandit Deendayal Petreoleum University (PDPU), Gujarat, India, have come to SIU to experience American culture, understand international economics and learn new things. The four-week program offers Indian students a variety of activities and classes to provide new perspectives and a chance to grow in international economics.
Program focuses on cultural development
This summer, five students and a chaperone from PDPU joined the program with the goal of branching into new things. The students take economic classes with Kevin Sylwester, SIU professor of economics and director of graduate studies, with the goal of understanding international economics in a unique way. But while these classes are a key part of the program, the focus remains on cultural experience and new perspectives.
The classes are built as twice-weekly lectures, with the goal of encouraging lively discussion on economic issues and providing the students with new perspectives, Sylwester said.
Nearly every day the students engage in some outside-the-classroom activity to get a real taste of everyday American culture. The group has taken day trips to St. Louis, met with Carbondale police and city officials, watched fireworks and joined Independence Day celebrations and attended several other events. Each students is also assigned an American conversationalist partner to add a deeper layer to the cultural experience.
Seeing the U.S. from a different perspective
The combination of culture and study is what motivated many of the students to join the program, Urmi Satyan, group chaperone and PDPU assistant professor in English literature, said.
"It's basically an international exposure program," Satyan said. "So we are getting an exposure, we have some study classes, we have some study materials provided by the professors; at the same time we have exposure to the city."
 Elisa Hunt, program director and assistant director for the Center for English as a Second Language, believes the balance between training and experience will prepare these students well for the future.
"We often picture what India is like, but it might not be accurate," Hunt said. "In the same way, they picture what the United States is like, but that might not be accurate. So it's sometimes fun to come to the U.S. and learn more; and not just be in Florida, California, New York or Chicago, but kind of come and see the real America."
"The idea is that they get some class time, they actually get SIU credit for their class, and then they also get familiar with the area and familiar with the culture," Hunt added.
Collaborative Effort
The program is a collaborative effort of the SIU Center for International Education, SIU Center for English as a Second Language and the SIU Department of Economics. Provost Meera Komarraju first made the connection with PDPU, and has since been involved in the overall function of the summer program.
In the future, there is potential for even more development. Several of the students who have come from India have plans to return to SIU to study in the future. Additionally, a further partnership might be available at some point for SIU students to travel to PDPU for a similar program.