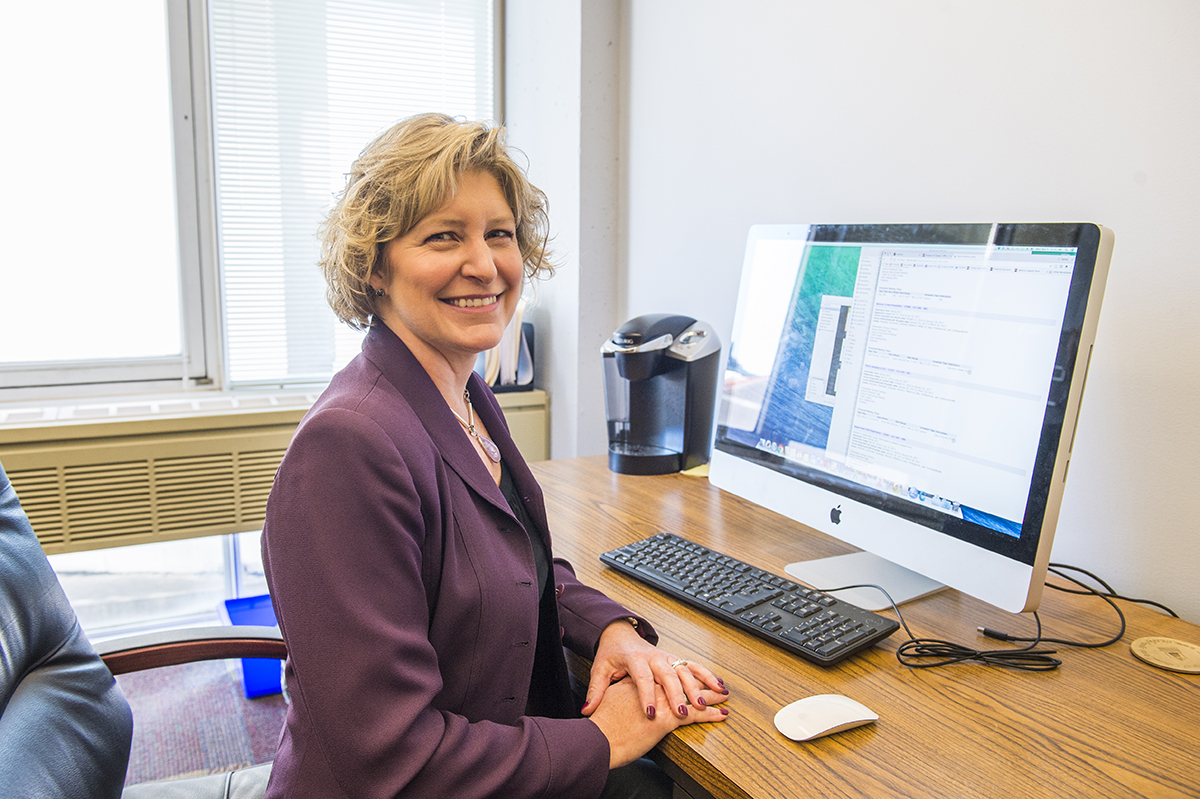 Tammy Kochel, associate professor of criminology and criminal justice at Southern Illinois University Carbondale, received a grant in partnership with the Springfield Police Department to start a focused deterrence program to decrease gun-related violence in the community. (Photo by Steve Buhman)
July 02, 2018
Grant allows SIU to partner with the Springfield Police Department on project to reduce gun violence
CARBONDALE, Ill. — Last month, 10 men suspected of gun violence in Springfield were invited to a meeting that would launch a program to reduce community violence. But while that intervention appeared to be the start of something new, for researcher and associate professor Tammy Kochel, it was only another step towards the overarching goal.
Nearly two years ago, Kochel, associate professor of criminology and criminal justice at Southern Illinois University Carbondale, along with the Springfield Police Department received a grant from the Illinois Criminal Justice Information Authority to start a "focused deterrence" program in the local community.
The first year of funding covered the preparation and beginning analysis, and prepared the team for its current phase — working one-on-one with past or potential gun offenders.
Program provides resources and assistance
The focused deterrence program comes as a result of increased concern over the levels of violence in metro areas. Last year, the Springfield Police Department handled 173 confirmed shots-fired calls, 47 gun-related injuries and eight firearm-related homicides.
The funding currently covers a three-year timespan. This allows the program to utilize a variety of community resources, all with the goal of connecting high-risk individuals to a path of reform.
"The effort of focused deterrence is one in which you identify individuals who are central to the problem, meaning they are highly involved with gun violence," Kochel said. "The planning is to prepare two tracts to present to those individuals."
The first option given is on the criminal justice side. This process brings together federal prosecutors, state prosecutors, probation and parole officers and police officials to warn the individuals that if they and their associates continue to shoot, the full weight of the law will be brought down on them, Kochel said.
The second path provides a way out for these individuals. A variety of social service agencies collaborate to offer a comprehensive package of assistance for these targeted individuals who truly want to leave gangs or other negative environments. The scope of the assistance is very broad, Kochel explained.
"That might be getting a GED, help getting a job, daycare, housing, mental health, substance abuse — a whole range of possible services," Kochel stated.
The first year was spent collecting data and laying groundwork
The community-wide effort required over a year of concentrated planning to set the program in motion.
"The whole first year was spent organizing those two groups of folks, as well as doing some community awareness so they knew what was about to happen and were supportive," Kochel said.
She, along with a team of SIU student researchers, spent considerable time collecting baseline data to understand the various components of the issue, along with the best paths for future change. She used much of the information to build a system to measure the impact of the program.
First meeting gave a voice to community members
Now, a year and a half into the program, the team just held the first intervention meeting in May for the chosen participants.
Ten individuals were invited to the meeting, and eight attended. All eight were young men in their late teens or early 20s, and some were on probation or parole. The meeting featured several speakers who shared how gun violence had touched their life.
"We really did have some amazing community speakers who spoke about the lived experience of dealing with gun violence where they lived, including folks who had had their children killed by this gun violence," Kochel said. "I couldn't even use words to explain how moving that was."
At the end of the meeting, the men were offered the full list of resources and asked to make a commitment to abstain from gun violence in the future.
Program follows a popular format
The topic of gun violence is not a new one for law enforcement agencies across the nation. Kochel first experienced this type of deterrence program while serving as the U.S. Department of Justice Office of Community Oriented Policing Services for the Boston Police Department and all other Illinois and Massachusetts grantees.
"The first agency to try an effort like this [was] in Boston back in '95 when I was the Boston PD grant advisor," Kochel stated.
Since then, many other communities have implemented similar focused deterrence programs and have found success in reducing gun homicides and violence. The goal of the Springfield program is to build better police and community relationships in the target area and to reduce gun-related violence, Kochel said.