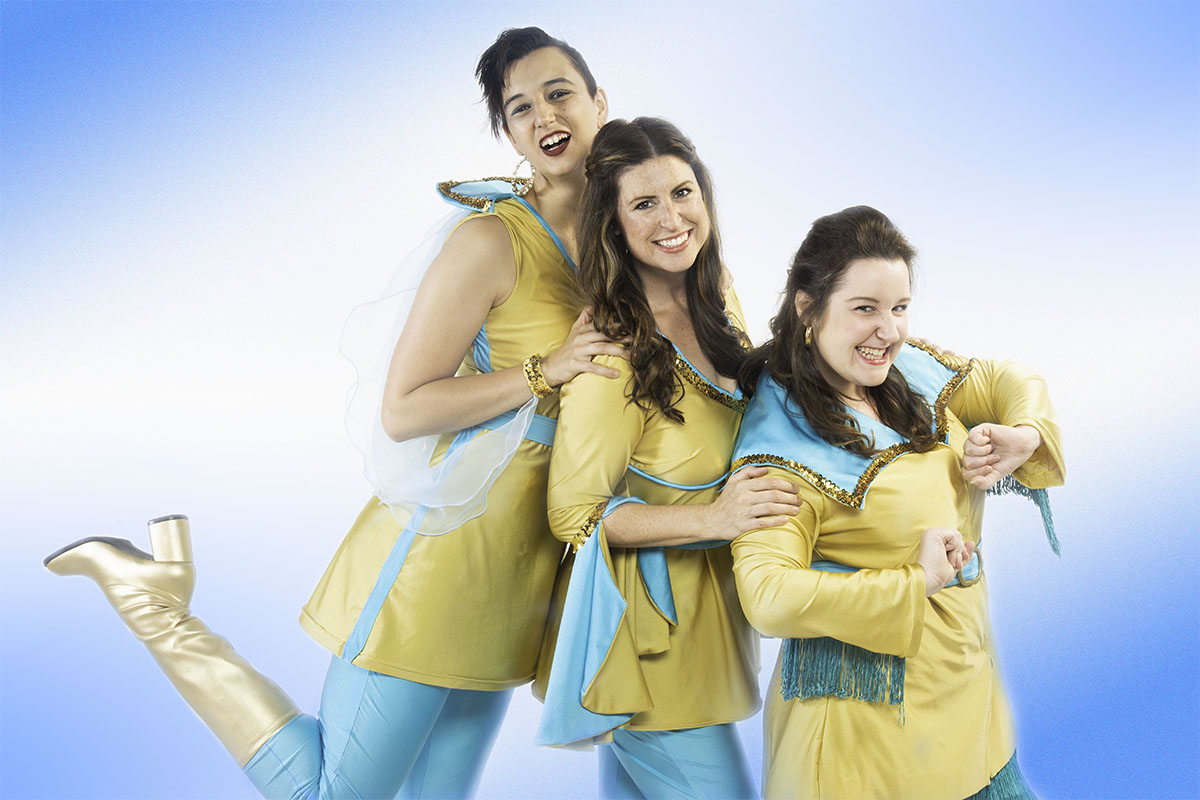 June 29, 2018
Mamma Mia! will have you singing and dancing in the aisles
CARBONDALE, Ill. — How can you resist the ultimate feel-good musical? Enjoy an unforgettable trip down the wedding aisle as McLeod Summer Playhouse presents "Mamma Mia!" July 6-15 at Southern Illinois University Carbondale.
A mother. A daughter. A wedding. Three possible dads. ABBA's hits tell the hilarious story of a young woman's search for her birth father as it unfolds on a Greek island paradise the day before her wedding.
The story-telling magic of ABBA's timeless songs propels this enchanting tale of love, laughter and friendship. Get ready to dance in the aisles and sing along with all your favorite songs!
ABBA's music breathes life into the show
"Mamma Mia!" is not only one of the longest-running musicals on Broadway and in London's West End, but it continues to be an international sensation, having played in over sixty countries and translated into twenty languages. McLeod Summer Playhouse is thrilled to offer the region its chance to discover why.
Based on the songs of the Swedish band ABBA, one of the most popular international pop groups of all time, the production features many favorite dance hits including: "Dancing Queen," "Take a Chance on Me," "Gimme! Gimme! Gimme!" and of course, the titular "Mamma Mia."
'The perfect summer musical theater experience'
"'Mamma Mia!' is the perfect summer musical theater experience, and thanks to the infectious music of ABBA and an incredible professional cast, this promises to be one of the most anticipated and exciting productions in MSP history," said J. Thomas Kidd, Managing Artistic Director of McLeod Summer Playhouse. "The play is set on an idyllic Greek island over a wedding weekend, and delightfully combines elements of classic Greek tragedy and comedy.
"The MSP production team has created a fun-filled confection of a musical; featuring swirling Mediterranean inspired scenery, electrifying choreography, laugh-out-loud comedy and touching human drama, all culminating in a life-affirming celebration and an uplifting message about family and friendship."
Female empowerment resonates throughout the show
Sponsored by SIH Medical Group, "Mamma Mia!" continues the McLeod Summer Playhouse 2018 summer theme of female empowerment. "Critics the world over have praised this play for its celebration of a strong female-powered community and the abilities of single women to thrive and triumph through friendship, support and love," says Kidd. "We are very proud that MSP has been able this summer to promote these very important issues, while providing quality entertainment opportunities to the audiences of our region."
Get your tickets now
Tickets are selling fast for several performances at SIU's McLeod Theater.
Performances will occur at:
7:30 p.m. on July 6, 7, 13 and 14.
2 p.m. on July 8 and 15.
General admission tickets: $30 adults, $14 children and SIU students.
Tickets are available by phone, online, in person or by mail:
Online at events.siu.edu.
By phone at 877-SALUKIS (877-725-8547).
In person at SIU Arena (8:30 a.m.-4:30 p.m.) or McLeod Theater box office (noon-4:30 p.m.) Monday through Friday when the university is in session.
By mail: SIU Ticket Office, Lingle Hall - Mail Code 6620, 1490 Douglas Drive, Carbondale, IL, 62901.
Some fees apply.