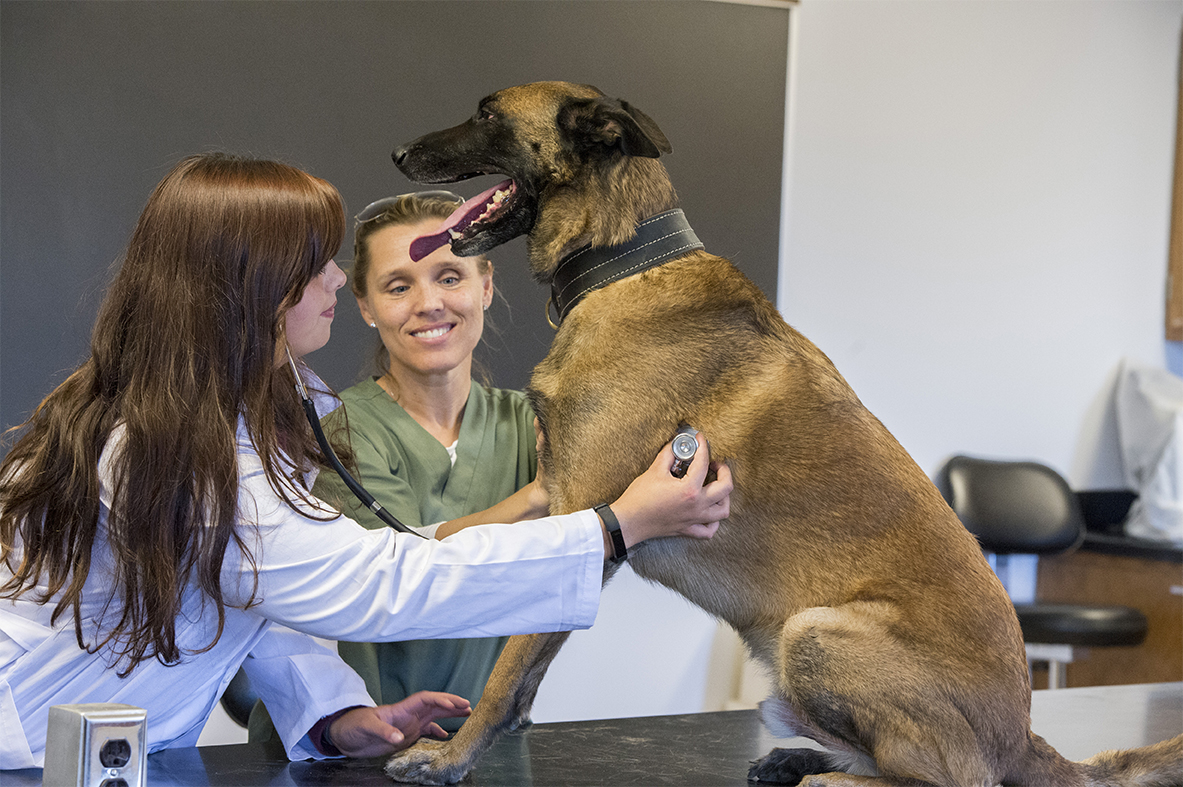 June 27, 2018
After nearly losing her canine partner, professor works to improve efficiency and protection of SAR dogs
CARBONDALE, Ill. — In times of disaster, search and rescue (SAR) dogs are some of the first responders on the ground. But while other rescue members are surrounded with protocols to ensure their safety, canines are left vulnerable to a host of environmental dangers. For canine specialist and assistant professor Erin Perry, that is not acceptable. 
From uncovering explosives to finding missing children, SAR dogs are being used more than ever to guide humans in their work. With the ability to run faster than the fittest human and smell 40 times better, no technology or invention has been able to compare to the work of these canines.
Because of their incredible usefulness for military and domestic purposes, researchers are working to understand how the dogs perform when in the field, while also learning how to maximize those efforts to generate the most success.
Research to protect canines while on deployment
Erin Perry, a canine specialist on the Missouri Task Force 1 Team and assistant professor in animal science food and nutrition at Southern Illinois University Carbondale, believes that while these dogs are impressive, more can be done to increase their efficiency.
"When the dogs deploy into the field, there are a lot of issues regarding deployment and management conditions in the field, things you just can't fix," Perry said. "The area they work in is dangerous; it's unpredictable; it's scary; it's stressful; it's dirty and it's contaminated.
"While we can't make the environment any better for them, maybe we can help protect them or help prepare them better to work in this type of dangerous environment."
Creating stronger decontamination protocols 
For Perry, this issue is deeply personal. When serving with the FEMA Missouri Task Force 1 team during the 2011 Joplin tornado, Perry almost lost her canine partner due to environmental hazards.
The team was working near a destroyed Home Depot for 26 hours straight, wading through a variety of chemicals and biohazards. When Perry and her canine finally had time for a break, they followed normal decontamination procedures. But for Perry's canine partner, Pickles, the protocols were not enough to keep her from developing severe liver failure that was nearly fatal.
"She [the dog] had horrible exposure, and we didn't know," Perry stated. "We had decontaminated her and gave her a bath, and we thought we had her clean. But the cleansers weren't effective and our procedures weren't effective."
Perry's research is actively looking to find what cleaners are both effective in decontaminating, yet still safe for the dogs. She is testing a variety of cleansers and is hoping to implement stronger protocols in future deployment situations.
Reducing heat and travel stress
Perry is also examining other areas of risk and efficiency for these canine responders. SAR teams must be ready to deploy within a moment's notice, and the dogs must be ready as well. But Perry found that this level of urgency can put a certain amount of stress on the canines.
"These dogs get woken up in the middle of the night and get thrown on an airplane, helicopter or a bus with 70 other people, and then travel half-way across the country. Their whole world is turned upside down. But then they have to walk off the helicopter, walk off the airplane, walk off the bus and go to work," Perry said. "That is incredibly stressful for them."
Motivated by this situation, Perry, along with her team of researchers, are looking at how this stress affects the dogs and how it can be managed. She is examining a variety of nutritional elements, along with conditioning and training techniques, to build a strong solution for these valuable first responders.
The other part of Perry's research is finding a solution to the heat stress that is placed on these dogs.
"When the dogs are working, there is an incredible amount of physical exertion put on them," Perry explained. "When this is happening, the dog's core temperature goes up. Dogs pant to reduce their temperature, but when they are panting, they are not sniffing."
This heat stress can quickly reduce the efficiency of the dog's work, hindering the canine from smelling at the highest capacity. To overcome this, Perry is working to find solutions such as cooling techniques and conditioning exercises to allow the dogs to overcome these stressors.
Ready to hit the ground when needed
Perry and her current canine partner, Zorro, are still members of the Missouri Task Force 1 team. They were recently deployed to assist after Hurricane Harvey in 2017.
Perry was also on the ground after Hurricane Katrina, Hurricane Sandy, Hurricane Matthew, the Joplin Tornado and during severe Colorado flooding. She and Zorro, a five-year-old Belgian Malinois, continue to train and remain ready to serve whenever they receive their next call.