June 22, 2018
Awards and scholarships presented at SIU's annual Greek Awards
CARBONDALE, Ill. — As Southern Illinois University Carbondale wrapped up the 2017-2018 academic year, the 87th annual Greek Awards was held, recognizing outstanding people and groups in the campus Greek community with awards and scholarships.
Berry wins highest student leader service scholarship
Olivia Berry, a senior accounting major with a minor in criminology and criminal justice, is the recipient of the Service to Southern Scholarship.  From Lebanon, Illinois, she is the daughter of Jodi Berry and anticipates completing her degree in December.
This scholarship is the highest honor given to a student leader at the university and recognizes an outstanding senior who has a GPA of at least 2.75 for service to the university and involvement in co-curricular activities.
Berry is a resident assistant for University Housing, a student assistant with the Southern Illinois Children's Choir, president of the Business Leadership Council, a member of Delta Phi Epsilon, president of the National Residence Hall Honorary, a Saluki Ambassador, and a member of the Accounting Society, Beta Alpha Psi and Order of Omega. She was also named the Pricewaterhouse Coopers LLP Outstanding Senior in Accountancy, holds a 4.0 GPA and has donated dozens of hours to community service work.
Ibrahim wins scholarship named for late biology professor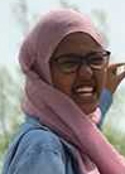 Yasmin Ibrahim, a senior biological sciences major from Carbondale, is the winner of the 2018 Leo F. Kaplan Award. The late Kaplan was a biology professor and adviser for Theta Xi fraternity; College of Science faculty choose the winner in his honor.
The daughter of Nebewia Mohammed and Kamal Ibrahim, Yasmin is a Chancellor's Scholar and a McNair Scholar. A first-generation college student, she works as a research assistant for the College of Medicine, focusing on reproductive biology and ovarian cancer. Ibrahim has also served as a research assistant in other labs both on- and off-campus.
She's involved in community and campus service as well, serving as a Saluki Ambassador, helping with Habitat for Humanity, and volunteering with Student Today Leaders Forever, the United Nations Association and the Carbondale Science Center. She's interned with the National Institutes of Health – National Human Genome Research Institute and worked as a pharmacy technician and waitress.
Hill recognized for service to SIU and Greek student leadership
Abigail Hill, of Yorkville, Illinois, is the 2018 Betty Mitchell Endowed Scholarship winner. A senior physiology/pre-med major with chemistry and psychology minors, Hill is the daughter of Randy and LeAnn Hill. The late Betty Mitchell was a long-time faculty member and Alpha Gamma Delta adviser who joined the sorority as a student.
Abigail has maintained a 4.0 GPA while being very active in the campus Greek organizations and other SIU and community organizations and activities.
Hill has been involved with Alpha Gamma Delta throughout her time at the university and has served as the group's vice president of finance and vice president of administration. Her activities also include Theta Xi, Rho Lambda Honor Society, Order of Omega, Greek Sing, Panhellenic Executive Slating Committee, Pre-Health Professions Association, Saluki Science Ambassadors and the Big Event. She's part of the university's Honors Program, a Saluki Science Ambassador and has served as an undergraduate research assistant in the Fear and Anxiety Lab.
In addition, she's helped with the campus Craft Shop, volunteered with the Humane Society of Southern Illinois, Adopt-a-Highway, Relay for Life, packing food for Gumdrops, and is a Certified Nursing Assistant.
Additional Greek awards presented
In addition, several individuals and organizations within the university's Greek community received awards. They include:
Adviser of the Year – Jennifer Stillman (Sigma Kappa), Chasity Jones (Zeta Phi Beta sorority Inc.), Gary Apgar (Alpha Gamma Rho) and Lori Bryant (Gamma Phi Omega International Sorority Inc.).
Chapter of the Year – Sigma Kappa, Delta Sigma Theta, Alpha Gamma Rho and Lambda Theta Alpha.
Living Your Values award: Alyssa Meyers (Alpha Gamma Delta), Ja'Viania Conley (Delta Sigma Theta Sorority Inc.), Mitch Brown (FarmHouse Fraternity).
New Member of the Year – Taylor Wendle (Sigma Alpha), Kayla Craig (Zeta Phi Beta Sorority Inc.), Joe Locher (Kappa Alpha Order), Mariano Ortega (Phi Iota Alpha Fraternity).
Scholar of the Year – Katie Kovic (Sigma Kappa), Lyneesya Wilson (Delta Sigma Theta Sorority Inc.), Peyton Boysen (Kappa Alpha Order), Ana Mariea Hernandez (Gamma Phi Omega International Sorority Inc.).
President of the Year – Megan Stayton (Delta Zeta), Erica Kelly (Zeta Phi Beta Sorority Inc.), Peyton Boysen (Kappa Alpha Order), Yesenia Rodriguez (Lambda Theta Alpha Latin Sorority Inc.)
Greek Alumnus/Alumna of the Year: Emily Lind (Alpha Gamma Delta), Valincia Jackson.
Robert Andrew Morgan Greek Ally of the Year – Emily Spann.
Philanthropy Event of the Year – Delta Zeta.
Outstanding Campus Involvement – Gamma Phi Omega International Sorority Inc.
Outstanding Risk Management of the Year – Baylee Hudgens/Delta Zeta.
Greek Ambassador of the Year – Mikala Barrett/Delta Sigma Theta Sorority Inc.
Senior of the Year – Sam Patula/Delta Chi.
Greek Man or Woman of the Year – Sarah Stipp/Alpha Gamma Delta.