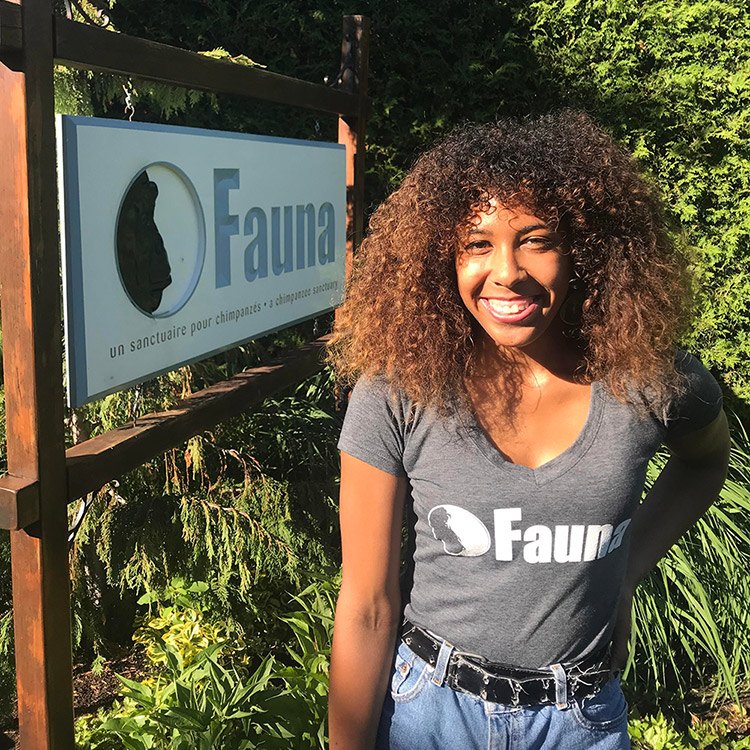 June 21, 2018
Wanting to give back, anthropology student spends summer at a chimpanzee sanctuary
CARBONDALE, Ill. — Nurturing chimpanzees might not be how most students spend their summer, but for anthropology senior Cree Glanz, it is the perfect way to give back.
After taking a class in primatology at Southern Illinois University Carbondale, Glanz was hooked on the unique relationship between primates and language. With a little research, she stumbled upon an internship opportunity at the Fauna Foundation, the only chimpanzee sanctuary in Canada. With the help of her advisers and mentors at SIU, Glanz was accepted into the program and began her journey of primate research.
"Fauna Foundation is a non-profit organization whose objective is to make a safe environment for abused and neglected farm animals, along with former biomedical research, zoo and cross-fostered chimpanzees," Glanz said.
Doing more for society
As Glanz was nearing her senior year in anthropology and environmental studies, she had the distinct feeling of wanting to do more.
"I felt like I needed to do more. And now, here I am," Glanz said.
The summer internship serves as a training ground for Glanz by providing hands-on experience and practical teachings for her future research and career development. Under the supervision of the sanctuary directors and staff, Glanz is trained to watch and evaluate the chimpanzee's interactions, implement caregiving strategies for primates and manage the animal's nutrition. The internship also includes research work on chimpanzee language dialects throughout various regions of the world.
"At Fauna, I am learning how to conduct non-invasive behavioral research, provide the chimpanzees and monkeys with enrichment, learn about primate communications, conduct a behavioral research project and assist in graduate students' thesis research," Glanz said.
Internship benefits Glanz and the chimps
The work at the Fauna Foundation is an inspiration and a motivation for Glanz who grew up in Skokie, Illinois. While she is focused on learning as much as possible during her summer at the sanctuary, she is also devoted to the work of the foundation and the core mission of protecting and caring for neglected and abused animals.
"My time at Fauna really isn't about me. It is about the chimpanzees," Glanz said. "I'm here learning how to be a good caregiver and a competent scientist.
Next stop is Madagascar
After her summer internship with the Fauna Foundation is completed in August, Glanz is off to Ranomafana National Park in Madagascar to study lemurs, sustainable development, Malagasy culture and language and Madagascar's biodiversity. Glanz was accepted into the Stony Brook University study abroad program.
Glanz will spend the semester working alongside primatology scholars and will have the opportunity to contribute valuable research to ongoing studies. She is hopeful that this experience will prepare her for her future career goals.
"This program will be very helpful because I will be in the field learning how to deal with culture shock, along with learning how to do research in warm, remote locations," Glanz said. "I will also learn how to be more frugal since I will be studying in the middle of the jungle."
Motivation for the future
After Glanz completes her degree at SIU next spring, she has high goals for the future. Among her many dreams is her desire to further her education in physical anthropology and environmental science, along with the hope of one day teaching, writing and publishing as a primatologist. Glanz also hopes her work opens the door for others to follow.
"I want to conduct outreach programs for women of color to be involved in physical anthropology," she said. "I would like to be a pioneer in this field for black people, and women specifically."