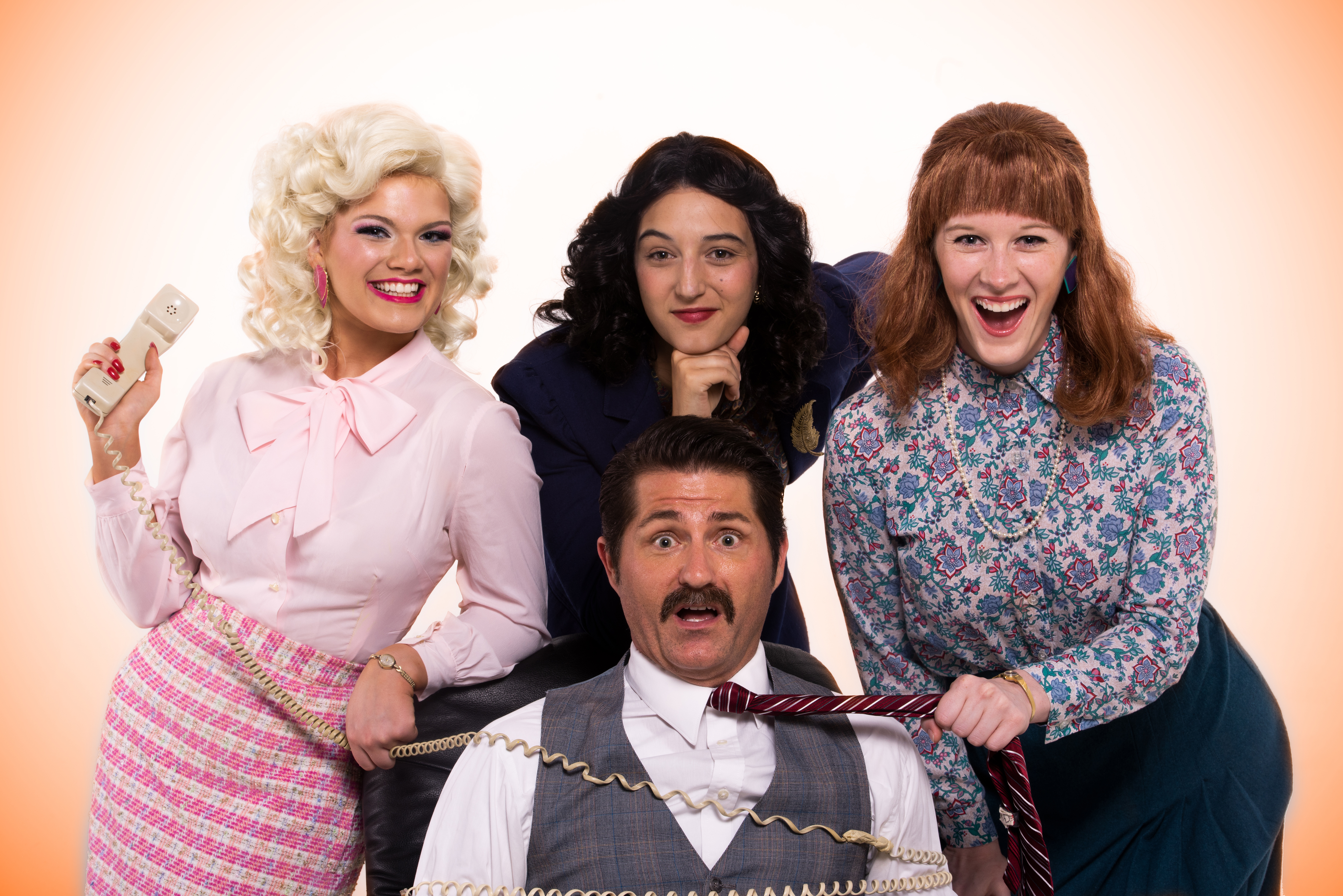 June 08, 2018
'9 to 5: The Musical' kicks off McLeod Summer Playhouse's mainstage season
CARBONDALE, Ill. — Tumble outta bed and stumble to "9 to 5: The Musical" at Southern Illinois University Carbondale's McLeod Theater.
With performances June 15 through 24, "9 to 5: The Musical" is based on the seminal 1980-hit movie starring Jane Fonda, Lily Tomlin and Dolly Parton, the story follows three female coworkers as they get even with their sexist, egotistical, lying, hypocritical, bigot of a boss.
Tickets are available online at events.siu.edu or by calling 877/725-8547.
Kicks off McLeod Summer Playhouse's Season of 'Empowered Women'
"9 to 5, The Musical" begins MSP's Season of "Empowered Women," which is followed by "Mamma Mia!" and "Once Upon A Mattress." "9 to 5" in particular explores themes that are relevant in the #MeToo and "Time's Up" era.
The musical is directed by MSP's Associate Artistic Director, Danae DeShazer. She felt an instant connection to the piece and is thrilled to make her professional directorial debut.
"It's incredible that a movie that premiered in 1980 still holds true today," DeShazer said. "It explores sexism, the gender pay gap, sexual harassment, fragile masculinity, and so much more."
Themes still relevant nearly four decades later
The musical comedy features the well-known bubbly pop score by Dolly Parton, but DeShazer said there is much more to the upcoming performance.
"Layered beneath the fun and laughs are deep-rooted issues that our society is still grappling with today," she said. "It's the perfect summer musical hit to make you laugh and make you think."
Dolly Parton-themed drag show and pre-show lecture accompany production
In conjunction with the production, there will be two special events held in the community.
On Saturday, The Street Bar in Carbondale (213 E Main St.) will host a Dolly Parton-themed Drag Show at 10 p.m.
On June 24, MSP will host a free pre-show lecture at 1:15 p.m.. Join special guest lecturer Judy Simpson as she leads a discussion on sexual harassment in the workplace. This will take place in the Christian H. Moe Lab Theatre in the Communications Building at SIU.
Cast and production team
The musical, sponsored by Glenn and Jo Poshard, features musical direction by Kevin Smith, scenic design by Mark Kent Varns, costume design by Casey Watkins and lighting design by Michael Frohling.
The cast is comprised of professional actors from all over the country with Lyndsay Manson as Violet, Tara Feeley as Judy, Cassandra Donegan as Doralee, and Ralph Prentice Daniel as Franklin Hart, Jr.
Tickets on sale now
Performances of  "9 to 5, The Musical," will occur at McLeod Theater:
7:30 p.m. on June 15, 16, 22 and 23
2 p.m. on June 17 and 24
General admission tickets are $30 adults, $14 for SIU students and children, 13-17, and $10 for children 12 and under.
Tickets are available by phone, online, in person or by mail. Some fees apply:
Online at siu.edu.
By phone at 877-SALUKIS (877-725-8547).
In person at SIU Arena or McLeod Theater box office, Monday through Friday, noon-4:30 p.m. when the university is in session.
By mail: SIU Ticket Office, Lingle Hall - Mail Code 6620, 1490 Douglas Drive, Carbondale, IL, 62901.
Purchase tickets for individual events or take advantage of multiple subscription options.
For more than 40 years, McLeod Summer Playhouse has been committed to presenting popular professional theater to the Southern Illinois region. Additionally, MSP particularly strives to provide professional opportunities for Illinois artists, professional level experience for SIU students, and the creative and interdisciplinary activity of SIU faculty.
For interview and media requests, please contact Melissa Germain at melissa.germain@siu.edu or Danae DeShazer at mcleodsummerplayhouse@gmail.com.