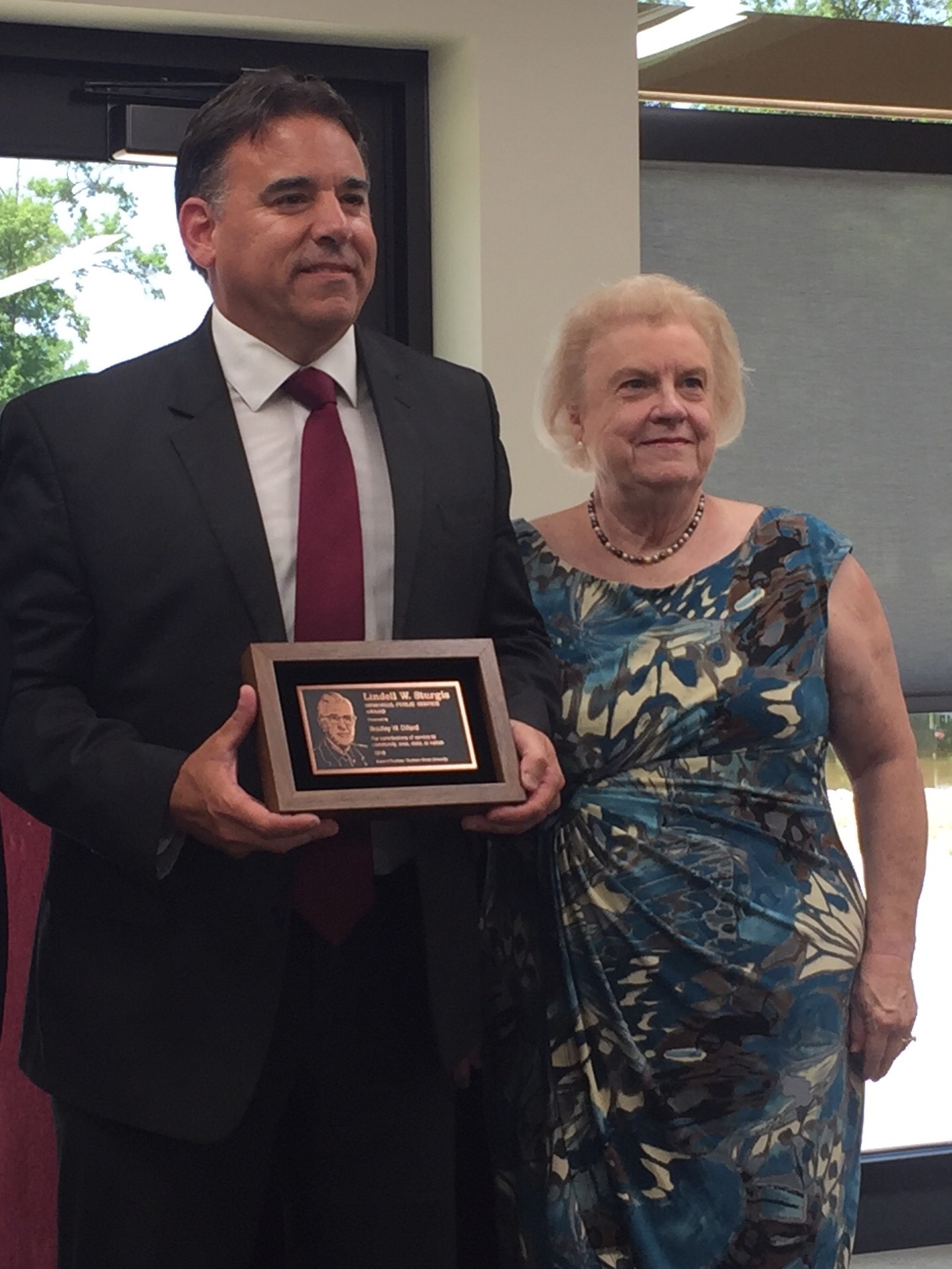 2018 Sturgis Award recipient: Brad Dillard, left, director of SIU Carbondale's Plant and Service Operations, is the 2018 Lindell W. Sturgis Memorial Public Service Award recipient. With Dillard is Sturgis' granddaughter Pamela Pfeffer. (Photo provided)
June 07, 2018
'Firm believer' in community service earns Sturgis Award
CARBONDALE, Ill. — Finding a way to be involved to better the region is a key focus for Brad Dillard, director of Southern Illinois University Carbondale's Plant and Service Operations. 
With what is truly a 24/7 job on campus, Dillard's list of seemingly exhausting efforts that range from serving as race director of the iconic River-to-River Relay to working as an auxiliary deputy with the Williamson County Sheriff's Department earned him the university's 2018 Lindell W. Sturgis Memorial Public Service Award. 
'Takes all of us' to assist in community service 
"I've always been a firm believer that it takes all of us to make the university go and it takes all of us to make Southern Illinois go," Dillard said. "It's very easy to get tunnel vision and worry about just our job and in some other aspect of the community – whether it be a food pantry or the volunteer fire department – that somebody else will pick up that role. 
"I need to be that somebody. We all need to be that somebody to a certain extent," Dillard said. "If all of us give back a little from a community service standpoint, it makes for a well-oiled machine and it makes Southern Illinois and the university better places." 
'Always gives the best of himself' 
Elizabeth Cheek, an account technician with Plant and Service Operations, nominated Dillard, writing he is one of the university's "most dedicated and talented citizens whose life is dedicated to the service of others."
"Brad's special gift of inspiring others to give the best of themselves by always giving the best of himself further underscores his extraordinary talent as a leader," wrote Cheek, whose nomination included 14 supporting letters. 
Dillard, of rural Carbondale, received the award and plaque during a ceremony June 1 at the recently renovated boathouse on Campus Lake. Former award winners, SIU President Randy Dunn and Sturgis' granddaughter, Pamela Pfeffer were among those present for the ceremony. Dillard's name will be added to a plaque that hangs permanently in Anthony Hall. 
"I was just overwhelmed to have been nominated and to have won the award particularly when looking over the past recipients," Dillard said. "When you look at the list I just don't feel that I am as worthy as some of the contributions that they have made, but I'm just grateful for being nominated and grateful for the committee to recognize my service efforts to the community and university."
Two-degree SIU graduate whose heart 'has always been with university'
A rural Carbondale native and Carbondale Community High School graduate, Dillard earned his bachelor's degree in electrical engineering technology in 1993 and an MBA in 2004. Dillard worked for the physical plant service while a student and started full time in 1989. Previously the department's associate director, Dillard became director in October 2016 after a national search.
While Dillard had chances to leave through the years, he's pleased with the opportunities to stay home through a "very unique combination of factors."
"It's the people, the university. Having a dynamic research institution in Southern Illinois like we have is incredibly unique," he said. "Having a lake on the campus is an asset that you don't see in many places. The beauty of Southern Illinois is just amazing. There is so much to do. The people are so welcoming."
Volunteer efforts extend beyond SIU
Dillard has served on numerous university-related committees through the years, including a second stint on the Administrative/Professional Staff Council, of which he is now vice chair. Creek's nomination lists 27 separate activities and organizations Dillard has worked with dating back to 1987, including volunteer work as an EMT, firefighter and weather watcher. His work includes:
River-to-River Relay, race director since 2007.
Williamson County Sheriff's Department auxiliary deputy since 2016.
Runs game clock as part of Missouri Valley Conference Game Table crew for Saluki men's home and football games, full-time since 2007.
Team captain, Special Olympics Illinois Polar Plunge, 2018. His team collected more than $5,000 and he individually raised nearly $1,700.
'Tremendous' family support
Dillard said he is fortunate that many of his interests and activities interconnect with his job. He also credits the support of his wife Kathy, an assistant director with SIU's alumni services, and his two children, Morgan and Kristen, who graduated from Carterville High School. Morgan is a third-year medical school student at the University of Illinois-Chicago; Kristen is a junior in the University of Missouri's fashion merchandising program. 
"I was very careful to make sure that they always came first and when the kids were growing up if there was a baseball game or softball game that they were always No. 1 on the list and I tried to fit these types of events around those," he said. "Now that they are both out of the house, that is when I started getting even more involved and have additional time available to give back to the community and university."
Importance of the university to volunteer service throughout region
Aside from the economic impact that SIU has on the region, Dillard said another vital component is the important opportunities and roles that university employees have in their communities.
He notes, for example, the three race directors in the River-to-River Relay's 31-year history each worked at SIU. The race fills the 250 slots within minutes each fall and is listed as one of the top events in "Run This Place: 52 Must-Run Races in North America" by long-distance runner Dane Rauschenberg.
Appreciates the efforts of his employees
Dillard also credits the 292 employees he oversees for their continual efforts. A team of pipefitters worked 17 straight hours about two weeks ago over a weekend to repair a mechanical breakdown with an air conditioning unit on campus. 
"Yes, it was part of their job. But to think and expect that somebody is going to spend 17 hours and come right back at it Monday morning … it's because of their dedication to keep the university going," he said.
It important to have a team attitude and to let employees know that they are the reason "the place moves forward," Dillard said.
"I like to think that we are able to pick from the best of the best," he said. "We have some great employees. But you have to let them constantly know they are appreciated and not take it for granted because it's not."
Award honors former longtime Board of Trustee member
Presented by the SIU Board of Trustees since 1980, the award recognizes SIU Carbondale employees for public service unrelated to their jobs.
The award is named for Sturgis, a Metropolis native who served more than 30 years on the SIU Board, including as board chair from 1969 until retiring in 1971. Sturgis passed away in 1972.