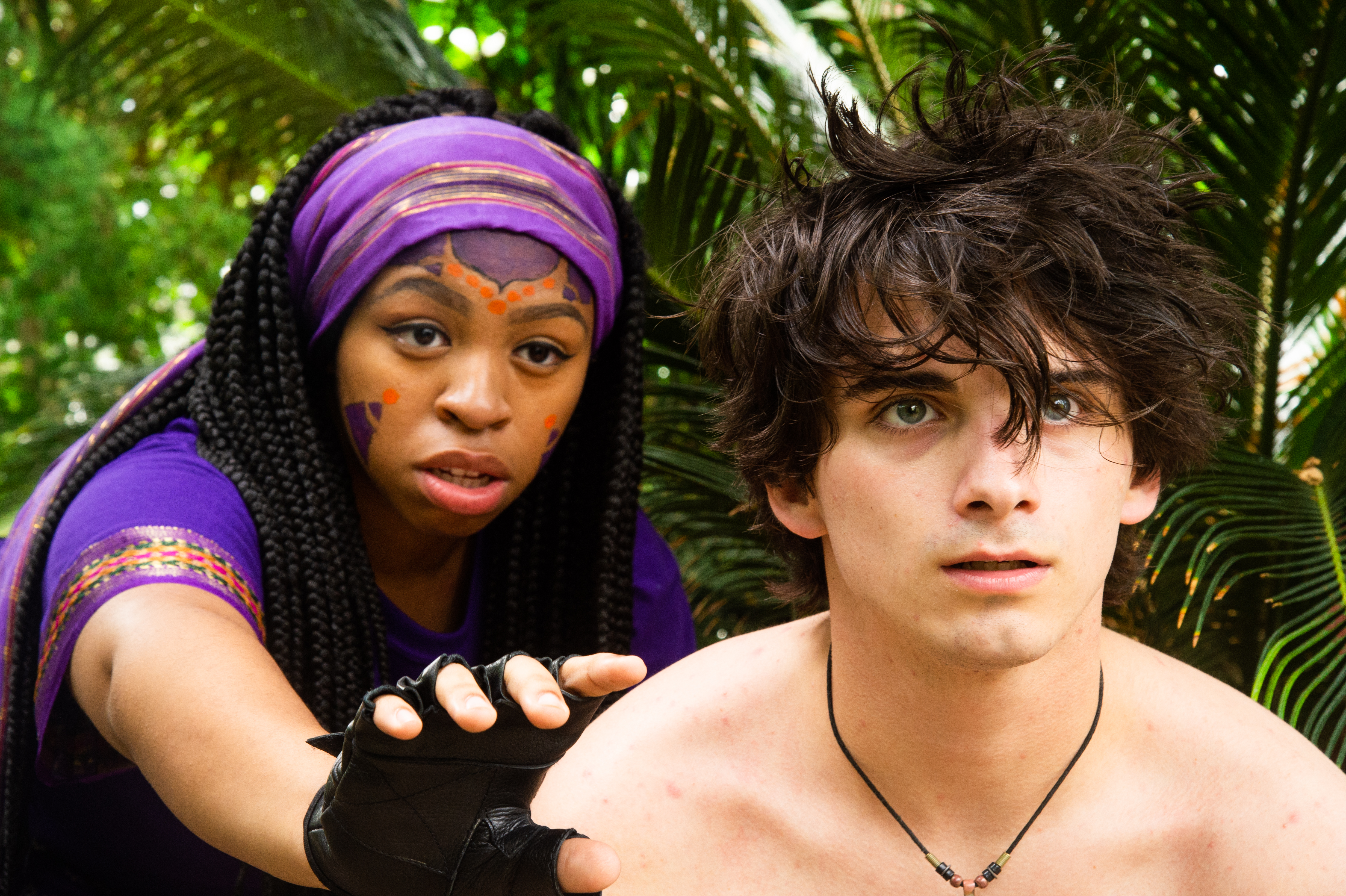 'The Jungle Book' arrives – Jordyn Kess, left, and Michael Sigilito, musicial theater majors at SIU Carbondale, are two of the performers who will delight audiences in "The Jungle Book" in June as part of the McLeod Summer Playhouse. (Photo provided by Carrington Spires)
May 30, 2018
Family fun coming to the jungle
CARBONDALE, Ill. - In a special production for young audiences, Southern Illinois University Carbondale's McLeod Summer Playhouse is highlighting "The Jungle Book" with several performances in the coming weeks. 
A familiar story told a new way 
This new adaptation follows the rambunctious and curious man-cub Mowgli and his adopted jungle family: Baloo the bear, Bagheera the panther, and all of the beasts who call the mysterious wilderness home. This fast-paced retelling based on Rudyard Kipling's classic tale keeps audiences on the edge of their seats. Young and old alike will be entranced and delighted as they watch Mowgli trying to escape the clutches of the evil Shere Khan and find the true meaning of home. 
The special Greg Banks adaptation of the popular tale is sponsored by Carolyn Wagner Snyder. 
Cast and production team 
"The Jungle Book" is directed J. Thomas Kidd, the summer playhouse's managing artistic director. The production stars Michael Sigillito as Mowgli, Derek Brookens as Shere Khan, Gavin Michael Carnahan as Baloo the Bear/Father Wolf, Jordyn Kess as Bagheera, Ellie Dudeck as Mother Wolf/Kaa, and Jack Russell Rose, Garrett O'Bryan, and Grace Nowak as monkeys. 
Several of the performers are SIU students while others are professional actors from around the country. All are part of the Professional Acting Company of McLeod Summer Playhouse for the season. 
The laboratory theater has been transformed into an immersive jungle environment by scenic designer Ronald Naversen, with costume design by Wendi R. Zea. 
Tickets are going fast 
Performances will take place in the Christian H. Moe Laboratory Theater, located in the Communications Building, 1100 Lincoln Drive. 
Catch "The Jungle Book" at SIU on the following performance dates: 
10 a.m., June 6, 20, 27 and July 11. Note: The June 6 performance is already sold out.
2 p.m., June 2, 16, 23 and July 7 and 14. 
General admission prices are: $14 for adults and $10 for children and SIU students.
Tickets on sale now
Tickets are available by phone, online, in person or by mail:
Online at siu.edu.
By phone at 877-SALUKIS (877-725-8547).
In person at the SIU Arena (8:30 a.m. to 4:30 p.m.) or McLeod Theater box office (noon-4:30 p.m.) Monday through Friday when the university is in session.
By mail through the SIU Ticket Office, Lingle Hall - Mail Code 6620, 1490 Douglas Drive, Carbondale, Illinois, 62901.
Some fees may apply. Purchase tickets for individual events or take advantage of multiple subscription options.