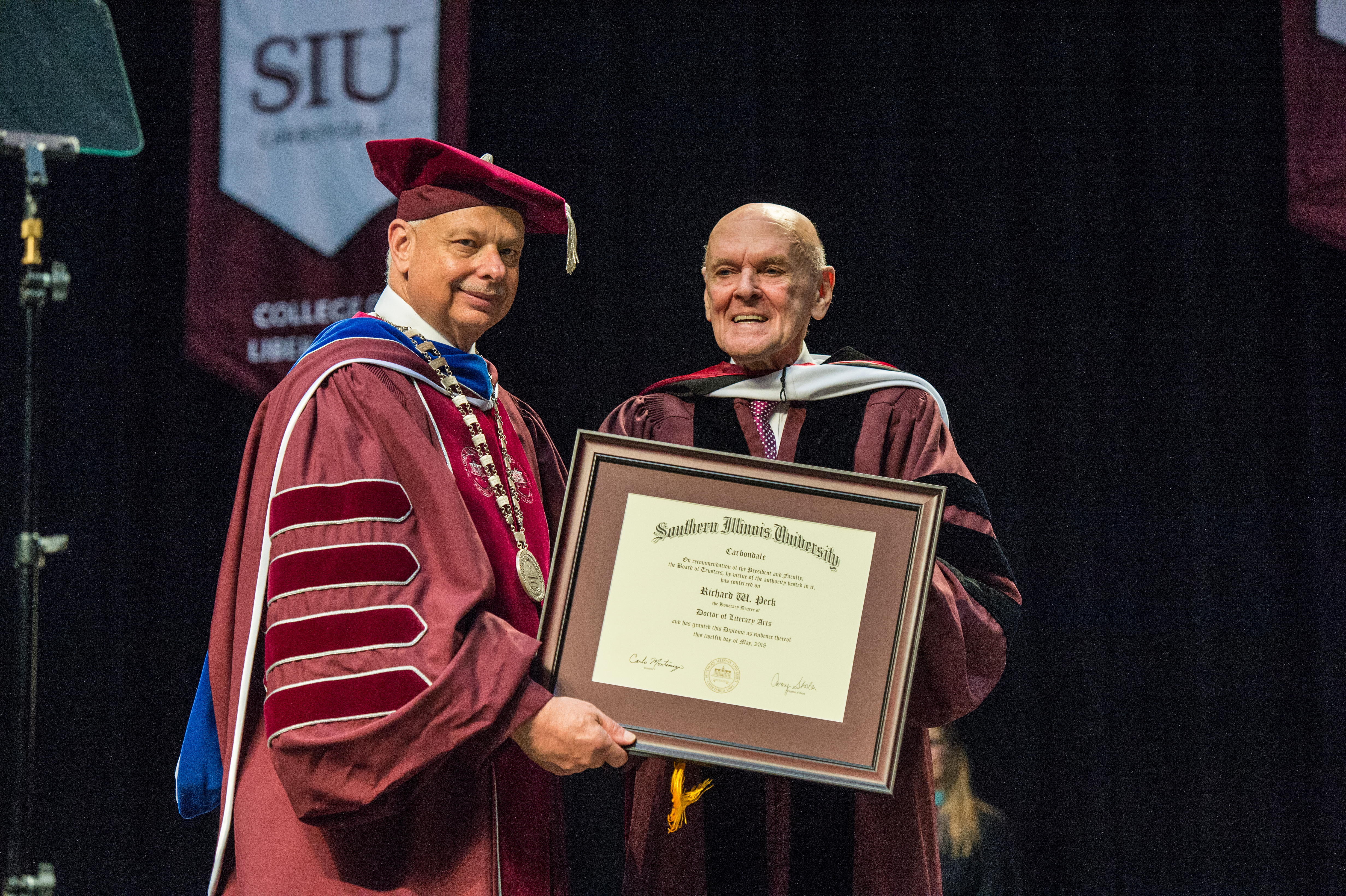 Chancellor Carlo Montemagno, left, with award-winning novelist Richard Peck at Southern Illinois University Carbondale commencement exercises on May 12. Peck, who earned a master's degree in English from SIU, received an honorary doctor of literary arts degree. Peck died at his home in New York City on May 23. (Photo by Russell Bailey)
May 25, 2018
SIU Honorary Degree recipient Richard Peck dies
CARBONDALE, Ill. — Award-winning author Richard Peck, who received an honorary doctor of literary arts degree from Southern Illinois University Carbondale on May 12, passed away at his home in New York City on May 23. He was 84.
Award-winning author of young adult literature
Peck, who held a master's degree in English from SIU, was an award-winning American novelist recognized for his contributions to modern young adult literature.
In 2001, he received the John Newbery Medal award given to the author of "the most distinguished contribution to American Literature for Children" for his book "A Year Down Yonder."
"We are so honored he was able to return to SIU for a celebration of his achievements," said SIU Chancellor Carlo Montemagno. "It was a very special day for all of us. We know his amazing legacy will continue through his books. Our thoughts are with his sister and his many friends and fans."
Peck was the first children's author to receive a National Humanities Medal in a White House ceremony. In 1990, he received the Margaret A. Edwards Award for lifetime achievement in writing for young adults. This award recognizes author's works that helps adolescents become aware of themselves and addressing questions about their role and importance in relationships, society, and in the world. He also won the Edgar Allan Poe Award for best juvenile mystery fiction.
His newest book, a middle-grade novel, "The Best Man," was a Boston Globe/Hornbook Honor Book in 2017.