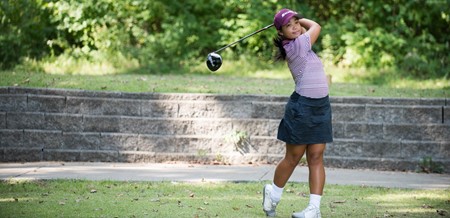 May 18, 2018
SIU's Hanna Netisingha chosen as 2018 Arthur Ashe Jr. Sports Scholar
CARBONDALE, Ill. — Hanna Netisingha, a Southern Illinois University Carbondale scholar-athlete has earned national recognition as a 2018 Arthur Ashe Jr. Sports Scholar.
Top 20
From about 1,000 athletes nominated nationwide for the honor, Netisingha was chosen as one of just 20 female semi-finalists. She was also selected as the representative for women's golf.
Her picture and profile were featured in the April 5, 2018 issue of Diverse Issues in Higher Education.
Nominees are required to have a minimum of 3.2 GPA and the evaluation criteria includes academics, athletic ability and involvement on campus and in the community.
Graduated with honors
Netisingha, of Carol Stream, graduated magna cum laude in May with a bachelor's degree in zoology. While earning a 4.0 GPA, she was also co-captain of the women's golf team.
Her skills on the links resulted in her twice earning honors as the Missouri Valley Conference Player of the Week during her senior season. She earned three medalists' finalist along with seven top-5 finishes and nine top-10 finalist finishes.
Off the green, she was chosen to attend the University of Oxford where she participated in a 1:1 fellow tutorial, receiving a top mark for "Genetic Mutations within Animals."
Donated many hours to the community
Netisinga also contributed many hours of community service. She volunteered with Toys for Tots and the Women's Crisis Center in addition to donating nearly 100 service hours to St. Francis Animal Hospital in Murphysboro. She won the MVC State Farm Good Neighbor Award.  
Experience and plans
During her time as a Saluki, Netisingha interned with The Athlete Network. She plans to continue her education by pursuing a veterinary degree.