May 07, 2018
Time to recycle your old technology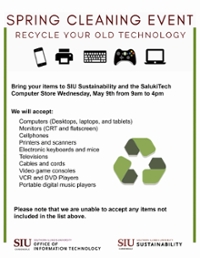 There's never a bad time to do a little spring cleaning.
The Office of Information Technology and SIU Sustainability are accepting old technology for recycling. The recycling drive is Wednesday from 9 a.m. to 4 p.m. The event is open only to SIU faculty, staff and students.
Only the following items can be taken to SIU Sustainability and the SalukiTech Computer Store, both of which are in the north end of the Student Center.
Computers (Desktops, laptops and tablets)
Monitors (CRT and flatscreen)
Cellphones
Printers and scanners
Electronic keyboards and mice
Televisions
Cables and Cords
VCR and DVD players
Portable digital music players
The discarded items will go to Southern Recycling Center in Carbondale for secure and appropriate recycling and disposal.