May 03, 2018
School of Law commencement ceremony is May 11
CARBONDALE, Ill. – SIU men's basketball coach Barry Hinson will deliver the keynote address during commencement ceremonies for the SIU School of Law on May 11.
The commencement ceremony for 98 graduates is at 3 p.m. in Shryock Auditorium. The graduates include two who will receive a joint J.D./Master of Business Administration degree and one who will receive a joint J.D./M.D. degree. Chancellor Carlo Montemagno will confer degrees at the ceremony led by Christopher W. Behan, School of Law acting dean.
Cobb, Feraru will be recognized
The Class of 2018 selected Donald Cobb, a graduating law student from Scott City, Missouri, to be the class speaker. Before law school, Cobb completed a 22-year military career spanning active duty, National Guard and reserve commitments.
His career included tours in Germany, Montenegro, Guam, two tours in Iraq, Kosovo and numerous stateside assignments where he earned numerous military awards. Between military activations Cobb was a civilian police officer, retiring as police chief in Scott City, Missouri in 2008.
Victor Feraru, named by The National Jurist magazine earlier this year as one of the nation's top 20 law students of the year, will be recognized.
Feraru was appointed in fall 2016 to the Illinois Department of Children and Family Services Children's Justice Task Force. He spent most of his first 17 years between 40 foster homes, three group homes and visits with biological family members.
Feraru, 36, utilized his own strength, determination, and support of his adoptive family. At age 16, Feraru was in an adoption process when that couple, who lived in the Quad Cities area, died. He was emancipated and no longer a ward of the state a year later. 
Feraru earned a bachelor's degree in English writing from Guilford College in Greensboro, North Carolina A lady from High Point, North Carolina, and her family heard of Feraru's story during an Air America radio broadcast when he was in his early 20s. The family legally adopted Feraru, who changed his last name, when he was 28.  
First law school commencement ceremonies held in 1976
The ceremony marks the 42nd anniversary of the law school's first graduating class of 1976, and the 43rd overall. Mark Brittingham, a clinical assistant professor, was selected by the graduating class as this year's "Outstanding Faculty Member" and will speak.
Hinson to deliver keynote address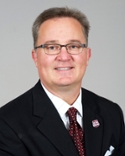 Hinson, who just finished his sixth season as Saluki men's basketball coach, will deliver the keynote.
Hinson's Salukis just finished their third straight winning season at 20-13, including 11-7 for second place in the Missouri Valley Conference. Overall at SIU, Hinson is 99-96, 50-58 in the conference.
Including nine years at Missouri State, Hinson ranks fourth in conference history in overall and conference wins. Hinson's overall collegiate coaching record is 304-237.
Ceremony will also recognize Egyptian human rights lawyer
Mahienour El-Massry will be recognized with the law school's Rule of Law citation. The citation is a formal recognition by the law school faculty of the important tradition of the legal profession that "requires lawyers to stand firm in support of liberty and justice in the face of oppression and, by their words and actions, to honor and support the Rule of Law, even at great personal risk."
A commencement hood and scroll will be placed on an empty chair in the front row with law school faculty to symbolize lawyers who are suffering for the Rule of Law.
El-Massry is known for her work to promote judicial independence and prisoner's rights. She has organized peaceful protests and support efforts for political prisoners and utilized social media to denounce human rights violations. In 2014, she received the "Ludovic Trerieuz Prize" for her efforts to advance human rights.
Imprisoned twice in three years
In May 2015, El-Massry was convicted of assaulting security forces and sentenced to 15 months for trying to provide legal assistance to three activists who were held at an Egyptian police station.
Trying to defend herself at the police station, El-Massry's presence there and defense efforts was the basis for the assault charges. She was denied food, water and basic hygiene supplies while serving her sentence.
Released from prison in 2016, El-Massry was detained in November 2017 for allegedly protesting against the government. The arrest was believed to be part of a wider crackdown by the government against human rights lawyers and defenders.
Sentenced in December 2017 to two years in prison for illegal protesting, El-Massry won her case on appeal and was released from prison in January.