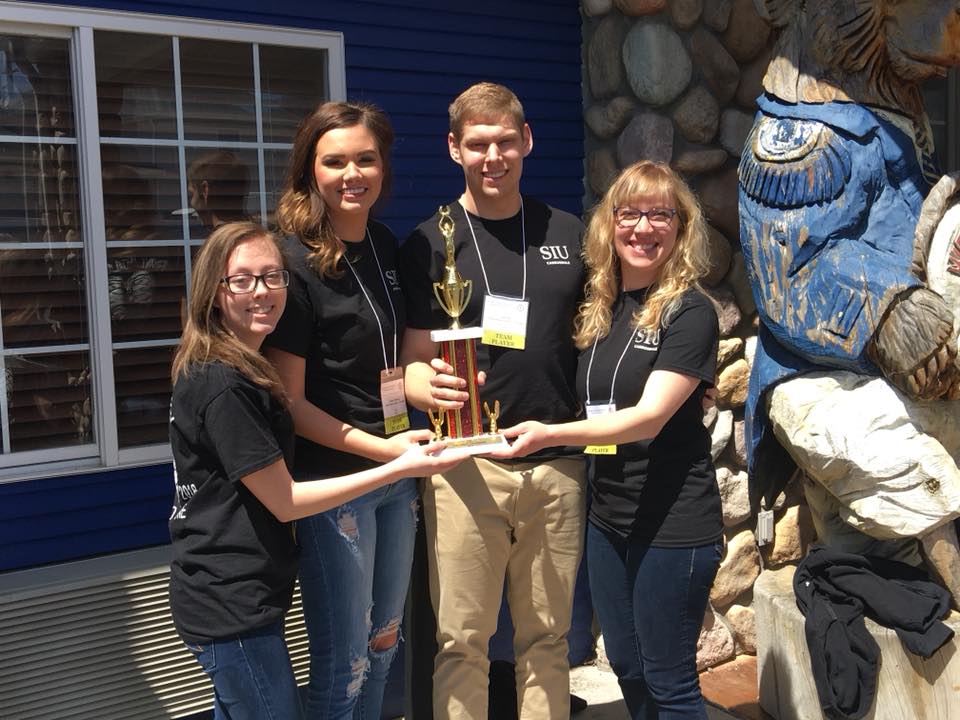 Continued success – SIU Carbondale's Radiologic Sciences Scholar Bowl team finished second last week in a statewide competition during the Illinois State Society of Radiologic Technologists conference. The team has finished in the top three each of the three years it has participated. Team members are, from left: Emily Shoaf, Meghan Willenborg, Dylan Hart and Paige Beuligmann. (Photo provided)
April 26, 2018
Radiologic Sciences Scholar Bowl team finishes second in statewide event
CARBONDALE, Ill. — Southern Illinois University Carbondale's Radiologic Sciences Scholar Bowl team finished second last week in a statewide competition in East Peoria. 
The team competed against nine other teams from around Illinois during the Illinois State Society of Radiologic Technologists (ISSRT) conference, April 18-20, in East Peoria. The College of Du Page won the event with Blessing Hospital of Quincy finishing third.
SIU finished third in 2016 and second last year. 
Team practices start at the beginning of the semester 
The team begins practice every Tuesday and Thursday starting in January. Team members, all radiologic science majors with their hometown, year in school and specialization, are: 
ILLINOIS 
Carterville: Paige Beuligmann, junior, radiation therapy
Effingham: Meghan Willenborg, junior, computed tomography/magnetic resonance imaging (CT/MRI )
Sullivan: Dylan Hart, junior, radiation therapy 
NORTH CAROLINA 
Winston Salem: Emily Shoaf, junior, radiation therapy 
Scholar Bowl team provides several benefits for students 
Sandi Watts, an assistant professor in the School of Allied Health, started the Scholastic Bowl team when she came to SIU. There are several benefits for students, Watts said, including that it helps them prepare for national exams they will take in May. 
Other benefits include attending the ISSRT seminars, networking for potential jobs and meeting other radiography students, Watts said.