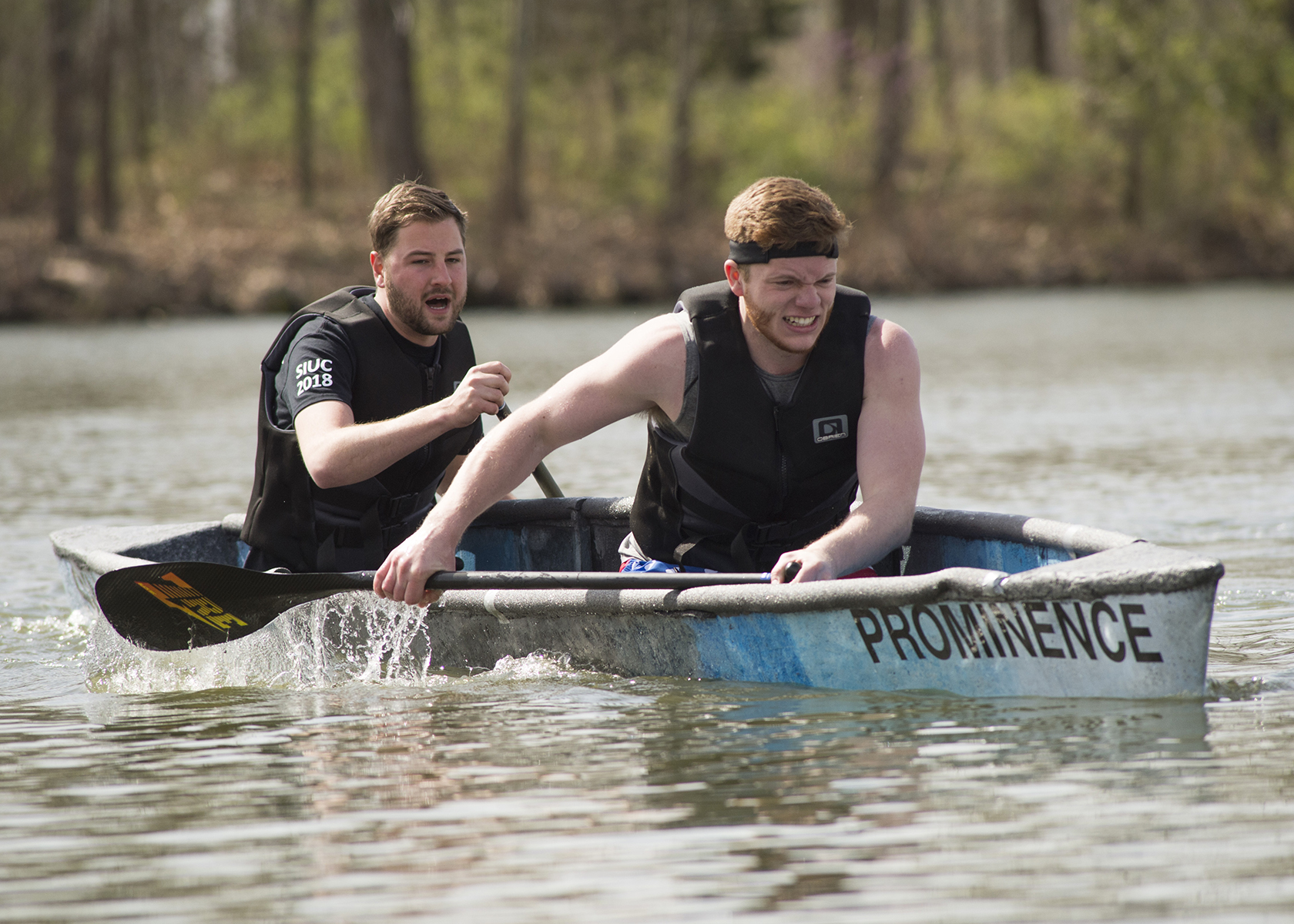 Members of the Southern Illinois University Carbondale concrete canoe team compete in last weekend's Midcontinent Student Conference of the American Society of Civil Engineers, hosted by SIU. SIU students won first place in the technical paper competition, while the concrete canoe and steel bridge teams both took second in their respective competitions. The SIU GeoWall team – the first one ever fielded by the university – took third place.  (Photo by Russell Bailey)
April 25, 2018
SIU engineering students host annual conference, do well in competitions
CARBONDALE, Ill. – Teams from Southern Illinois University Carbondale placed well in annual engineering competition hosted by the university last weekend.
SIU students won first place in the technical paper competition, while the concrete canoe and steel bridge teams both took second in their respective competitions.
The SIU GeoWall team – the first one ever fielded by the university – took third place.
SIU and its students stand out
More than 400 engineering students from 14 universities participated in the Midcontinent Student Conference of the American Society of Civil Engineers, April 19-21 at SIU.
Students, faculty and staff from the Department of Civil and Environmental Engineering organized the event, which was one of just 18 such student conferences planned nationwide this year.
"Our Department of Civil and Environmental Engineering is not as large as some in the ASCE Midcontinent region, but our student organizing committee offered a breadth and quality of conference experiences that will be difficult for even the largest departments to match," said John Warwick, dean of the College of Engineering.
Warwick also praised Mansor Sufran, a master's student civil engineering, for his leadership in organizing the event.
Team moves on to nationals
With its second-place finish, the steel bridge team will head to the national competition at the University of Illinois in late May. The concrete canoe team also has a chance for a berth at the national competition, owing to an excellent annual report written for the ASCE, said William Eichfeld, assistant professor of civil and environmental engineering, and adviser for the student ASCE chapter at SIU.
"The report means they will be entered into a lottery with some of the other second-place teams and they may still get an invitation," Eichfeld said. "I have not yet heard anything, but if they are invited, they will compete in the national competition in San Diego at the end of June."
Rave reviews for campus, community
Sanjeev Kumar, chair of the civil and environmental engineering department, said SIU received many compliments from visiting students and faculty on the event.  
"Everyone was really impressed with our beautiful campus and really enjoyed the Saluki hospitality," Kumar said.
Eichfeld said the well-run event helped visitors see SIU and the Carbondale area.
"Everyone saw many parts of our beautiful campus and the City of Carbondale," he said. "Based on comments and conversations, everyone was impressed with the way that the campus community worked together and the hospitality that they were shown during a well-organized indoor/outdoor event."
Event helps prepare young engineers
Eichfeld said planning the conference and participating in the competitions benefitted the engineering students in multiple ways.
"The technical skills that were employed by the competition teams went beyond the classroom and required research and creativity," he said. "Also, planning and organizing the conference took communication, scheduling, collaboration, critical thinking, problem solving, initiative, leadership, teamwork, and of course, time management."