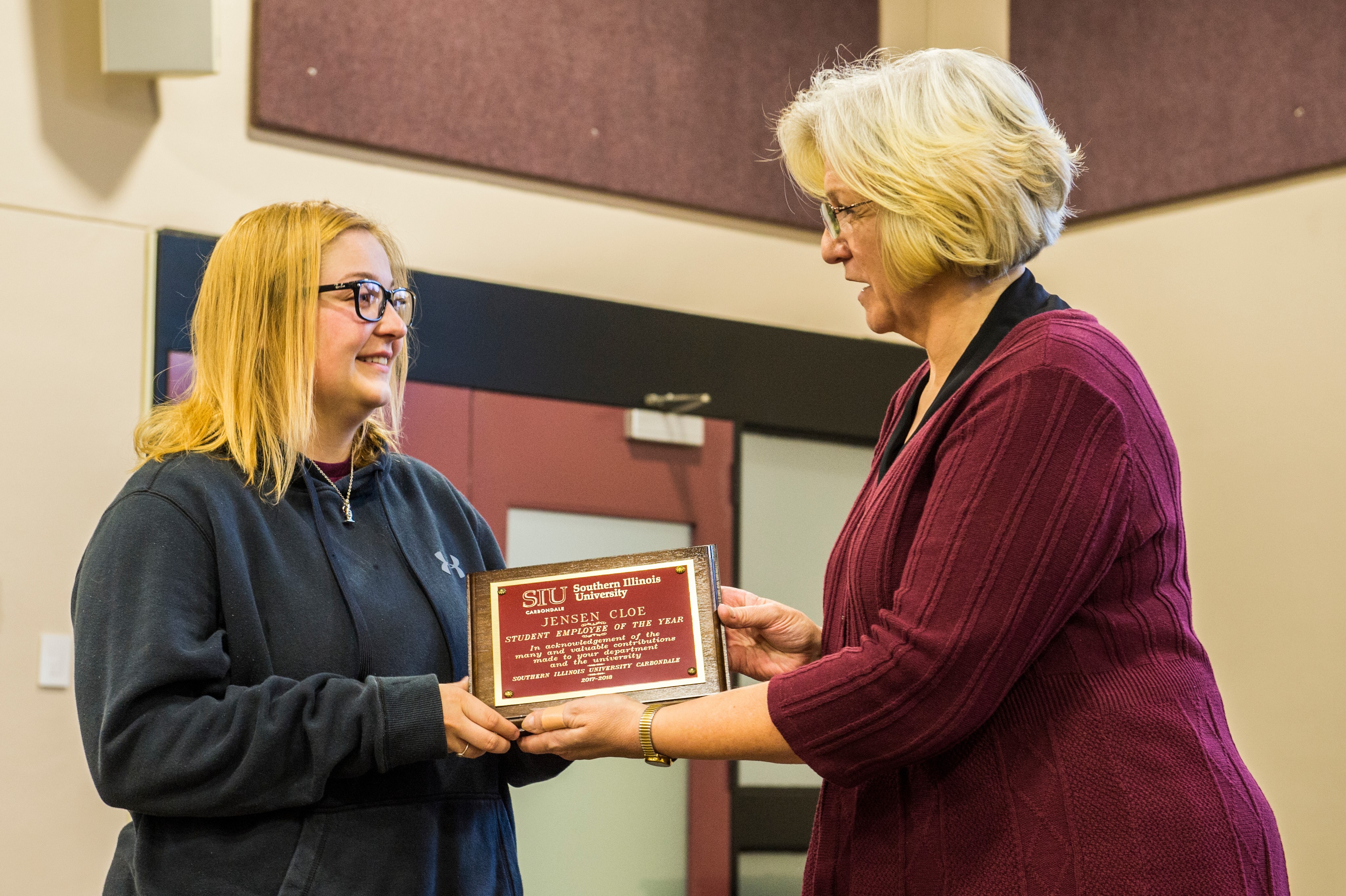 April 13, 2018
Jensen Cloe is SIU's 2018 Student Employee of the Year
CARBONDALE, Ill. — Jensen Cloe, a senior from Lakewood, is the 2018 Southern Illinois University Carbondale Student Employee of the Year. Cloe's major is physiology and she's pursuing minors in chemistry and neuroscience.
Malea Bailey, a junior radio, television and digital media (video production) major with a minor in communication studies from Medora, is the runner-up.
Cloe holds a high-level dual position
Cloe fills two roles for Recreational Sports and Services very capably, according to Troy Vaughn, director of RSS. Cloe has worked for RSS since September 2015 and currently holds the highest student employee level position, Vaughn said in nominating Cloe for the university's top student employee award.
Cloe is student facilities manager, overseeing the 214,000-square-foot recreation facility when professional staff are not on duty and helping with special events and assisting patrons.
In addition, she is competitive sports supervisor, which involves managing intramural and sport club events, providing customer service, handling risk management and doing field and court preparation work for games and activities.
Cloe impresses patrons and co-workers
"Jensen has been named by several patrons as having excellent customer service skills and always trying to assist patrons to make their experience better within the Student Recreation Center. She has excellent communication skills and this shows significantly when you interact with her," Vaughn said.
He praised Cloe's maturity, pride in the university, ability to relate employee concerns to the center's leadership and her leadership skills. She is a founding member of the new Student Employee Advisory Committee, which assists with policy and procedure for RSS student employees, and was the center's employee of the year in her department last year. Vaughn noted that on weekends Cloe manages a student staff of 8-12 while overseeing the entire facility and she does so very well.
Long-lasting impact
"Jensen has proven responsibility, reliability and commitment to my staff." Vaughn said. "The responsibility (she has) is unlike 95 percent of other student positions at SIU."
He said Jensen's "immeasurable" impact is such that "she truly cannot be replaced."
"Recently, we celebrated the 40th anniversary of the Student Recreation Center. Jensen was selected from over 300 current employees to represent not only student employees at the rec, but students that used the SRC from the past 40 years. She composed, wrote and spoke to an alumni gathering of former Salukis, current and previous employees and friends of the university who gathered to celebrate and remember."
Bailey's knowledge and communication abilities earn her recognition
Gena Albert, assistant director of New Student Programs, nominated Bailey for the award. Albert praised Bailey for her communication, motivational and project management skills. Bailey is the media coordinator for New Student Programs and her work involves training and supervising media and social media team members, filming and photographing events, creating promotional and training videos and announcement flyers, and helping produce and implement media and social media plans for the office.
"We consistently receive positive feedback about Malea from students and family members attending New Student Orientation, as well as faculty and staff across campus. A marketing and communications professional from another office commented about Malea's ability to put people at ease," Albert said. "Malea is incredibly knowledgeable about media, but her knowledge does not inhibit her ability to discuss her ideas with people of various skill levels."
Strong leadership skills
Albert said Bailey's leadership skills are also quite apparent as is her attention to detail, adaptability, strong work ethic, time management skills and enthusiasm.
Bailey developed a media team, from creating the position description to recruiting, interviewing, selecting and training media team members, whom she then supervised and worked with to "guarantee exceptional results."
Notable projects
Bailey has created a number of praiseworthy media projects, according to Albert. They include photo and video documentation of the 2017 Saluki Startup, Weeks of Welcome and solar eclipse events, a "Why Should You Become an Orientation Leader?" video.
In addition, she developed a video promoting New Student Orientation, which features interviews with current students and staff about the benefits and illustrates how attendance improves retention rates.
"Since Malea started, we have been able to reach more people, thus having a much larger impact on our community," Albert said. "Through Malea and the media team's work with technology and videography, we hope to successfully provide experiences which inspire Saluki pride while simultaneously educating our new students and their families and supporters."
Ultimately, Albert said Bailey's work has enabled the office expand its reach and impact and to help students be more successful in college.
Also nominated in 2018
The other students earning nominations for this year's Student Employee of the Year award were:
Madison Allardyce, nominated by Beth Richardson, Risk Management (Office of the President).
Rachel Bolerjack, nominated by Brandon Luster, Department of Chemistry and Biochemistry.
Colton Carter, nominated by Patrice DeBlois, Alumni Services.
Renee Kinzinger, nominated by Susan Graham, College of Agricultural Sciences.
Jing Cherng Lee, nominated by Jean Stift, Center for International Education.
Jennifer St. Louis, nominated by Abby Razer, Information Technology.
Stephen Taylor, nominated by Jodi Boese, Undergraduate Admissions.
Harleigh Williams, nominated by Lori Merrill-Fink, University Honors Program.
Cody Zamora, nominated by Melissa May, College of Business (Undergraduate Advisement).
SIU honoring student employees this week
National Student Employment Week is April 8-14 and the university's various offices and academic units have celebrated and recognized their student employees throughout the week in various ways.