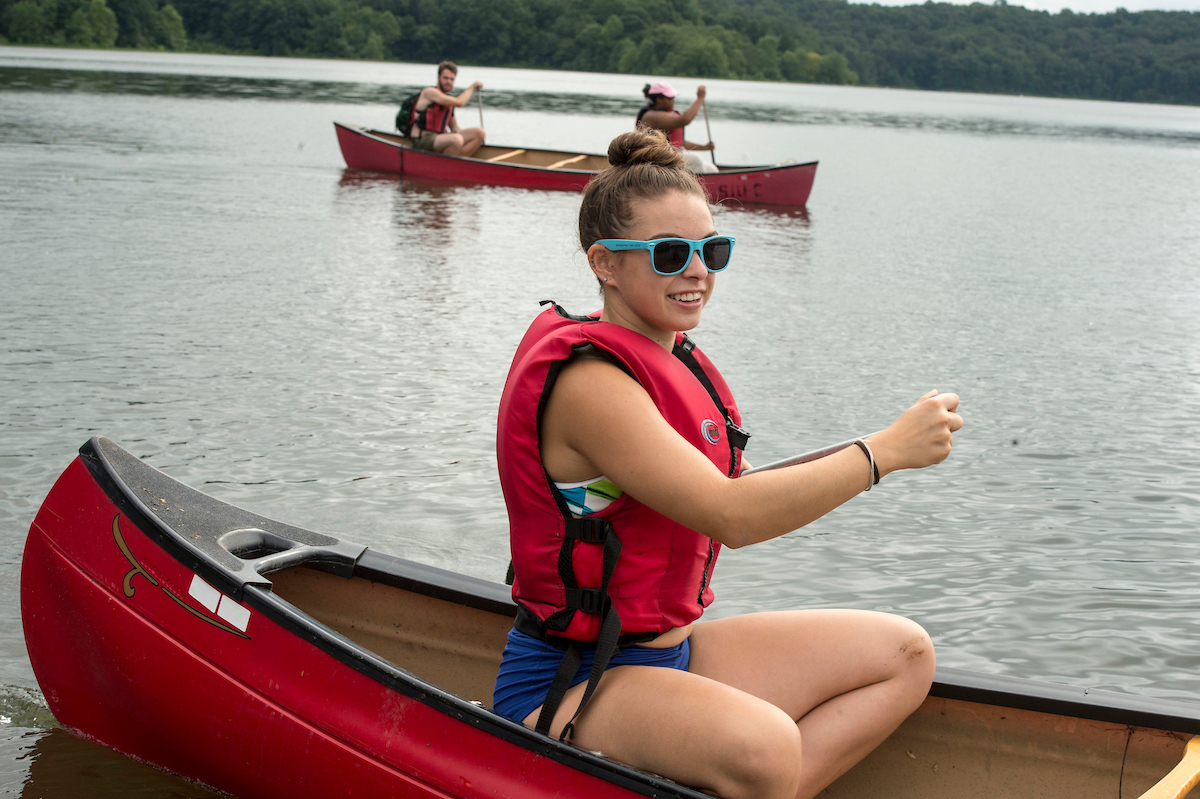 April 04, 2018
Experience the great outdoors at Touch of Nature's Green Dawgs' Day
CARBONDALE, Ill. — What better way to celebrate spring than immersing yourself in one of Southern Illinois' most beautiful places?
Southern Illinois University Carbondale's Touch of Nature Environmental Center is hosting Green Dawgs' Day from 10 a.m. to 4 p.m. on April 8 and everyone is welcome.
The event is free and open to SIU students and the community.
Free canoeing, hiking, zip lining, rock climbing and more
Numerous special happenings are planned throughout the day. Activities include canoeing, hiking, zip lining, rock climbing and more.
In addition, representatives of various environment- and sustainability-focused campus departments, registered student organizations, and community organizations will be on hand to provide information and greet participants.
The day, sponsored with assistance from an SIU Green Fund grant, will highlight various internships and volunteer opportunities for students at SIU as well as ways to get involved in the region. It's a great chance for some professional networking, too.
Learn about wildlife conservation with Project WILD
Participants can also elect to participate in a Project WILD, wildlife-focused conservation education program taking place that day from 10 a.m. to 2 p.m.
This conservation and environmental education program is geared toward educators of students in kindergarten through high school, but will also appeal to SIU students, organizers said.
Jenna Parks, Touch of Nature naturalist, and Linda Hauser of the U.S. Forest Service, will lead the workshop at the Indian Building in Camp II. The program explores the connections among all of nature and how to conserve and be environmentally conscious and responsible.
Register in advance for the Project WILD program online at www.ton.siu.edu (select the session option "Project WILD") for $25. The fee covers course materials and books to take home.  
Free transportation from campus
Free shuttle service will be offered from the SIU campus to Touch of Nature Environmental Center, located about eight miles south of Carbondale on Giant City Road.
The bus will leave from the front of the Student Center every hour beginning at 9:45 a.m. with the last run at 1:45 p.m.; there will not be an 11:45 a.m. shuttle.
Return rides will from the center back to the Student Center are scheduled every hour starting at 10:30 a.m. with the last return bus at 3:45 p.m.; there won't be an 11:30 a.m. bus.
No signup required
Although pre-registration is required for the optional Project WILD program, no advance signup is required for Green Dawgs' Days. Participants may come any time that day and enjoy the fun.
For more information, visit www.ton.siu.edu, call 618/453-1121, or email tonec@siu.edu.