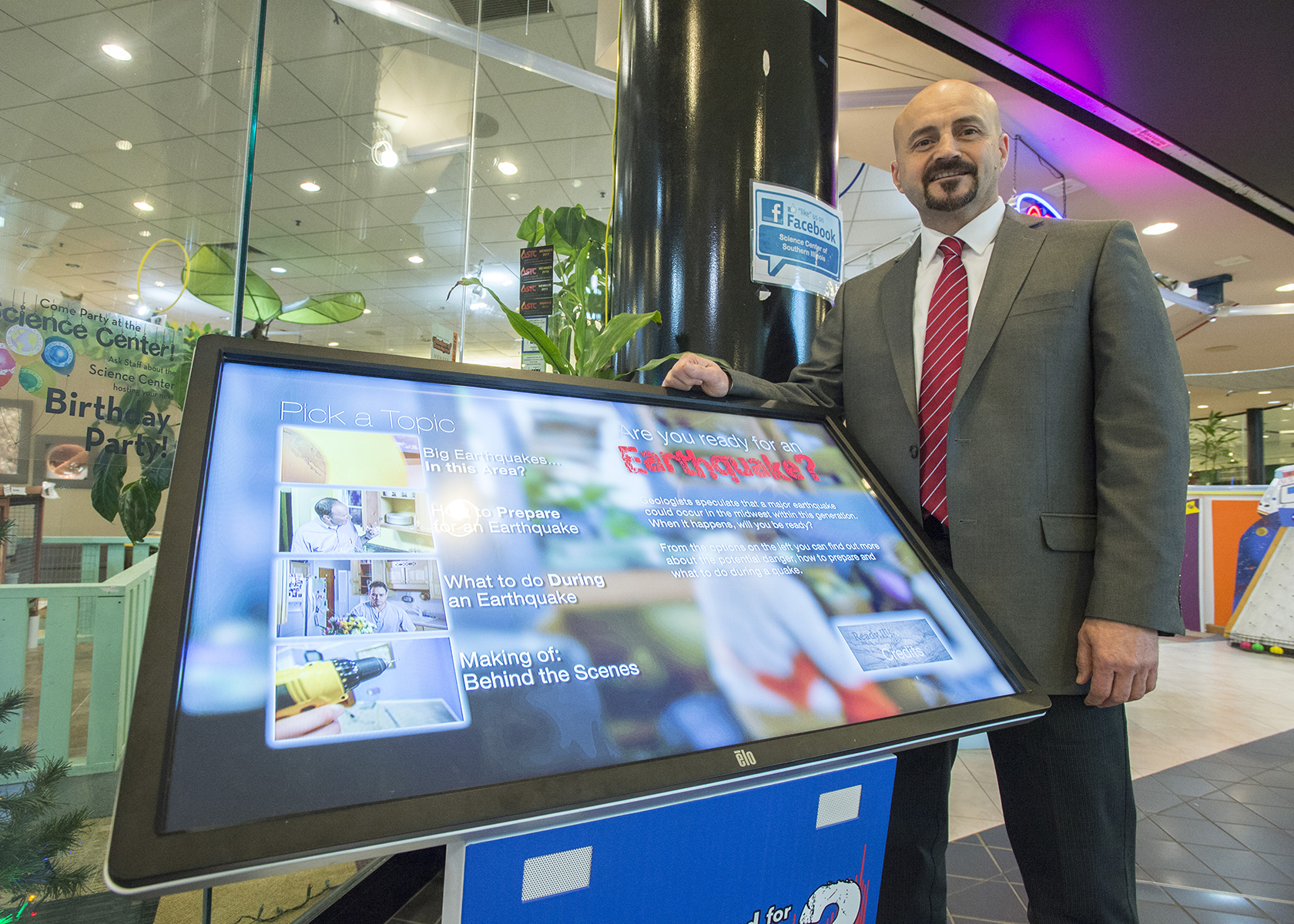 March 30, 2018
SIU faculty honored for interactive media earthquake kiosk
CARBONDALE, Ill. – A media education organization has honored a current and former faculty member at Southern Illinois University Carbondale for their efforts in creating interactive media to promote earthquake preparedness.
Harvey Henson and Scott Hodgson won the Broadcast Education Association's Best of Festival award in its Faculty Interactive Multimedia and Emerging Technologies Competition.
Henson is interim director of the STEM Education Research Center and an assistant professor in the Department of Curriculum and Instruction at SIU. Hodgson, professor at the University of Oklahoma, is a former faculty member in the Department of Radio-Television and Digital Media at SIU.
Kiosk was first in the Midwest
The pair won the award for a kiosk unveiled in February 2017 at the Southern Illinois Science Center, located in University Mall in Carbondale.
It was developed by a team of earthquake experts, including Henson and Hodgson, and was the first of its kind for the Midwest. It features information and videos about earthquake hazards in Illinois, safety and ways to protect homes and businesses from earthquake damage.
The project is a collaboration between SIU and the University of Oklahoma in partnership with the Illinois Emergency Management Agency and the Central U.S. Earthquake Consortium, with funding support from the Federal Emergency Management Agency and the Motorola Solutions Foundation.
Project selected from nationwide pool
The project was one of just 18 Best of Festival winners from a field of more than 1,540 entries. About 175 colleges and universities across the country competed this year. The honor will send Henson and Hodgson to the BEA's annual convention April 8 in Las Vegas, as well as earn them a $1,000 award.
Saving lives is the goal
Henson said the group is developing additional kiosks, including a traveling one that should be in place this summer. He said his long-time research into earthquakes issues, coupled with Hodgson's media expertise, made for a good combination.
"We work well together, and we've learned so much from each other," he said. "Together with our colleagues and our students, we have produced something very special: A multimedia tool that potentially might save lives."
Henson said IEMA is making it possible for the kiosk to remain at University Mall for the foreseeable future, and that software and media updates are planned for this summer, as well.