March 30, 2018
Komarraju nominated as SIU Carbondale interim provost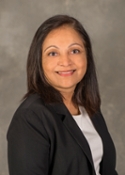 Meera Komarraju, dean of the College of Liberal Arts at Southern Illinois University Carbondale, will become the university's interim provost and vice chancellor for academic affairs pending approval of the university's Board of Trustees.
SIU Chancellor Carlo Montemagno said Komarraju's appointment, which will be effective April 13 if approved, fills an important gap in the university's leadership. The provost's responsibilities have been divided among other members of the provost's office since the retirement of previous interim provost Susan Ford in June 2017.
The university's provost oversees the academic colleges, library affairs, the graduate school, off-campus programs, the honors program, information technology and the centers for international education and teaching excellence.
"Dr. Komarraju is well-qualified to move the revitalization of our academic programs forward," Montemagno said. "She is highly respected across campus as an administrator, teacher and researcher who has displayed a strong commitment to SIU throughout her career. She possesses the experience and skills needed to succeed as interim provost."
As dean of the College of Liberal Arts, Komarraju currently oversees the largest academic unit on campus. She came to SIU as a lecturer in 1986 and has served as director of the Department of Psychology's undergraduate program, chair of the department, and associate dean for student and curricular affairs in the College of Liberal Arts before her 2015 appointment as dean.
She is a professor of psychology and holds a doctoral degree in applied social psychology from the University of Cincinnati and doctoral and master's degree in industrial-organizational psychology from Osmania University in India. She also holds a master's degree in sociology from Osmania University and a bachelor's degree in psychology, philosophy and English literature from Nizam College in India.
Komarraju is widely published in her field and is a fellow of the American Psychological Association. She is a past recipient of the university's Outstanding Teacher of the Year Award.
"If approved by the Board of Trustees, I would be deeply honored to serve SIU Carbondale and advance it in partnership with our students, staff, faculty, campus administrators, alumni and community members" Komarraju said.
"We have an extremely strong base with outstanding academic programs as well as talented faculty members and resourceful staff members who are devoted to our students," she added. "We will continue to work towards raising our academic profile, recognizing that strong academic programs, high quality research and excellent teaching are at the heart of the university."