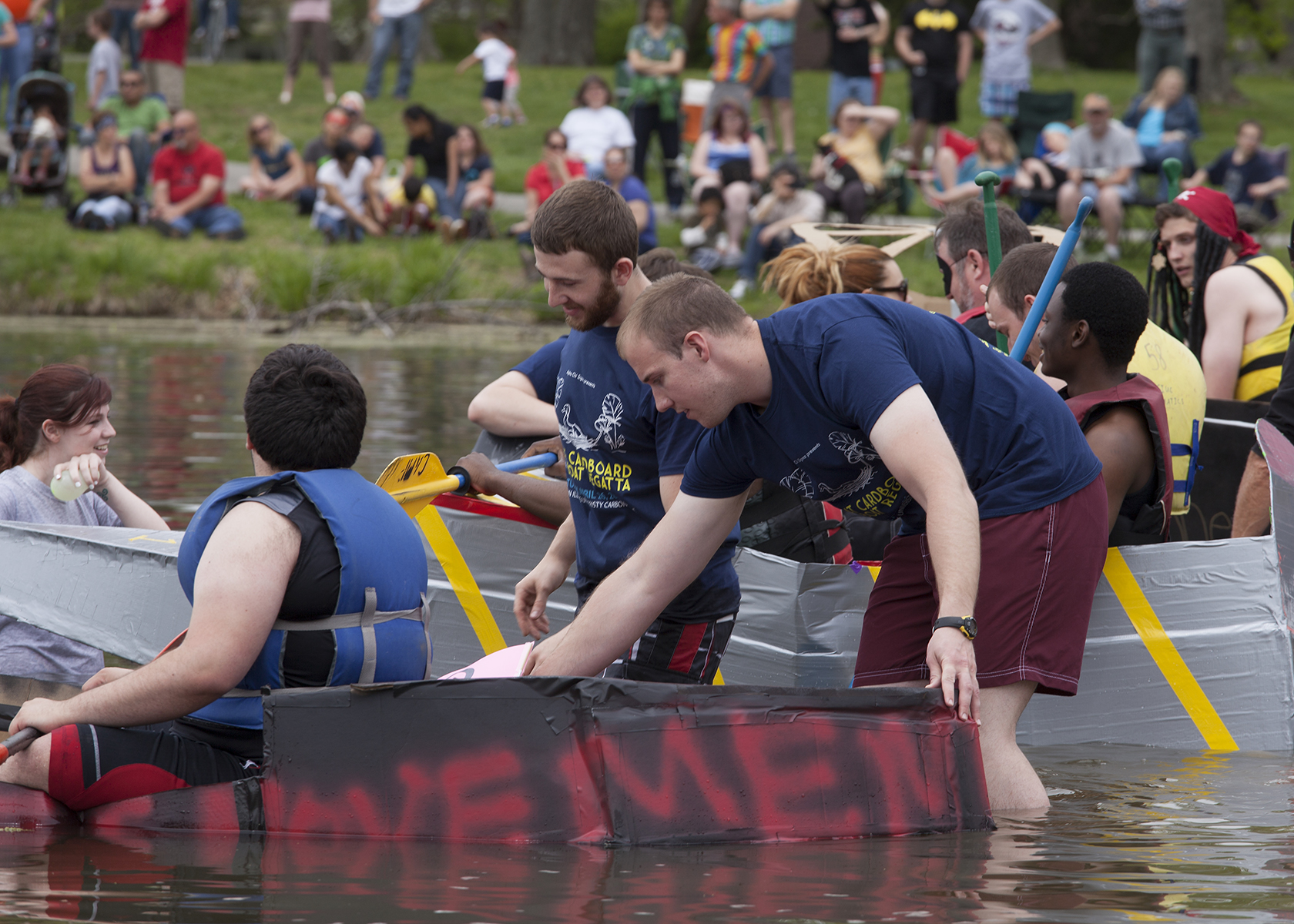 March 22, 2018
The Great Cardboard Boat Regatta returns to Campus Lake in 2018
CARBONDALE, Ill. — The 45th annual Great Cardboard Boat Regatta is returning to Campus Lake at Southern Illinois University Carbondale for 2018.
The event that has grown to be a worldwide phenomenon is set for April 28 with registration and inspection beginning at 10 a.m. The races start at 1 p.m. and everyone is welcome to enjoy the fun – either as a participant or a spectator.
What it takes to race
The rules are pretty simple. Create a boat using only corrugated cardboard of any thickness, held together by glue, caulk, tape, staples or other such materials.
Use your own cardboard, or buy 7' by 8' sheets for $3 each in the Chemistry Department at the Neckers Building on campus. It typically takes about four sheets to make a boat. Call Mary Kinsel at 618/453-6428 to arrange pickup.
Add one-part waterproofing to the finished watercraft and devise some way of making the boat move using assisted or non-assisted people-power. Essentially, that's either peddle-driven propellers/paddle wheel or canoe paddles/oars powered.
Participants can compete individually or in teams (of up to 10 people)
There are several different competition categories:
Class I – human-powered boats that move via paddles or similar means.
Class II – mechanically propelled boats that use paddle wheels, propellers or other such methods to move across the water.
Class III – instant boats, built at the event using kits available that day. The kits include one big cardboard sheet, a box knife, a plastic sheet, a nail and a role of duct tape.
Class IV – youth division, for children ages 13 and younger.
Race organizers will furnish kayak paddles, oars and life jackets. They welcome children, teens and adults of all ages to join in the fun and encourage families, youth groups, Scout organizations and others to enter.
Compete for prizes
Participants will vie for a number of prizes – and in this race, you don't even have to make it to the finish line to win. In fact, some of the most celebrated entries in years past have sunk in spectacular fashion.
There will be trophies for the winners of each division as well as prizes for the best use of cardboard, the best team boat, and the Titanic trophy will go to the boat that goes down in the most impressive showing. This year, there will even be a monetary award for the top finishers in Class I and Class II and for the watercraft judged to be the Most Creative Boat Design.
Family fun
Refreshments will be available for purchase from the Carbondale Parks District and the Carbondale Cyclones swim team on regatta day.
As an added fun bonus for children, the Student Programming Council will be having a bounce house prior to race time.
The venue
The family-friendly regatta will be the first big event for Campus Lake's new Becker Pavilion. A major renovation of the boat house and pavilion, constructed in 1959, has been underway thanks to a generous donation from 1955 alumnus Ralph E. Becker.
The regatta offers a chance to see the renovated and accessible structure.
Storied history
The regatta originated at SIU in 1974 as a freshman art and design class project for the late Richard Archer's classes. It went on to become an annual event, replicated all around the world and viewed by an estimated half-million plus visitors.
For many years, Larry "Skip" Briggs and W. Larry Busch, both retired professors from the School of Art and Design, coordinated the race. Alpha Chi Sigma, the campus professional chemistry fraternity, and faculty adviser Mary Kinsel, stepped in in 2010 to keep the tradition going.
The last couple of years, the race moved to a new venue as renovations and improvements took place at Campus Lake. But now, it's back where it all began.
Sign up now
Register for the 2018 regatta online. The cost is $15 if you register in advance or $20 the day of the event.
For additional details
For more information, visit the Great Cardboard Boat Regatta Facebook page or the registration website, email Rachel Bolerjack at racmbol@siu.edu or contact Mary Kinsel at 618/453-6428.