March 09, 2018
Transgender and Intersex athletes are focus of 2018 Ryan Bioethicist-in-Residence lecture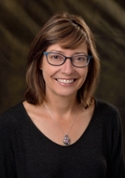 CARBONDALE, Ill. —Struggle over how to manage sex and gender diversity in athletics will be the focus of the 2018 John and Marsha Ryan Bioethicist-in-Residence lecture later this month at Southern Illinois University Carbondale. 
Alice Dreger, an award-winning scholar, researcher and writer on sex and gender issues, will present "Who Should Count as a Woman on the Playing Field? The Question of Intersex and Trans in Sports." The lecture is at 5 p.m., March 21, in the SIU School of Law courtroom in Carbondale. It will be simulcast to the SIU School of Medicine in Springfield. 
The lecture is part of SIU Carbondale's Women's History Month celebration and the SIU system-wide Diversity Week. The lecture is free and the public is welcome.
____________________________________________________________________
Media Advisory 
Reporters, photographers and camera crews are welcome to attend the Ryan Bioethicist-in-Residence lecture with Alice Dreger at 5 p.m., March 21, at the courtroom in the SIU School of Law. For more information or to arrange interviews contact Diane Regan, the law school's interim director of communication and alumni outreach, at 618/453-8768. For the lecture in Springfield, contact Karen Carlson at 217/545-2155.
­­­­­­­­­­­­­­­­­­­­­­­­______________________________________________________________________
 Understanding of gender diversity in athletics is evolving
"The traditional and normative notions of sex and gender are evolving at present in ways that reinforce the key bioethical principles of self-determination and autonomy," Michele Mekel, an adjunct law professor and SIH-SIU Health Law and Policy programming director, said. "Dr. Dreger's lectures will expand the dialogue on and understanding of these important shifts and what they mean for medicine, law, individuals, institutions, and society as a whole." 
Dreger said her discussion will examine the tension between traditional values in sports of having level playing fields and dividing athletes into genders presumed to match with a person's sex — and the "emerging understandings of sex and gender diversity and the rights those cause us to consider." 
Sex is biologically 'quite complicated'
When discussing gender and athletics, Dreger, author of the highly acclaimed 2015 book, "Galileo's Middle Finger: Heretics, Activists, and the Search for Justice in Science," said many people do not understand "that sex is not a simple binary, but is biologically quite complicated." 
The International Olympic Committee "has a rather unfortunate history when it comes to dealing with intersex and transgender athletes," she said. "Additionally, many people don't realize that a lot of non-intersex and non-transgender athletes use hormonal manipulation in 'legal' ways; there's no simple solution to dividing sport by gender when you know as much as we know about sex." 
No clear dividing line between sexes
Dreger, previously a clinical professor of medical humanities and bioethics at Northwestern University's Feinberg School of Medicine, provided recommendations on sex verification to the International Olympic Committee (IOC) and International Association of Athletics Federations (IAAF) in October 2013. Those recommendations were not followed. 
"My chief recommendation was to stop pretending that there is a single biological marker that can be used to divide people by gender – that they should recognize what they were doing, in now choosing testosterone as the latest biological marker to try to divide women and men, was really creating a division in sport based on hormones, not human identity" she said. 
In 2012, Dreger helped lead a key report produced by the Canadian Centre for Ethics in Sport. That document, "Sport in Transition," pushed for "more responsibility for gender inclusivity" in sports at all levels. 
'A broader civil rights issue'
Dreger said what happens to intersex and transgender athletes at the hands of organizations like the IOC and IAAF "ultimately impacts the lives of thousands and thousands of young people who are intersex and trans." 
"How we manage these issues in elite sports isn't just for sports fans to care about; it's an issue we should think about as a broader civil rights issue," she said. "I also hope people will understand that sex and gender are not the same thing and that both are complicated." 
Intersex patient rights movement a big part of Dreger's work
Dreger earned her doctorate from Indiana University in 1995 and her dissertation was on the history of what happened to people incorrectly labeled "hermaphroditic" in 19th century French and British medicine and science. 
She was then contacted to help with the intersex patient rights movement, and become the founding board chair of the non-profit Intersex Society of North America. That organization gave way to the Accord Alliance in 2008. Dreger became interested in the question of sports divisions as the IOC and IAAF made intersex an issue in elite sports by trying to police who counts as a female. 
'Normalizing' children's bodies will also be discussed
While in Southern Illinois, Dreger will meet with the combined ethics committees of local hospitals that comprise Southern Illinois Healthcare on March 22. 
She will then travel to Springfield and the SIU School of Medicine where she will meet with medical students and faculty at 9 a.m., March 23. The lecture in Springfield will look at issues associated with medical and surgical intervention related to "normalizing" non-normal bodies, particularly in children. 
Dreger's work draws national attention
Dreger has served as a regular writer for the health sections of "The Atlantic" and "Pacific Standard" and for the "Psychology Today" blog. Her opinion editorials have appeared in numerous publications, including the New York Times, Washington Post, the Chicago Tribune, WIRED and Slate. 
She has been featured on various programs including "Good Morning America," "NPR," "Oprah" and "Savage Love," along with documentaries for A&E, ABC, Discovery, PBS and HBO. 
She is now co-editing a collection of first-person stories called "Bioethics in Action" for Cambridge University Press. 
Lecture series captures public imagination
This is the law school's 13th bioethicist-in-residence lecture, and the 11th since John C. and Dr. Marsha G. Ryan endowed the visiting lecture series. 
Founded in 2006, The John & Marsha Ryan Bioethicist-in-Residence program supports an annual residence and lecture by a law or medicine ethics scholar for the SIU schools of law and medicine. 
Marsha Ryan said the sponsorship is an attempt to repay the law school for her introduction to bioethics during a class in the mid-1980s. She earned her law degree from the SIU School of Law in 1987 and was an adjunct faculty member there for 30 years until 2017. 
"The materials were so thought-provoking that it set me on the path to teaching the topic at the law school once I had graduated," Ryan, who practiced general and breast surgery in Carbondale for 36 years until her retirement in 2017, said. "To this day, the material fascinates. It spurs, one hopes, civil discussions about basic human topics, including reproduction, life, death, dying, patient consent, and a variety of other subjects." 
'Particularly timely' topic
Dreger's lecture will provide a more in-depth look at gender and sports, "and at the notion of 'normalizing' appearance before a child is old enough to choose for him or herself," Ryan said. "The topics are particularly timely in view of modern-day concerns about how to define and who is to define gender."