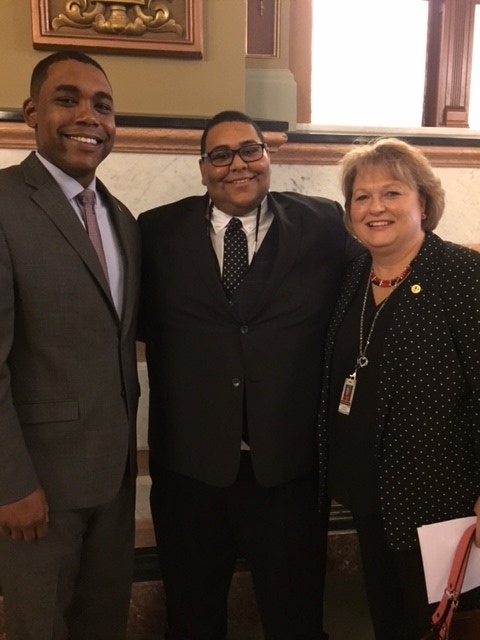 2018 Alexander Lane Intern – Joshua McCray, center, is the 2018 SIU Carbondale Paul Simon Public Policy Institute's Alexander Lane Internship recipient. McCray, of St. Charles, is working with the Illinois State Senate during the spring 2018 legislative session. With McCray is state Rep. and deputy majority leader Arthur Turner, D-Chicago, a 2010 graduate of the SIU School of Law, and state Rep. Terri Bryant, R-Murphysboro. (Photo provided)
March 02, 2018
Joshua McCray named Alexander Lane Intern
CARBONDALE, Ill. — Joshua McCray of St. Charles, who is majoring in history and political science at Southern Illinois University Carbondale, is the Paul Simon Public Policy Institute's 2018 Alexander Lane Intern. 
The internship gives selected students an opportunity to participate in the state's legislative process. McCray is working with the Illinois State Senate during the spring 2018 legislative session. He is serving on the senate's policy and budget staff with the Senate Democrat Caucus under state Senate President John J. Cullerton, D-Chicago. 
"Joshua McCray is a highly deserving recipient of the Alexander Lane internship, which is one of the flagship internships supported by the Paul Simon Public Policy Institute," John T. Shaw, institute director, said. "I know from first-hand experience that internships can play a critical role in building important skills and contacts for a rewarding career.  I feel certain that Alexander Lane would be proud that his legacy is being continued by a young person with such outstanding qualities as Joshua."    
Internship provides students a "unique opportunity"
Linda R. Baker, university professor at the institute and former secretary of the Department of Human Services and director of the Department of Employment Security, as well as the first African-American legislative liaison for an Illinois governor, mentors students working through the Alexander Lane Internship during their stay in Springfield. 
Baker offers historical perspective and institutional knowledge to students on the issues they will be working on during their time in the capitol.
"The Internship is unique in that it provides the only opportunity for the student to gain both college credit and experience in the legislative process," she said.
McCray will graduate in May. He has been active in public affairs both on and off campus, serving as a Simon Institute student ambassador, as well as holding summer positions with Efron & Efron law offices and McCray Consulting in the Chicago area.
Internship honors a pioneer
The institute established the Alexander Lane Internship program in 2011 to honor Lane, the first African-American male graduate at the institution that would become SIU Carbondale.
The paid internship allows at least one student each spring to work with a minority member of the General Assembly toward the goal of carrying on Lane's legacy of high achievement and public service.
Lane rose from meager beginnings in pre-Civil War Mississippi to become a school principal, physician, and an Illinois state legislator, serving in the General Assembly in 1906 and 1908. He died in 1911 in Chicago, and is buried in Carbondale. 

Donate to the internship program
Private donations from individuals and corporations fund the Alexander Lane Internship program. Tax-deductible donations can be made online or mailed to:
Paul Simon Public Policy Institute
Southern Illinois University Carbondale, Mail Code 4429
1231 Lincoln Dr.
Carbondale, Ill., 62901