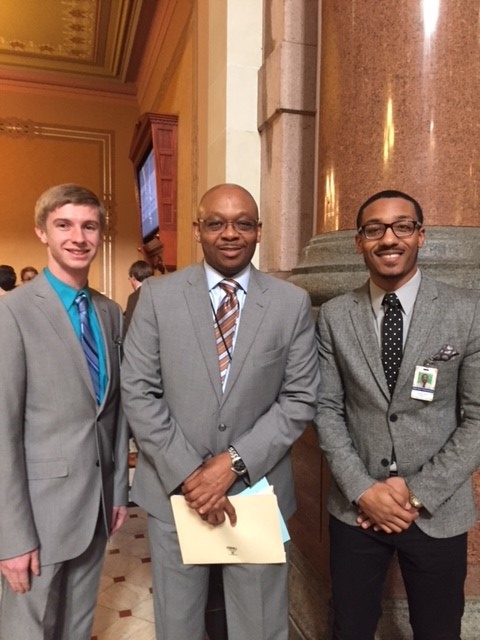 2018 Eugene Callahan Interns – Darrin Reinhart, left, and Michael Smith, right, received the 2018 SIU Carbondale Paul Simon Public Policy Institute's Eugene Callahan Internship. Reinhart, of Alhambra, and Smith, of Chicago, will work with the Illinois House Democrat staff at the Illinois State Capitol in Springfield. With Reinhart and Smith is state Rep. Will Davis, D-Hazel Crest, a 1989 SIU alumnus in political science. (Photo provided)
March 01, 2018
Smith, Reinhardt, selected for Callahan internships
CARBONDALE, Ill. — Michael Smith and Darrin Reinhardt received the Southern Illinois University Carbondale Paul Simon Public Policy Institute's 2018 Eugene Callahan Internship.
Smith and Reinhardt, who are seniors, are working as interns with the Illinois House Democrat staff this semester at the Illinois State Capitol in Springfield. Smith, of Chicago, is majoring in political science with a minor in psychology. Reinhardt, of Alhambra, is majoring in agribusiness economics and history.
"As someone who had the good fortune to begin my professional career with an internship in Springfield, I know how valuable internships can be in developing professional skills and learning about the nuances of Illinois State government," John T. Shaw, institute director, said. "I am certain that Michael Smith and Darrin Reinhardt will represent the very best traditions of the Eugene Callahan internship program. This experience will help launch Michael and Darrin into rewarding careers that would make Gene Callahan proud."
Smith, Reinhardt actively involved in issues
Both are actively involved outside of the classroom. Smith previously served on the Black Male Roundtable and in an internship with the Chicago City Council. He is interested in public service and is considering a public sector career.
Reinhardt, meanwhile, has experience in agricultural from working on his family-owned farm. He also worked at the Collegiate Farm Bureau as a government affairs representative and plans to pursue a career working on agriculture policy at the state and local level.
Linda Baker, a university professor with the institute and long-time public policy and legislative consultant, former secretary of the Department of Human Services and director of the Department of Employment Security, mentors the interns and helps supervise their activities in Springfield. 
"The Internship provides students with a great opportunity to gain college credit as well as experience in the legislative process and important networking opportunities. I look forward to seeing them make a significant contribution in the future," she said.
Scholarship established to honor Gene Callahan
The institute established the scholarship, renamed the Gene Callahan Scholarship in early 2015, to honor the late Gene Callahan, who passed away in 2014.
Callahan, a longtime aide to Paul Simon and former U.S. Sen. Alan Dixon, was a member of the SIU Board of Trustees and a founding member of the institute's board of counselors. His son, the late Dan Callahan, was head baseball coach at SIU Carbondale and his daughter, U.S. Rep. Cheri Bustos, D-East Moline, is serving her third term.
Jerry Mileur, who served with Callahan on the institute's board of counselors, supported the internship with a gift, and the internship replaced one named for Mileur, a Murphysboro native and a two-degree SIU alumnus.
Mileur also endowed the Morton-Kenney Public Affairs Lecture Series at SIU Carbondale. Mileur, a retired chairman of the political science department at the University of Massachusetts-Amherst, died in September 2017.
Donate to the internship program
Private donations from individuals and corporations fund the Gene Callahan Internship program. Tax-deductible donations can be made online or mailed to:
Paul Simon Public Policy Institute
Southern Illinois University Carbondale, Mail Code 4429
1231 Lincoln Dr.
Carbondale, Ill., 62901.