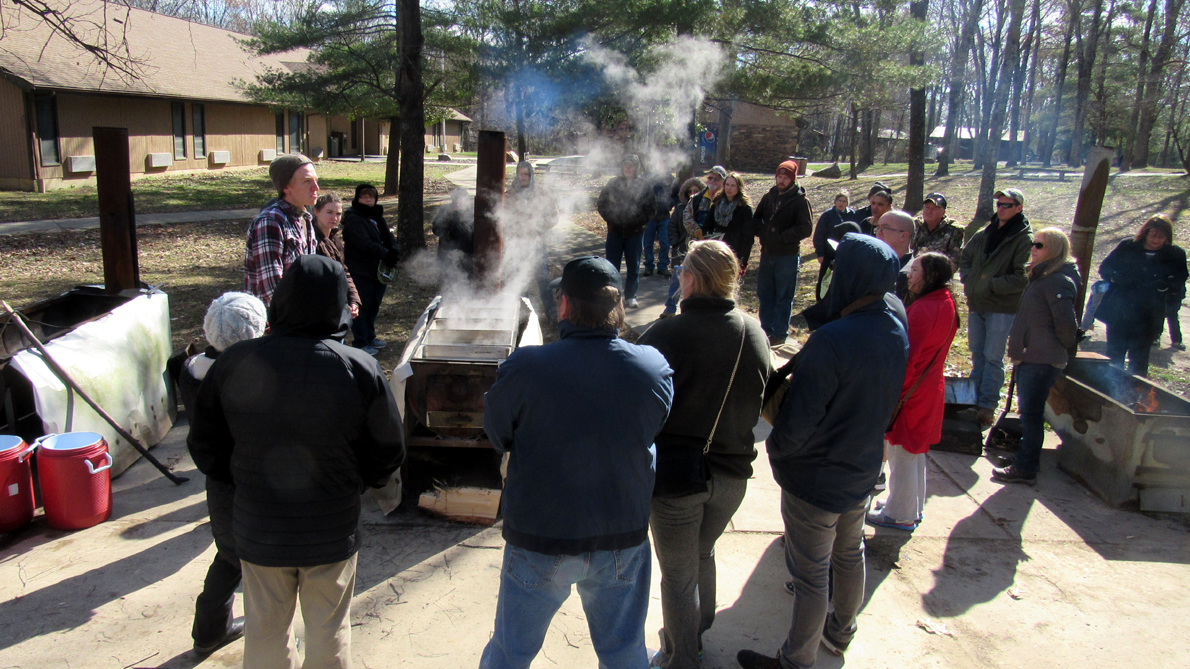 February 13, 2018
Maple Syrup Festival 2018 coming to Touch of Nature Environmental Center Feb. 24-25
CARBONDALE, Ill. -- Homemade maple syrup is one of nature's original comfort foods and the star of the show at Southern Illinois University Carbondale's annual Maple Syrup Festival Feb. 24-25. 
Touch of Nature Environmental Center is the setting for a weekend filled with special activities and, of course, a breakfast featuring homemade pancakes and maple syrup harvested at the center. The fest, which is open to the public, runs from 9 a.m. to 3 p.m. each day. It all happens about eight miles south of Carbondale off Giant City Road. 
Many activities planned
The wide variety of activities planned in conjunction with the festival are free, except the breakfast. Demonstrations at 10 a.m., 11 a.m. and 1 p.m. each day will show how trees are tapped for the rich sap that is transformed into maple syrup. The Saluki Environmental Ambassadors, an SIU registered student organization, will host outdoor environmental education activities and interpretive hikes at 10 a.m., noon and 2 p.m. while the SIU Forestry Club holds lumberjack demonstrations at 1 a.m. and noon. 
Graduate students from the university's blacksmithing program will show their skills with blacksmithing and metal works demonstrations from noon to 2 p.m. There will also be special activities for children throughout the day, and the short film "Maple Syrup Farmer," will air at noon and 2 p.m. 
Arts and crafts and more
Visitors can also enjoy a wide variety of interactive demonstrations courtesy of various artisans and vendors. See how hides are tanned and learn primitive living skills. Learn how wood and pottery products, handmade textiles and jewelry, woven baskets, natural soaps and lotions, and silk embroidery are made. Discover beekeeping and much more. 
The star of the show
The highlight of the day is breakfast, which is served from 9 a.m. to 1 p.m. Participants will enjoy a feast featuring homemade pancakes topped with real maple syrup, and all of the trimmings. If purchased in advance, tickets for the breakfast are $12 for ages 13 and older and $6 for ages 6-12. Children age five and younger eat free. To receive the discount pricing, buy tickets online. Tickets can also be purchased at the festival; prices are then $15 for ages 13 and older or $8 for ages 6-12. 
For more information about the Maple Syrup Festival or to register for the breakfast, visit www.ton.siu.edu, call 618/453-1121 or email tonec@siu.edu. 
Sponsors of the 2018 Maple Syrup Festival include River Radio of Southern Illinois, Paul Melzer of Countywide Insurance in Murphysboro and the SIU Credit Union.