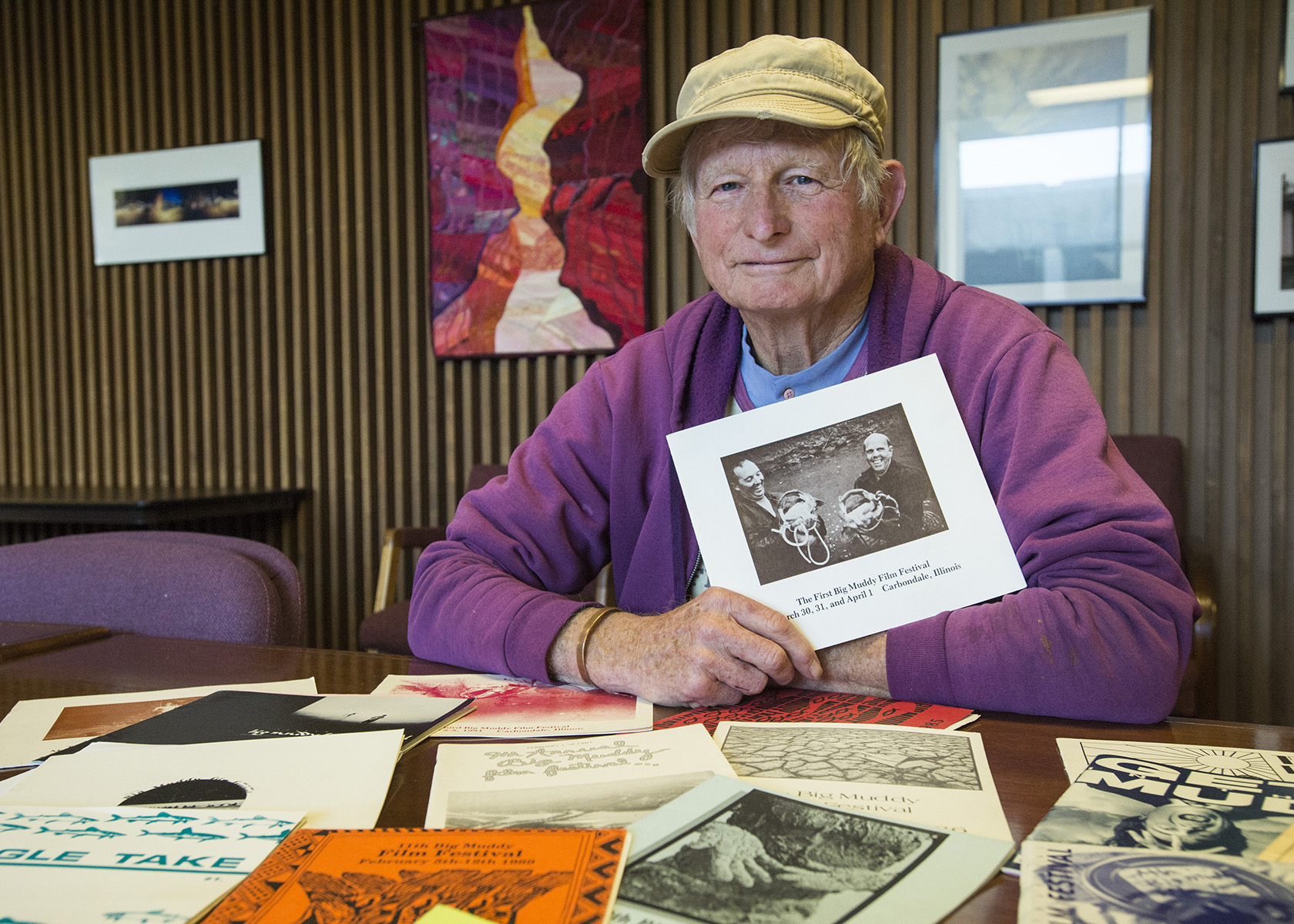 40 years in the making – Mike Covell, assistant professor emeritus in Southern Illinois University Carbondale's cinema and photography program and founder of the Big Muddy Film Festival, holds the inaugural festival program from 1979. The 40th edition of one of the oldest film festivals associated with the university runs Feb. 19-25. (Photo by Russell Bailey)
February 12, 2018
Students, community involvement pivotal for film festival's four decade run
CARBONDALE, Ill. — Mike Covell always maintained the success of the Big Muddy Film Festival rests with the students who run the annual event and in community support. 
As Southern Illinois University Carbondale's iconic festival nears its 40th installment Feb. 19-25, the same holds true, according to Covell, who started the festival in 1979 with about 40 films and 800 moviegoers. Looking back, Covell said he could not envision that "Big Muddy," as it is known locally, would become one of the oldest film festivals affiliated with a university in the nation. 
"I didn't think about how long (the festival) would last," Covell said. "It was a lot of work, but it was fun. The students were involved and as long as they kept involved and passionate about it, the festival would keep going. That's what happened." 
This year's festival features 73 films  
The schedule features 73 competitive and non-competitive films in four categories: animation, documentary, experimental and narrative, in addition to juror presentations. Known for strong documentaries that highlight social issues, the festival also provides equally strong offerings in the other three categories. Covell said. 
Admission is free for each event, and details about dates, times and locations are available on the Big Muddy Film Festival's website. 
Special festival events feature John Michaels Award winner and Best of the Fest 
The opening reception is from 6 to 8 p.m., Feb. 19, in Morris Library's Guyon Auditorium. The festival's 40th birthday party is from 6 to 9 p.m., Feb. 24, also in Guyon Auditorium. The John Michaels Award Showcase is at 2 p.m. Feb. 25, at the Carbondale Public Library, and the 'Best of the Fest Showcase' will be at 5 p.m., Feb. 25, at the Longbranch Café & Bakery. 
An idea grows into a film festival 
Covell came to SIU in 1975 after finishing graduate school at Ohio University, home of the Athens International Film Festival, another student-run event that Covell was involved with. It took three years after Covell arrived at SIU for the first Big Muddy Film Festival. The first meetings and organization work for the festival was in 1978 with the three-day launch in 1979. 
The process was not without some hurdles, he said. 
While there now is support from the College of Mass Communication and Media Arts and the Department of Cinema and Photography, Covell recalls initial resistance from within the college and some faculty at the time who told him they believed starting a film festival was not a good idea. 
"That's typical when a young person comes into a program … and they were resisting change," said Covell, who retired in 2007 and lives outside Alto Pass.  "But giving the students the boost of letting them run with it was good and there is now positive support." 
Former students, festival workers find great success 
Some of Covell's former students who worked on the film festival while at SIU include Steve James, whose 2016 documentary, "Abacus: Small Enough to Jail" is among this year's nominees for an Academy Award. 
Other award-winning filmmakers who worked on past festivals include Joe and Kris Swanberg, Mario Contreras, Tom Ludwig and Academy Award-nominees Edgar Barens, Milcho Manchevski, among others. Ludwig will be on campus as one of the festival's three judges. 
'It's wonderful to see their successes," Covell said. 
Film festival heritage continues 
Covell believes the festival's core of showing quality and important work of independent filmmakers continues. With a few exceptions, Covell is not a fan of mainstream cinema and media. 
"Hollywood is still showing violence, big music, explosions and the difference is in the films we were getting that didn't do that," he said. "There were a lot of documentaries about relevant issues at the time that the media wouldn't deal with. This was the place where filmmakers could show those kinds of ideas and observations not necessarily shared. And that has maintained." 
Festival is a chance to "reaffirm history" 
"It's definitely a time to recognize the history and lineage and the sheer length of time that this festival has existed, which is significant simply because it's a student-run, student organized festival with students who may or may not be involved for four years," said Hassan Pitts, the College of Mass Communication and Media Arts' technology coordinator and current festival director. 
For Kelechi Agwuncha, a senior in cinema who graduates in December, heading the film festival is "daunting in that it requires so much of you." 
But this is her third year of being involved with the festival, and Agwuncha, who is from Westchester, said her varied experiences were beneficial for learning the intricacies of putting together an event of this size. The festival also provides out-of-class experiences in advertising, marketing, photography, cinema and viewing films, she said. 
"There's so much here it's almost overwhelming," she said of the festival's history. "There is so much there and we are working to present it well. We have been around for 40 years and want the festival to be around for more years to come." 
Pitts is in his third year as the festival's executive director. His first year was also the first year for many of the current students involved, so he experienced some of the same feelings Covell did four decades ago. 
"The majority of the students involved in my first year were brand new. The idea of knowing what a film festival is, but not necessarily knowing what this film festival is was definitely something that needed to be addressed," he said. "I can only imagine that first year the same sort of questions applied; 'What is this, why are we doing this, and what is the benefit and goal that we are trying to achieve?' 
'You have to let them run' 
The festival centers on student involvement and allowing them to learn, Covell said. 
"You have to let them run. It's their festival," Covell said. "But at the same time you have to be right behind them and walk very carefully and reel them in when something isn't right and pat them on the head when it's good," Covell said with a smile.